The furniture industry is a popular destination for white and private label manufacturers who are looking to make a splash in the industry through their personalized products. Unlike other manufactured goods, furniture and fixtures are a bit expensive and come in bulk. It is advisable to gain some knowledge of the industry before you set your foot on it. This industry report provides just that.
---
Furniture and Fixtures Industry Overview & Key Statistics
a. Furniture and fixtures industry description
Furniture is a term that applies to items (equipment, accessories) that can be moved independently to make a space suitable for living or working. It is mainly classified into home, hotel and guesthouse, office, and public institution furniture. It can also be categorized by the material it is made of like wooden, bamboo/rattan, metal or plastic. Examples are tables, chairs, and couches.
In furniture production, there is ODM (original design) manufacturing and OEM (original equipment) manufacturing. ODM products are based on an existing design developed by the manufacturer. They are also called white label or private label products. OEM, on the other hand, are made according to the client's custom product specification. In OEM, clients may customize the material, dimensions, functions and colors of the products they want to buy. OEM is more common in this industry because clients often prefer to have their own design, rather than having generic furniture pieces that can be found everywhere. Alternatively, competing in the low price range with small quantities is often only possible with existing ODM designs that benefit from returns to scale.
Fixtures, on the other hand, are items that are mounted or physically attached to the property. These include appliances that are integrated into the structure. Examples are fireplace mantels, ceiling fans, sconces, gazebos bolted to a foundation, and chandeliers.
An important aspect of the furniture and fixture industry is packaging and assembly. Ready-assembled furniture is usually bulky and thus more expensive to store and to deliver. Kit furniture or ready-to-assemble ones, on the other hand, have their separate components compactly packed for easy transport and shipping. They often come with assembly instructions and are easy to put together. IKEA has made this principle famous worldwide.
In producing and exporting furniture and fixtures, China has remained the world's largest manufacturing hub for decades. Statista reports that in 2013, the total value of Chinese furniture exports has amounted to nearly US$52 billion. The industry also generated about US$93.4 billion in sales revenue in 2014, also accounting for domestic sales, according to World Atlas.
b. Furniture and fixtures production: China vs. other regions of the world
In 2017, China was in charge of about 39% of the world furniture production, followed by the United States, Germany, the United Kingdom, France and Canada. The bulk of international trade of furniture also originated from the country.
Top Exporting Countries of Furniture (2014)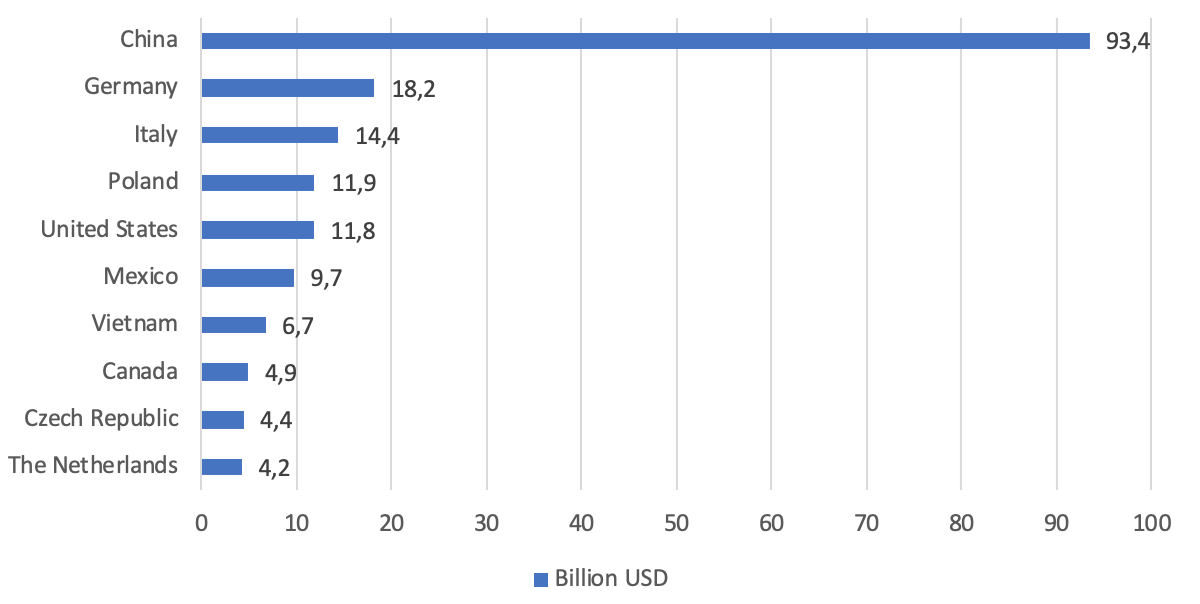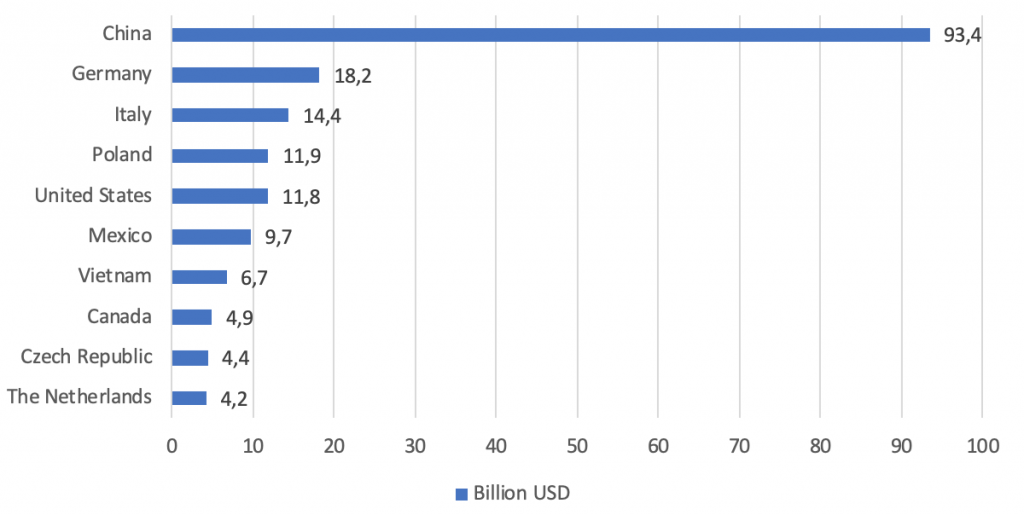 (Source: World Atlas)
Wooden furniture account for a major proportion of China's manufacturing industry. By 2020, operating revenue of bamboo and rattan furniture manufacture in China is estimated to reach about US$1.7 billion. The custom furniture industry also became stable, reaching a total revenue of more than 20 billion yuan (or US$2 billion) in 2017.
c. Commonly produced furniture and fixtures in China
Home Furniture (Sofas, TV Cabinets, Kitchen and Bedroom Furniture)
Hotel and Guesthouse Furniture (Dining Tables and Chairs, Guestroom Furniture)
Office Furniture (Work Desks, Chairs, Bookshelves and Cabinets)
Public Institution Furniture (those used in facilities such as Medical, Sports, Cultural and Educational Institutions)
d. Year-on-year furniture and fixtures industry growth
From 2000 to 2015, China's furniture manufacturing industry revenue grew from 32.7 billion yuan to 787.3 billion yuan (US$5.11 billion to US$121.27 billion), with an average annual growth rate of 24%. Its accession to the WTO in 2001 opened the world market for better opportunities. For many years, China has maintained a double-digit growth in this industry.
Revenue of China's Furniture Manufacturing Industry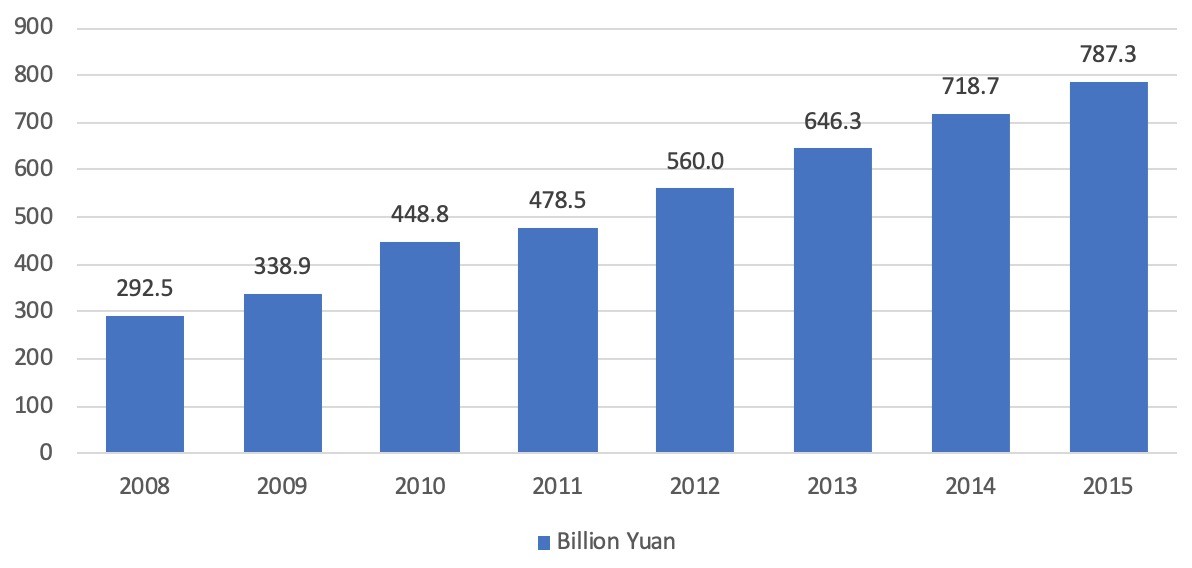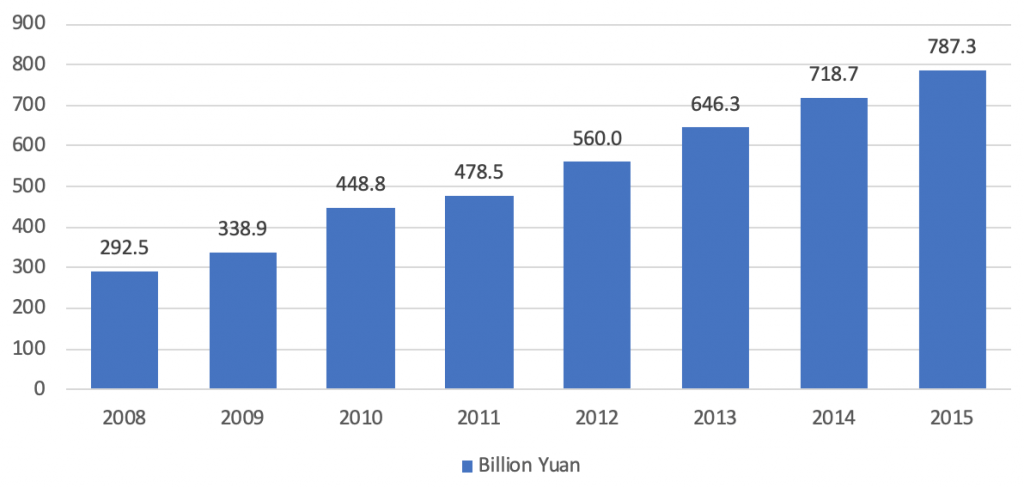 (Source: Polish Investment and Trade Agency)
According to the 13th Five-Year Plan for the Development of China's Furniture Industry, furniture exports are expected to show an average annual growth rate of 3%-5% from 2016 to 2020. The chart below shows the production of furniture in China from 2011 to 2015.
Production Quantity of Furniture in China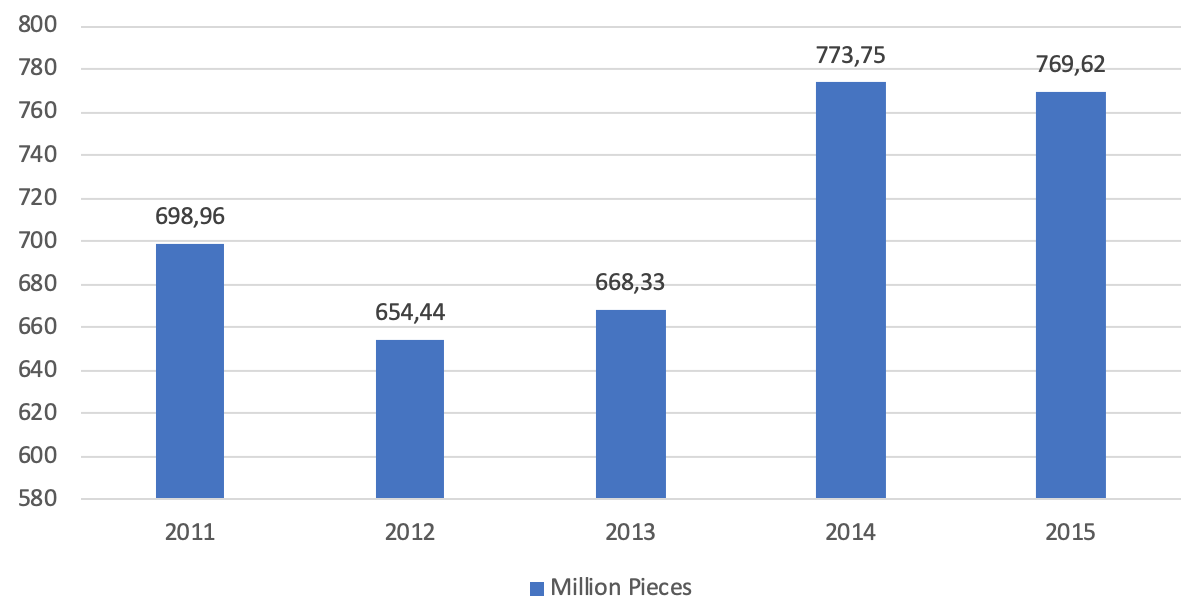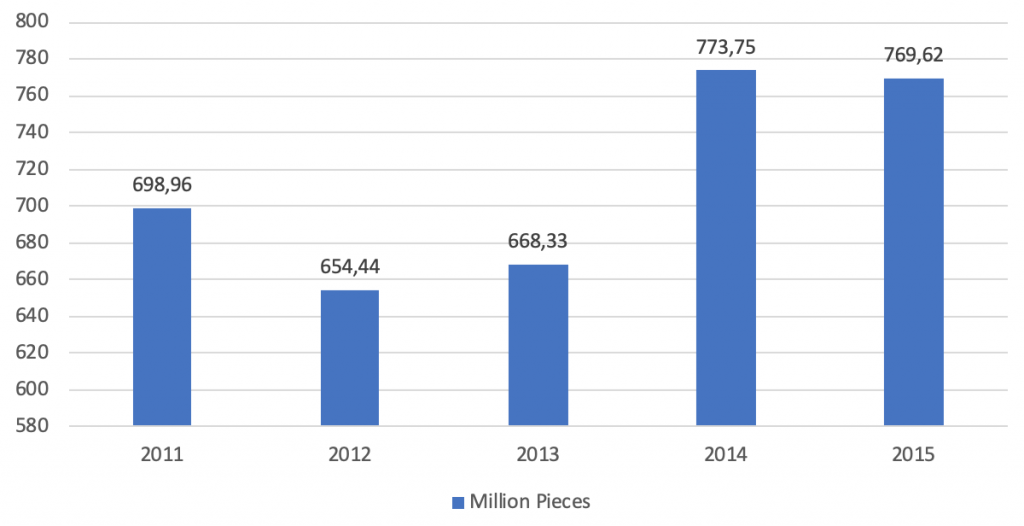 (Source: Statista)
---
Why China is the Right Choice for Furniture and Fixtures
a. Furniture and fixtures production capacity
As the largest producer of raw materials used in manufacturing furniture and fixtures, China has earned the reputation as the world's factory also in this product category. In 2016, it represented 38.2% of world furniture exports. The vast majority of Chinese furniture, about 83% by value, are shipped to the United States, Europe and Australia, as well as Japan, South Korea, and Canada.
Many of the materials used in production come from the Pearl River Delta area, with its vast availability of experienced factories it remains the most important area of furniture production in China. The Yangtze River Delta also has a huge flow of labor and resources available for industrial furniture production.
Specialized Regional Production Bases in China

(Source: HKTDC)
With abundant supplies and a developed supply chain, Chinese manufacturers have no trouble fulfilling huge amounts of order at short product lead times. However, there is also a large number—estimated 50,000 furniture companies—that are small to medium-sized, able to cater to smaller-scale orders.
b. Technological advantages and automation in furniture and fixtures industry
China's technological advances over the years allow the factories to keep up with the constantly evolving innovative designs of the industry. The "Made-In-China 2025″strategic plan is one of the government's steps to upgrade and transform the furniture industry. Manufacturers adopted the use of the latest cutting, automated edge banding and drilling machines of furniture production. These new innovations, combined with the skilled labor force, ensure that China remains the leading furniture industry in the world. Wage growth in China could largely be compensated.
Robotization is likewise a growing trend not only in the Chinese furniture industry but also in other manufacturing industries. For four consecutive years, it has remained the world's largest industrial robot market. By 2020, China is expected to produce 150,000 industrial robot units and have 950,300 industrial robots in operation.
China: World's Largest Robotic Importer (in thousand units)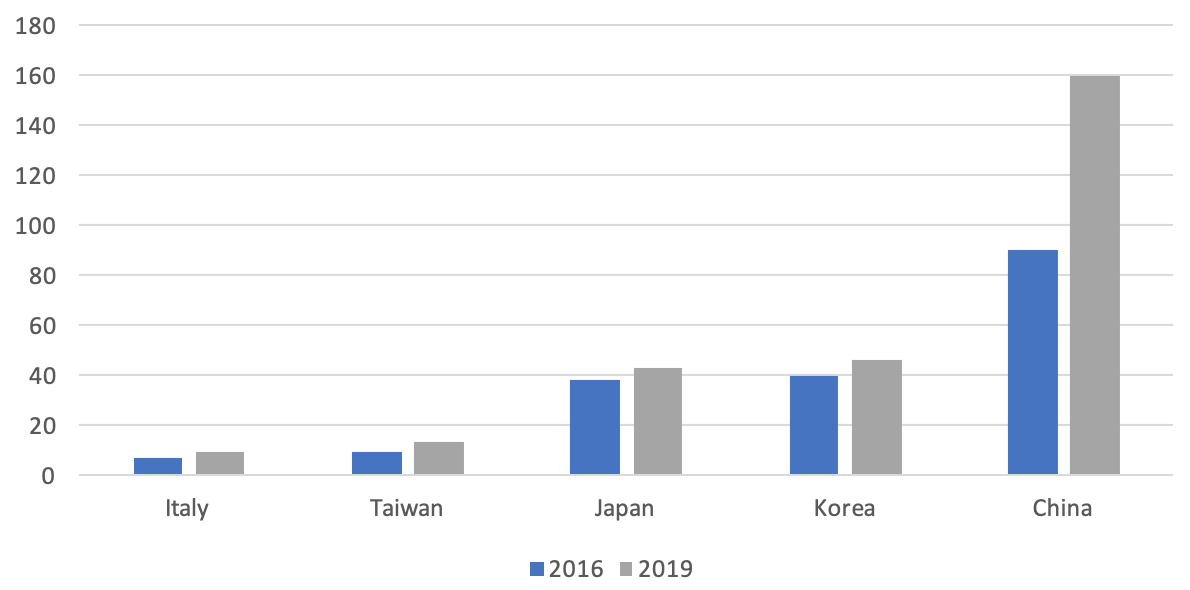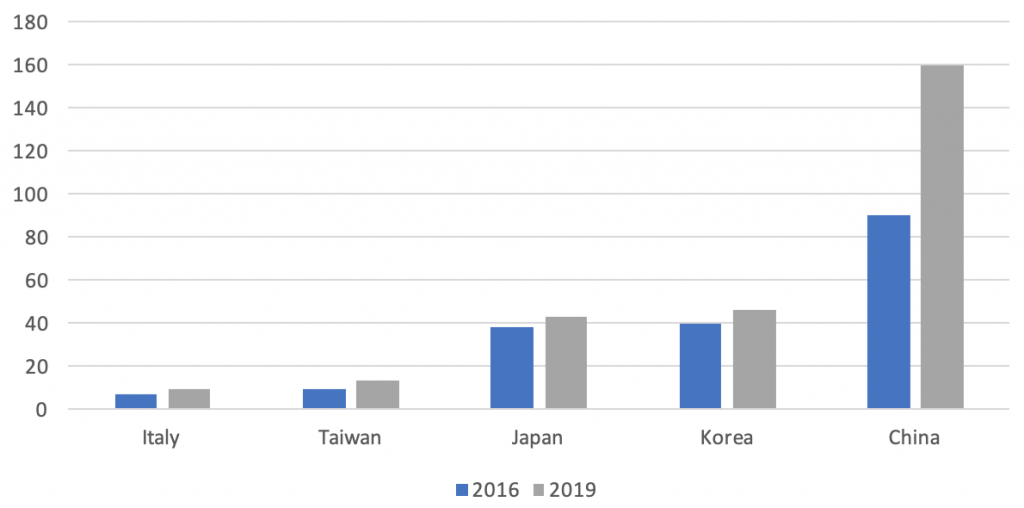 (Source: International Federation of Robotics)
The Chinese government has ambitious plans for the country's robotics industry. Along with artificial intelligence and automation, it was listed in MIC 2025 as one of the priority sectors for high-end development in the upgrading of the manufacturing industry. By 2020, China is expected to reach a robot density of about 150 per 10,000 human workers. It also aims to raise its global market share of robots by over 50 percent from the 31 percent in 2016.
c. Modern logistics infrastructure
Since 2016, China remains one of the best Asian countries in terms of efficiency of customs clearance process, quality of trade and transport related infrastructure, ease of arranging international shipments, competence and quality of logistics services, and timeliness of shipments in reaching the destination. This year, it ties with South Korea with a Logistics Performance Index (LPI) score of 3.61.
Supply Chain Performance of Asian Countries in the Furniture and Fixtures Industry


(The score indicates the country's performance on sub-sectors of trade logistics, ranging from 1 to 5, from low performance to high performance. Source: The World Bank, 2016)
China's well-developed supply chain, high investment in port, road, and rail infrastructure meansspeedy transactions between supplier and clients. Component shipping and product assembly are also completed within a short period of time since most of the pieces are made in the country.
---
Potential Problems in China's Furniture and Fixtures Industry
a. Time problems in the furniture and fixtures industry
Due to the huge number of Chinese ODM (original design manufacturing) and OEM (original equipment manufacturing) suppliers, the manufacturing process–from choosing the right materials to determining the ideal mode of production–can be time-consuming. This is especially true if the client lacks a thorough understanding of the ins and outs of the industry, resulting in unwanted delays.
Another common problem is when clients have no local presence in the region. Without any means of monitoring compliance with project timeframes, complications are inevitable. Detecting setbacks due to supply chains, design changes or extended failure analysis are not immediately addressed due to the suppliers' lack of transparency.
b. Quality problems in the furniture and fixtures industry
The furniture and fixtures industry is regulated sector that follows strict safety standards. For instance, all products shipped and sold to the United States must comply with regulations administered by several federal agencies. A law establishes limits for formaldehyde emissions from composite wood products, including hardwood plywood, medium-density fiberboard, and particleboard. Some state laws and regulations are even more stringent in monitoring labeling, packaging and chemical restrictions for imported products. Filled bedding, furniture, sleeping bags and toys sold in the United States also require special labels that must contain specifications on the filling materials of the product as a percentage of those filling materials by weight (Example: 80% Polyurethane Foam, 20% Polyester Fibers).
In Europe, the General Product Safety Directive (GPSD) ensures that only products that pass regulations can enter the market. Product quality, performance andsafety requirements are strictly monitored, not only in furniturebut in other consumer products as well. Other regulations in Europe are the UK Furniture and Furnishings Regulations, Timber Regulation No 995/2010 and Textile Labeling Regulation 1007/2011.
Since furniture and fixtures are marketed with a high brand value and corresponding markups, it is critical that quality control is implemented consistently. Every detail must meet the safety and quality standards in the prospective markets to avoid product recalls or even lawsuits in the future.
c. Cost problems in the furniture and fixtures industry
In fixtures and furniture manufacturing, where a lot of the product components are made in China, it's usually cost-effective to set up the entire production line directly in the country. Moreover, Chinese manufacturers have extensive supply of raw materials, components and existing designs, which is extremely useful for medium to large-quantity production.
However, finding the right factory for exactly your product at the desired price can still be challenging. Feasibility assessment—carefully compare and analyze prices of materials and product components—must be carried out in order to maximize cost-effectiveness. Failure in doing so results in unnecessarily higher costs and longer lead times. Just contacting random furniture suppliers online often leads to exaggerated promises.
d. Planning problems in the furniture and fixtures industry
Setting up and coordinating production lines offshore in China requires meticulous planning. This is especially true for OEM, where all stages from prototyping to product testing/certification need to be scrutinized to maximize efficiency. Clients need to communicate all product specifications to the suppliers to ensure that only high-quality products will be produced. Suppliers will often tell you that they understand despite that they don't.
Finding companies online or visiting tradeshows is the common way to go, but this involves added costs, stress, and time. Big Chinese suppliers typically deal with multi-million-dollar orders. Clients with moderate order sizesrisk of having their orders delayed and neglected. They may encounter problems like furniture product samples not provided within a reasonable time or requests for customization disregarded.
e. Risks in the furniture and fixtures industry
Negotiating contracts, assessing suppliers and conducting necessary due diligence in China may prove to be challenging for clients with no personal presence in the region. Without proper supplier selection, they run the risk of collaborating with companies who are ill-equipped to handle large-scale orders or implement product design changes.
By relying only on online communication, there is a higher risk of working with suppliers with fake certifications and those who use cheap materials that fail to meet the quality and safety standards. There is also the danger of choosing companies who violate Intellectual Property Right (IPR) laws by using product designs created by other brands or your design being used by others.

Fixtures are a broad product category including doors, lamps and much more.
---
Our Recommendations for China's Furniture and Fixtures Industry
a. For reducing time in the furniture and fixtures industry
At Intrepid Sourcing, we have an experienced team that handles all the coordination work efficiently and systematically. We provide our clients with an overview of China's furniture industry and suppliers so that in the end, they can decide the most efficient and cost-effective options for them.
We also work directly with specialized companies who can provide the materials and packaging per our clients' requests, saving them the trouble of looking for suitable suppliers. This will significantly minimize the time involved for procurement and production.
b. For ensuring quality in the furniture and fixtures industry
Intrepid Sourcing understands the strict safety standards in the production of furniture and fixtures. We have partnerships with reliable suppliers in China that produce for well-known Western brands as well as local certification agencies.
We also conduct in-person quality assessment and control to avoid product defects and ensure that all component aspects meet the quality and safety standards. Our experts are proficient in determining critical areas and able to make adjustments accordingly based on the design plans.
c. For reducing cost in the furniture and fixtures industry
We are experienced in reviewing relevant suppliers who are capable of producing specific, customized furniture and product parts. Our expertise in manufacturing steps, raw material and labor costs allows us to assess and compare prices to select suppliers at the best possible but realistic prices without compromising quality.
d. For planning in the furniture and fixtures industry
Our team of experts makes the planning stage process faster and more reliable for our offshore clients. We are committed to helping our clients making use of the global supply chain, especially for those who have no experience in outsourcing to overseas suppliers.
Intrepid Sourcing also works with companies that specialize in product development and packaging, ensuring that our clients can choose from the vast repertoire of design options with the best possible rates to make your product stand out.
e. For minimizing risk in the furniture and fixtures industry
Our in-house technical engineers determine if the product will meet certain standards and whether it can be improved for mass production by checking the design beforehand. We assist clients in procuring relevant certifications and implement production lines by working with local contacts and specialized suppliers. To protect the clients' interests and secure all transactions, we also help execute Chinese contracts to protect your investment and intellectual property rights (IPR).