The sports equipment industry always provides a great opportunity for business. No wonder a lot of startup entrepreneurs look forward to sporting goods manufacturing as their ticket to the industry. However, you cannot just jump into it without any knowledge of the biz. This industry report provides an overview and statistics of what to expect in the world of sports and fitness equipment industry; particularly here in China.
---
Sports & Fitness Equipment Industry Overview & Key Statistics
a. Sports & fitness equipment industry description
Sporting equipment, also called sporting goods, have various forms depending on the activity. They can be classified into two categories: game and player equipment. Game equipment include the essentials used in playing sports—balls, goal posts, nets, rackets (for tennis, squash and badminton), flying discs (for freestyle, disc golf and ultimate), rods and tackle (for sports fishing), sticks, bats and clubs (for hockey and lacrosse) and wickets (for cricket). Player equipment, on the other hand, has three subcategories – footwear, protective and training equipment. Protective equipment are usually worn in motor and contact sports to prevent injuries, like in ice hockey and American football, including helmet, jock strap, mouthguards, shin pads, ski suits, elbow pads, shoulder pads, and sports gloves. Examples of training equipment are swiss balls, weights, chin-up bars, weightlifting belts and bench shirts, as well as other gym equipment.
China's top sporting goods and equipment manufacturers are some of the biggest suppliers in the global fitness industry. They design, manufacture and sell a variety of white/private labels or original design manufacturing (ODM) products and custom products (OEM) for most famous Western brands. In 2012, the total trade value of sporting goods exported from China amounted to approximately US$16.7 billion, according to Statista. China was also the biggest supplier of sports products and equipment to Europe in 2016, taking about 38%of the union's imports. Last year, the United States brought in around US$27 billion worth of sporting goods from Chinese suppliers.
b. Sports & fitness equipment global production: China vs. other regions of the world
China remains the top exporter of sporting goods in the world, accounting for almost 46% of the global supply in 2016, according to Atlas Media. The total value amounted to US$10.4 billion. This was followed by the United States, Germany, Italy and Hong Kong.
Top Exporting Countries of Sporting Goods (2016)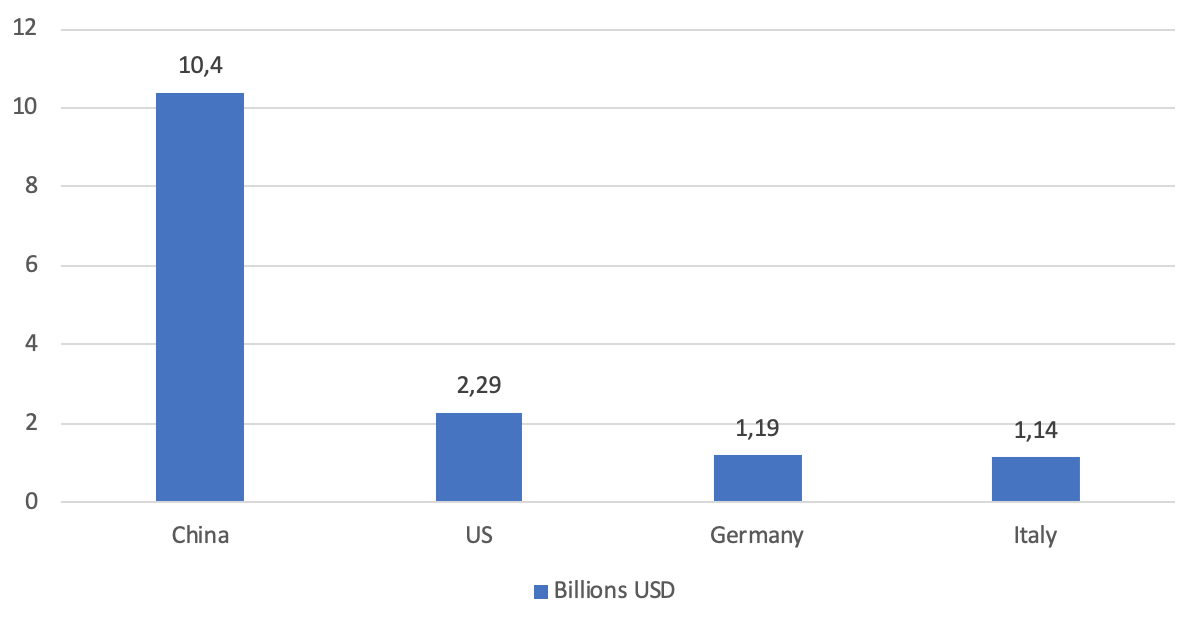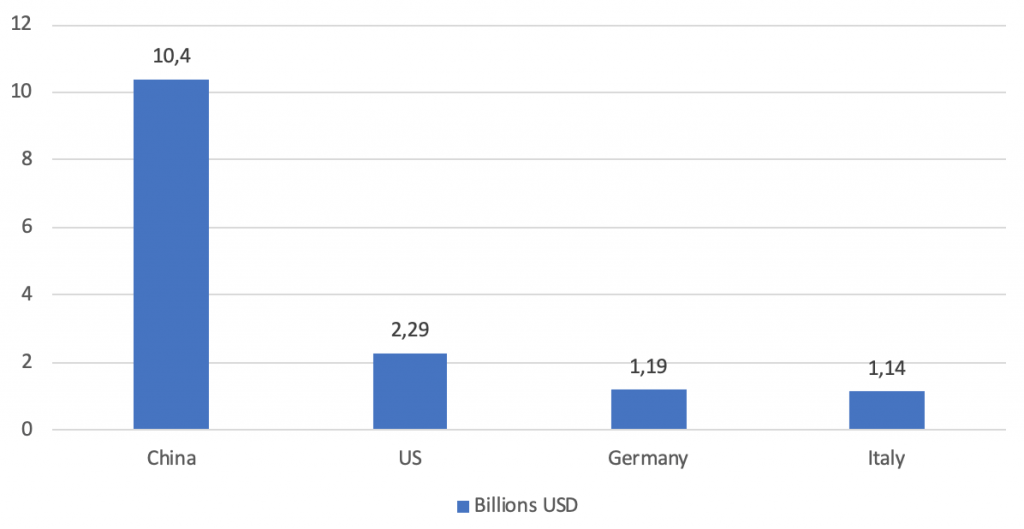 (Source: Atlas Media)
c. Commonly produced sports & fitness equipment in China
Fitness Equipment & Bodybuilding (Barbell, Elliptical Trainer, Exercise Bike, Jump Rope)
Sporting Goods (Air Mattress, Racket, Net, Bat, Gloves andBall)
Sports Field Equipment (Artificial Grass, Bleachers, Chain Link fence, LED Display, Scoreboard)
Sports Protection (Ankle and Wrist Support, Elbow and Knee Pad, Shin Guards, Sweatband)
d. Year-on-year sports & fitness equipment industry growth
China's sports equipment manufacturing revenue was estimated to be US$27.7 billion in 2015, with export accounting for 43.5% of the overall production, according to China Daily. For the next years, it has an expected average annual growth rate of 12.3% mainly driven by domestic demand.
Estimated by Statista, the export value of China's sporting goods has shown a relatively stable development in recent years. 2015 was a competitive year for the industry, raking in about US$19.54 billion worth of commodity exported around the world.
Export Values for Sporting Goods from China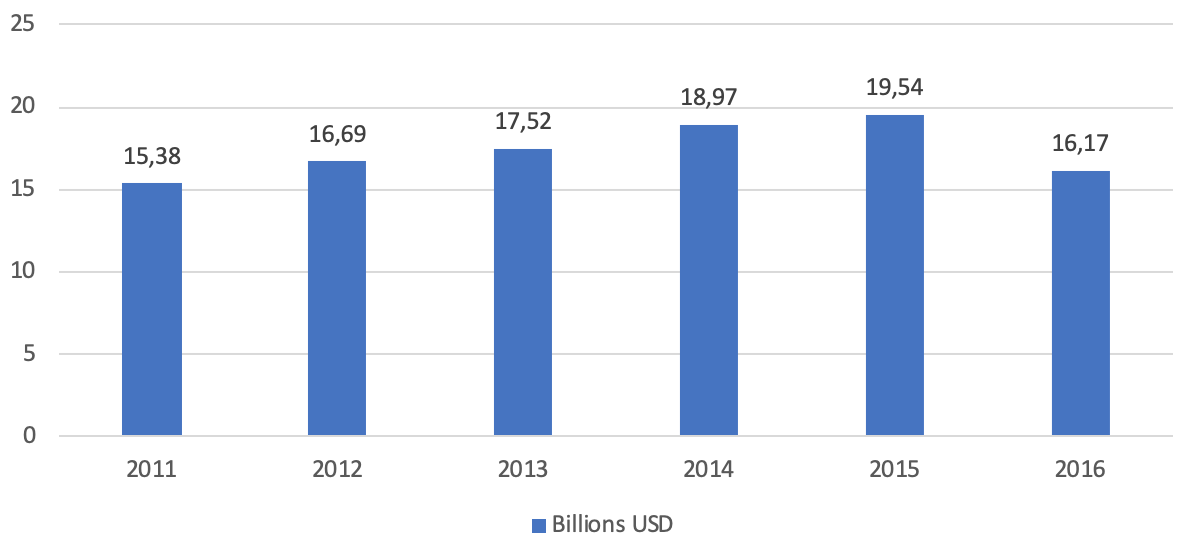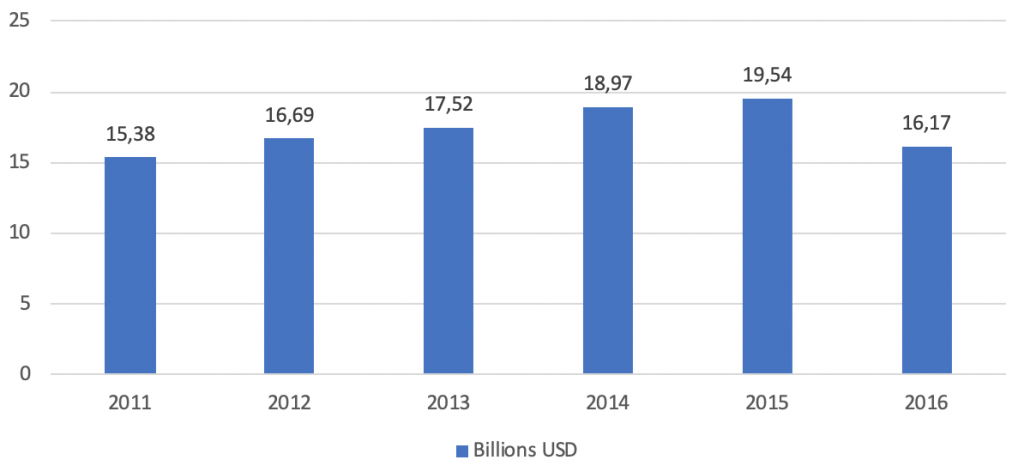 (Source: Statista)
---
Why China is the Right Choice for Sports & Fitness Equipment Production
a. Sports & fitness equipment production capacity
China produces up to 60% of the world's fitness equipment, excluding apparels and shoes. Due to lower labor and production costs, many companies have been sourcing from the country. In the city of Xiamen alone, there are more than 80 fitness equipment enterprises and 500 sporting goods-related factories. Its manufacturers accounted for up to US$650 million worth of exports in 2011.
Other suppliers are located in the south-east coastal regions where they specialize in the production of strength and cardiovascular training equipment, elliptical, rowing machine, stationary bike and treadmills. All of them can cater to both domestic and international markets.
Additionally, Chinese suppliers are capable of handling both large-scale and small-volume orders based on the client's request. They also recognize the importance of improving their product portfolios to keep up with the trend, manufacturing equipment that are safer, user-friendly and more functional.
b. Technological advantages in the sports & fitness equipment industry
Chinese sports equipment manufacturers have been extending innovative efforts in product design and material to meet global challenges in the fitness industry. The country's technological prowess continues to improve due to strong government support in R&D. Technologies have been widely used in many plants and factories, with businesses investing in welding robots and other advanced systems to enhance operating efficiency and quality management.
China's government has huge plans for the country's robotics industry to assist in upgrading the manufacturing sector. It launched the Robotics Industry Development Plan (2016-2020) to promote robot applications to a wider range of fields, as well as to attract foreign investment. By 2020, the aim is to produce 100,000 industrial robotsby domestic technology yearly.
China: World's Largest Robotic Importer (in thousand units)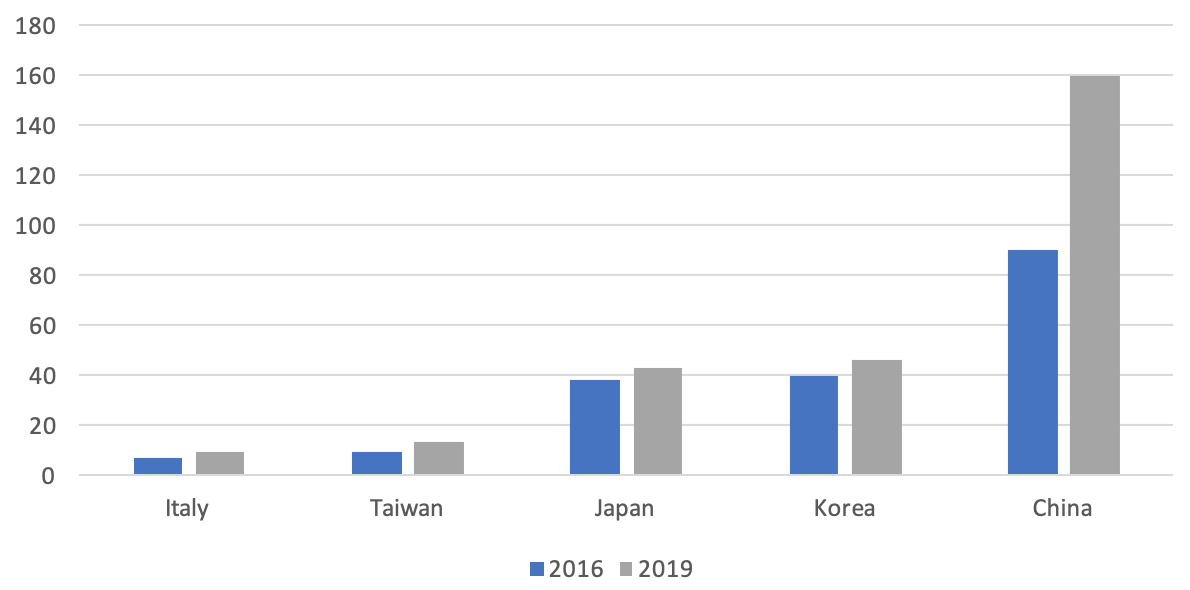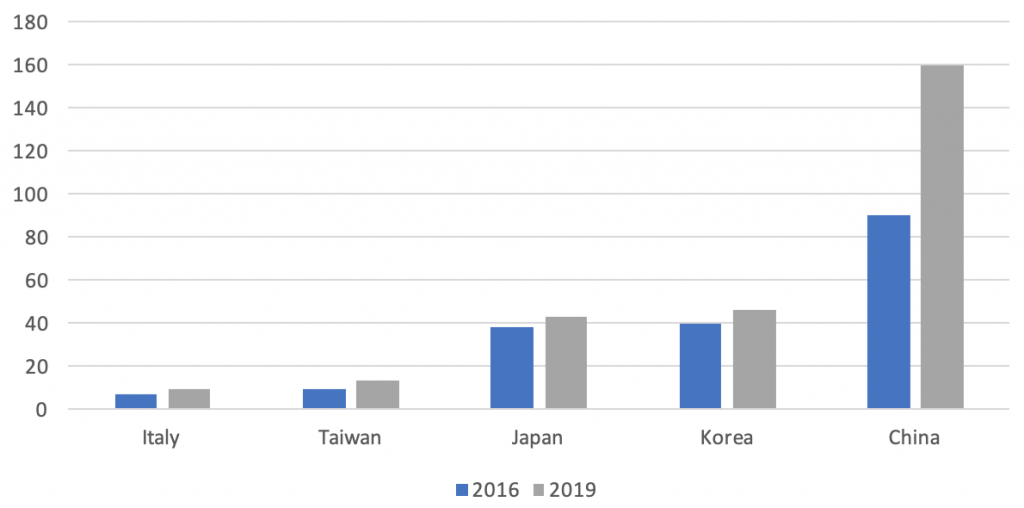 (Source: International Federation of Robotics)
There is also an increase in China's production of value-added models as space-efficiency become an important consideration in designing new models. Entertainment features in sports equipment such as built-in speakers, TFT LCD TVs, audio inputs and USB ports are being added, while weight machines and other large equipment are being offered in compact and foldable structures for easy storage. All of these are possible due to China's advancing technology.
c. Modern logistics infrastructure
China's superior logistics infrastructure makes it a powerful player in the export market. With its well-developed supply chain and multi-billion investments in port, road, and rail infrastructure, clients are assured of speedy transactions, from point of order to delivery. Offshore buyers are provided with real-time information on freight movement and location, as well as with automated notices in case of schedule delays or disruptions.
For the past years, China has maintained its spot as one of the best Asian countries in terms of efficiency of customs clearance process, international shipments and the like. In 2018, it garnered a Logistics Performance Index (LPI) score of 3.61.
Supply Chain Performance of Asian Countries in the Sports Goods Industry


(The score indicates the country's performance on sub-sectors of trade logistics, ranging from 1 to 5, from low performance to high performance. Source: The World Bank, 2016)
---
Potential Problems in China's Sports & Fitness Equipment Industry
a. Time problems in the sports & fitness equipment industry
Production of sports equipment in China is a complex process that requires meticulous planning, as well as technical know-how to reduce lead and order times.
There are two modes in manufacturing sports equipment–the white label/ODM manufacturing for existing products and OEM manufacturing for new and customized sports equipment. Determining which mode best suit the client's needs can be time-consuming. If the client wants to make changes to an existing design (ODM) or customize a new design (OEM), it needs to be well-planned in the beginning. However, many companies underestimate this effort, and as a result, the mass-produced sports equipment ends up with design flaws, quality issues or unnecessary product development cost.
Complications commonly arise if clients have no local presence in China, because they can't physically assess the suppliers and make sure they follow the project timeframe. Thus, disrupted supply chains, wrong product specifications and other setbacks are not immediately detected that take a lot of time to fix.
b. Quality problems in the sports & fitness equipment industry
Quality issues in sports equipment can lead to accidents and injuries, therefore strict quality control is crucial in this industry—attention to detail is critical, and proper product testing is required to assess potential hazards. Otherwise, the client might face product recalls or even lawsuits. Supplier assessment can help identify the suppliers that are properly licensed and compliant with product safety standards.
It is also important to make sure the products meet the safety requirements of different countries that they sell to. The ISO 20957-1:2013 specifies general safety requirements and test methods for stationary training equipment. The U.S. Consumer Product Safety Commission Improvement Act (CPSIA) likewise regulates that all recreational and sports equipment entering the country must have a general conformity certificate to attest that they complied with all standards or regulations applicable. There are also rules for products intended primarily for children 12 years of age or younger. Importers are required to have their products tested by a CPSC accredited independent or third-party test facility.
In EU regulations, there are strict guidelinesin the distinction between sports equipment and toys. There is also the EN 957 that specifies safety requirements and test methods for training equipment. For electronic gym machines, all products must comply with electrical safety regulations, including e.g. the Low Voltage Directive, EMC and RoHS.
c. Cost problems in the sports & fitness equipment industry
The prices of raw materials used in production of fitness equipment–steel, iron and composites of the two–have seen a steady rise over recent years. China's market is no exception. Steel consumption in the country has rapidly risen, with demand sometimes outstripping the Chinese suppliers' capacity to provide the commodity. The fitness equipment industry cannot compromise with the materials used in production, as the products are supposed to be sturdy and built to last. Substitutes such as aluminum and strong plastics are often not sufficient. It is therefore imperative for clients to find suppliers with adequate production capabilities that offer good prices. Clients should know about material prices and product requirements to assess quoted prices.
Another problem commonly encountered by companies sourcing from China is that there is only a small number of manufacturers that have the niche manufacturing capabilities and knowledge required to produce some specialized equipment, hence they know they can charge a high price. Without fully seeking and comparing all the suppliers capable of making those niche products, the client may overpay.
d. Planning problems in the sports & fitness equipment industry
Planning is crucial for a successful implementation of a production line in China. Clients must be clear in their communication with suppliers, especially those who are in an OEM arrangement. Every step must be planned accordingly, from choosing the right materials and product specifications to determining the ideal mode of production.
For ODM production, some suppliers tend to disregard the clients' requests for customization, especially if the order size is not big enough. They also lack transparency and sometimes use non-standard and defective materials to reduce cost.
e. Risks in the sports & fitness equipment industry
Without a personal presence in China, clients tend to encounter difficulties in doing businesses in the country. Negotiating contracts, assessing suppliers and conducting necessary due diligence can be challenging, especially if they rely only on online communication.
The risk is high in contracting manufacturers who overpromise and under-deliver. It is difficult to tell if a company can keep its promises, is in control of production (and not outsourcing itself) and secures transactions sufficiently. Some suppliers offer product designs made by other companies as their own in violation of Intellectual Property Right (IPR) laws.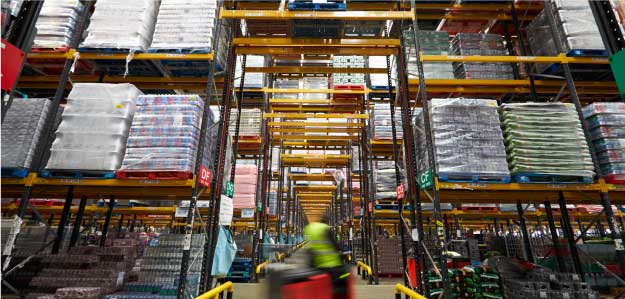 The variety and potential for customization of sporting goods is huge.
---
Our Recommendations for China's Sports & Fitness Equipment Industry
a. For reducing time in the sports & fitness equipment industry
Intrepid Sourcing has extensive experience and expertise in handling all the coordination work for the clients. We provide them with an overview of China's sports and fitness equipment industry, including the different kinds of raw materials and components used in production. We make sure that clients are presented with cost-effective alternatives to aid in their decision-making.
Our team works directly with specialized suppliers that can provide the clients' customization requests and specifications in terms of product dimensions, colors and packaging. Through this, the procurement and production process become faster and hassle-free.
b. For ensuring quality in the sports & fitness equipment industry
Intrepid Sourcing understands the importance of following the strict safety standards in the production for sports and fitness equipment. We have reliable partner suppliers in China that use only high-quality raw materials and produce for well-known Western brands.
Our team also conduct in-person quality assessment and control. By strict monitoring, we help avoid product defects and ensure that all component aspects meet the quality standards and safety regulations.
c. For reducing cost in the sports & fitness equipment industry
Intrepid Sourcing's expertise in the production process for sports and fitness equipment gives us the advantage in procuring raw materials at bestpossible prices for both large and small quantities. We carefully assess the market and select suppliers capable of producing specific equipment parts and will not compromise the quality of the finished products.
d. For planning in the sports & fitness equipment industry
Our offshore clients are assured of Intrepid Sourcing's dedication to streamlining the planning stage, making the process faster and more reliable. We are committed to helping them break into the Chinese market, especially those who have no experience in outsourcing to local suppliers.
We work with companies that specialize in both product development, prototyping and packaging to expedite the lengthy manufacturing process. Our clients are also provided with all imaginable design options at the best possible rates.
e. For minimizing risk in the sports & fitness equipment industry
We have in-house technical engineers who can determine if the product designs will meet certain standards beforehand. Our team ensures the client will work with suppliers with relevant certifications and help implement the production line, as well as negotiate a contract that is enforceable in China to protect their interest and safeguard all transactions.