An industry report is a vital part of market research. It provides numbers and statistics which business owners need before entering a particular industry. In this article, we provide an industry report for the kitchen utensils and home accessories industry in China. This report comes in handy for startup manufacturers who are looking to start a business in the said industry and be able to predict trends and tendencies moving forward.
---
Kitchen Utensils and Home Accessories Industry Overview & Key Statistics
a. Kitchen utensils and home accessories industry description
Kitchen utensils are tools for food preparation, like cutting, mixing, grinding, measuring, and heating. Each equipment is usually made for a specific task. Kitchen utensils can be categorized by their function: kitchenware, ovenware, tableware, cookware, among others. It can also be classified according to the materials they are made of, like silverware, glassware, and earthenware. Other frequently used materials include copper, iron, stainless steel, aluminum, and plastic.
China has been the leading producer and exporter of stainless steel tableware and kitchen utensils globally, according to PR Newswire. In 2013, China exported approximately USD$14.72 billion worth of kitchenware, estimated by Euromonitor.
Home accessories include a broad range of furniture items like tablecloths, pillows, curtains, lamps, cushions, sofas, as well as decorative items like textiles, crafts, collectibles, floral objects, and plants. China is one of the world's leading producers for home accessories. In 2017, China's export value of printed articles alone reached about USD$3.6 billion, according to HKTDC.
b. Global kitchen utensils and home accessories production: China vs. other regions of the world
Euromonitor estimates that the global kitchenware market over the ten year period of 2009-2018 will grow by USD$20.3 billion in new sales, 53.4% of which will come from China. This surge in domestic demand will further incentivize production.
The global production value of home textiles reached a value of USD$118 billion in 2015, with major exporting countries being China, India, Italy, Germany, the U.S., Bangladesh, and Vietnam, according to Center of Industrial Studies.
Top Exporting Countries of Copper Houseware (2016)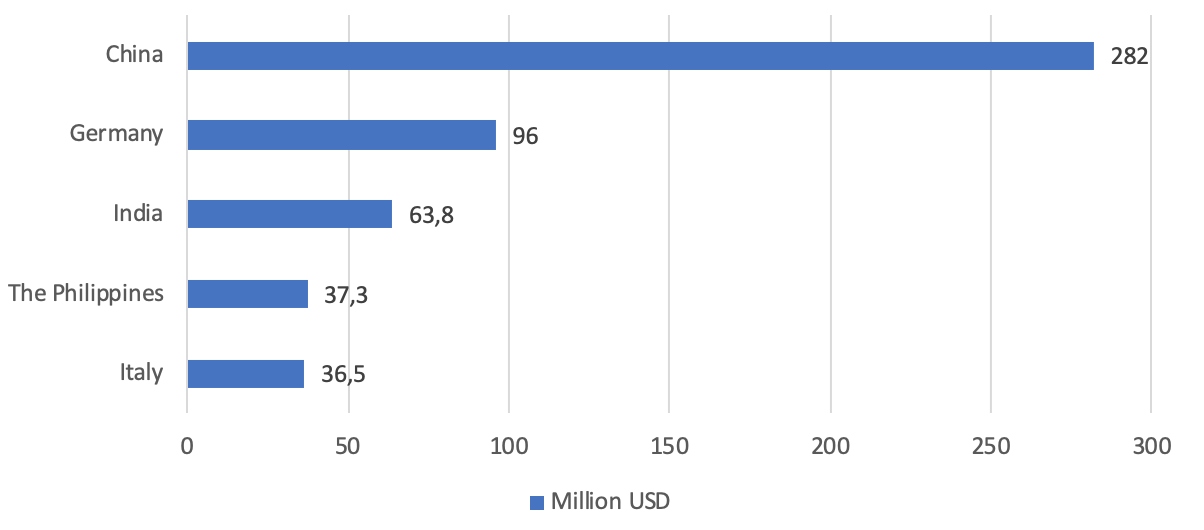 (Source: WorldAtlas)
One of the common kitchen utensils is copper houseware (such as copper pots and pans), which is a highly utilized and traded, ranked among the top 1,000 most traded products globally. China's export of copper houseware topped the world in 2016 with a value of USD$282 million. Its largest buyers include the U.S., Australia, Germany, the U.K., and Italy.
c. Commonly produced kitchen utensils and home accessories in China
Kitchen Utensil
Stainless steel cookware
Cast iron cookware
Plastic kitchenware
Silicon kitchenware
Rubber kitchenware
Glassware
Home Accessories
Bedding
Lighting
Tablecloth
Curtains
d. Year-on-year kitchen utensils and home accessories industry growth
According to IBISWorld, revenue for kitchen utensil manufacturing in China has been growing at 9.5% annually, from USD$21.3 billion in 2013 to an estimated USD$33.5 billion in 2018. As for home accessories, China's growing consumer demand and housing market are spurring growth for production and exports.
The chart below shows China's export value of home linens from 2010 to 2016. Despite its slight decline in recent years, China remains the largest exporter of home linens, with an export value of USD$9.3 billion in 2016, accounting for 37.04% of global exports.
Export Values for Home Linens from China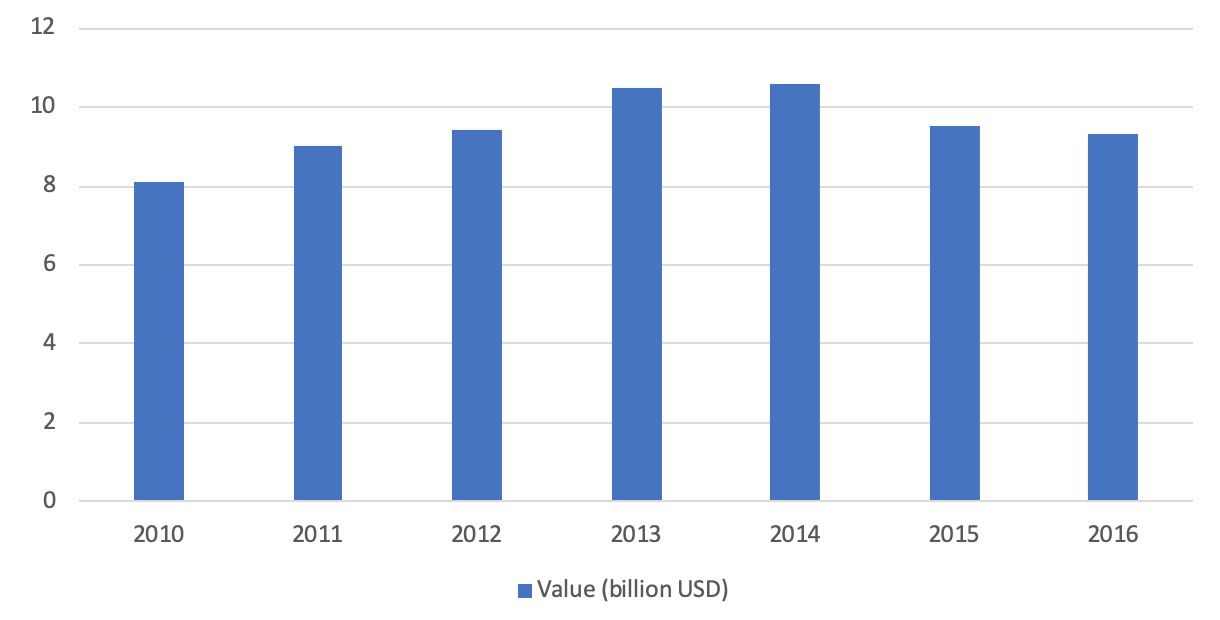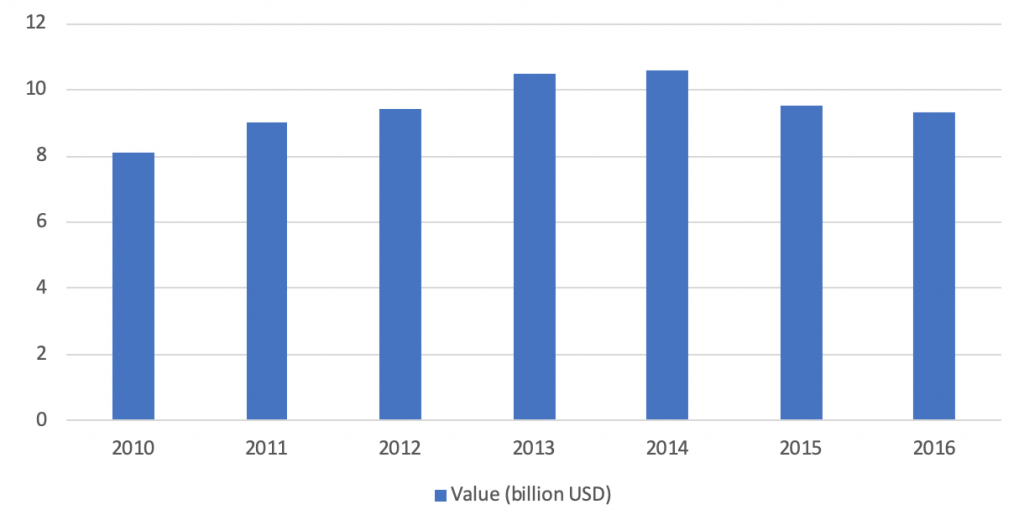 (Source: Tridge)
Similarly, for kitchen chopper, cleavers andmincing knives, etc. (HS code 821490), China is the top exporting country, with a value of USD$235.2 million and 68.66% share in global exports in 2016.
Export Values for Kitchen Knives from China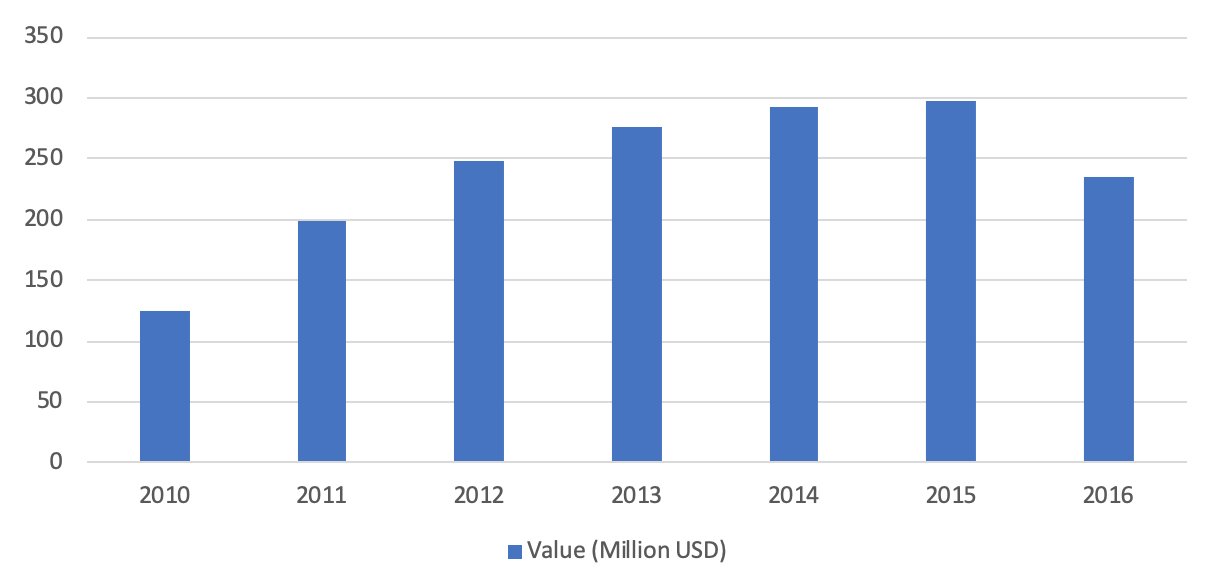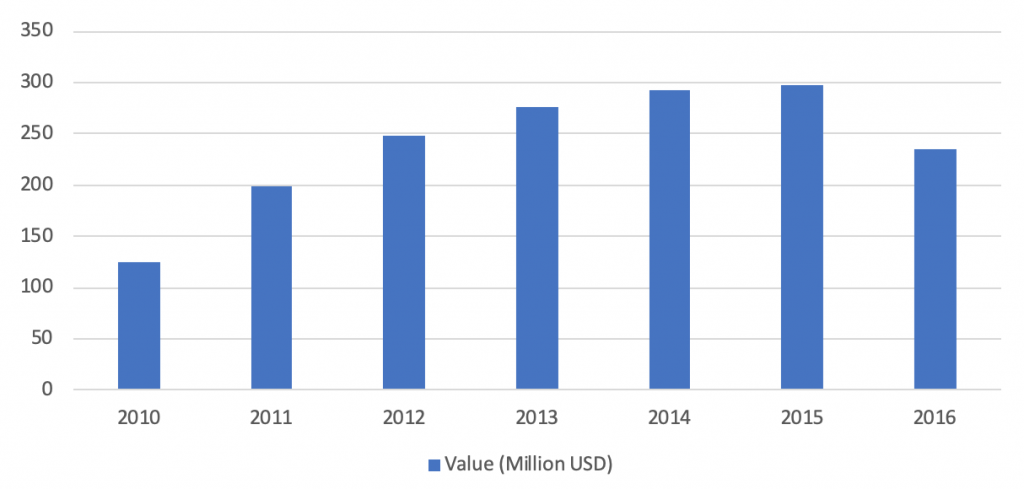 (Source: Tridge)
---
Why China is the Right Choice for Kitchen Utensils and Home Accessories
a. Kitchen utensils and home accessories production capacity
As the largest producer of raw materials and key components of kitchen utensils and home accessories (such as plastics, textile, and electronic components), China's production capacity tops the rest of the world and earned its reputation as the world's factory. More than 90% of Chinese stainless steel tableware and kitchenware are exported.
Most kitchen utensils are produced in the eastern provinces of Guangdong, Zhejiang, and Jiangsu, which are also major exporting hubs.
Common Origins of Different Kitchen Utensils by Province in China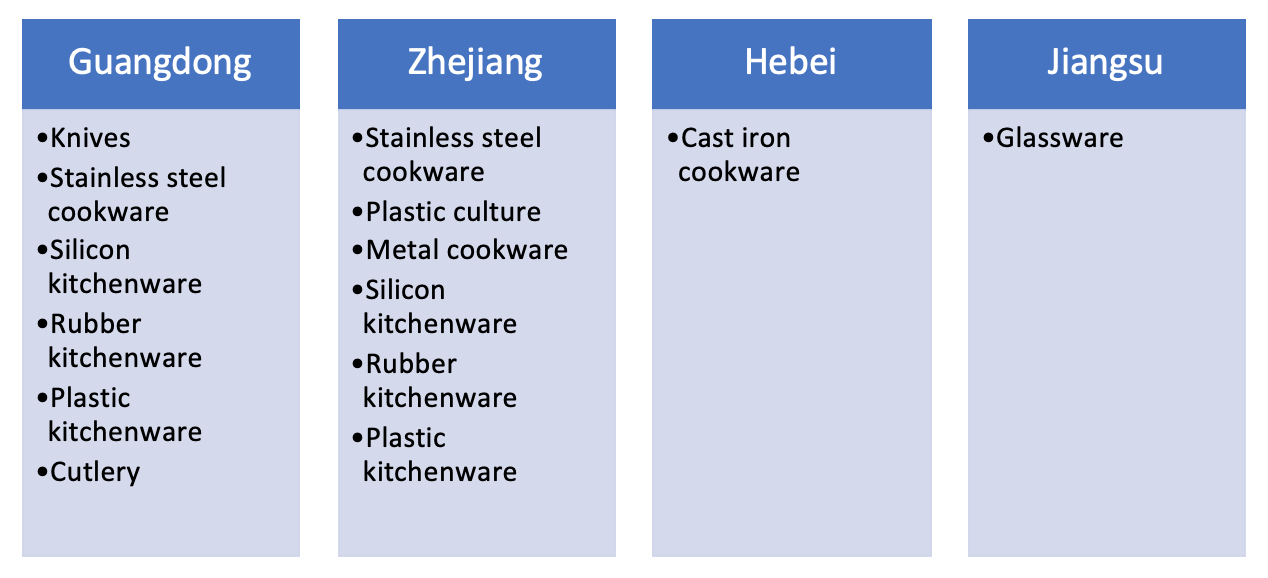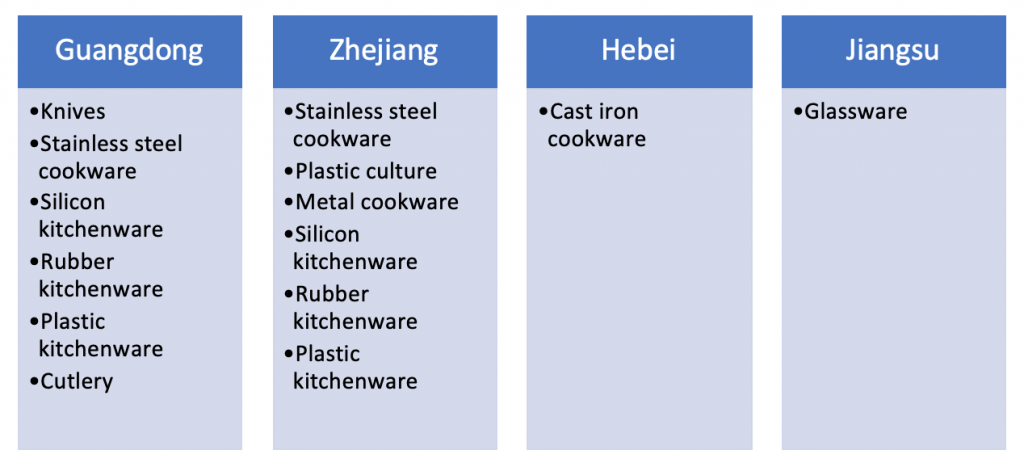 (Source: China Importal)
With its abundance of suppliers and developed supply chain, Chinese suppliers are able to fulfill huge amounts of order at shorter product lead times.
Another advantage of Chinese suppliers is that there are many small and medium-sized suppliers who are capable of catering to smaller-scale orders, allowing clients to adjust their order sizes based on consumer demand.
b. Technological advantages in the kitchen utensils and home accessories industry
The kitchen utensils and home accessories industry is constantly evolving with innovative designs. There is an ongoing trend of modernization of the kitchen and a growing consumer preference for electronic/smart kitchen appliances, such as ovens, dishwashing machines, and other internet-controllable home devices. China's relative technological advantages over other low-cost countries enableits suppliers able to manufacture trendy, high-tech products in this industry.
China has also spent a significant amount of time and resources in educating and training technicians and engineers. This means there are many technical experts who can supervise the entire production line.
Moreover, has been investing heavily in smart robotics, cloud data and automated factory technology to upgrade its manufacturing groundwork. By 2020, China is expected to reach a density of about 150 per 10,000 human workers to fuel automation across the consumer electronics industry. This will further increase production capacity and offset the rising labor costs.
China: World's Largest Robotic Importer (in thousand units)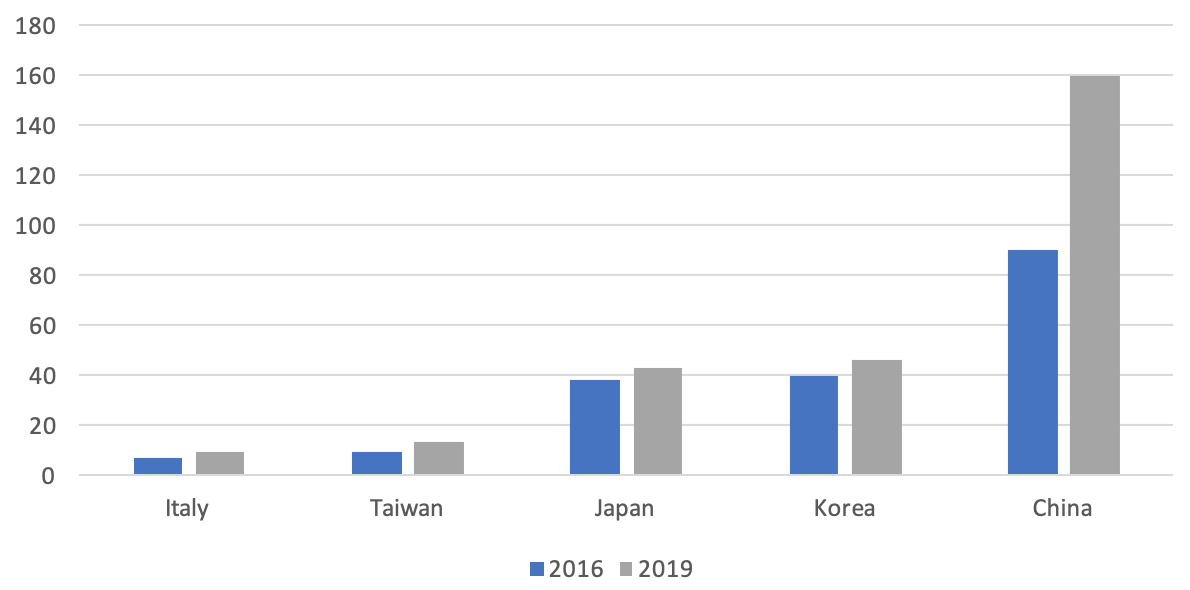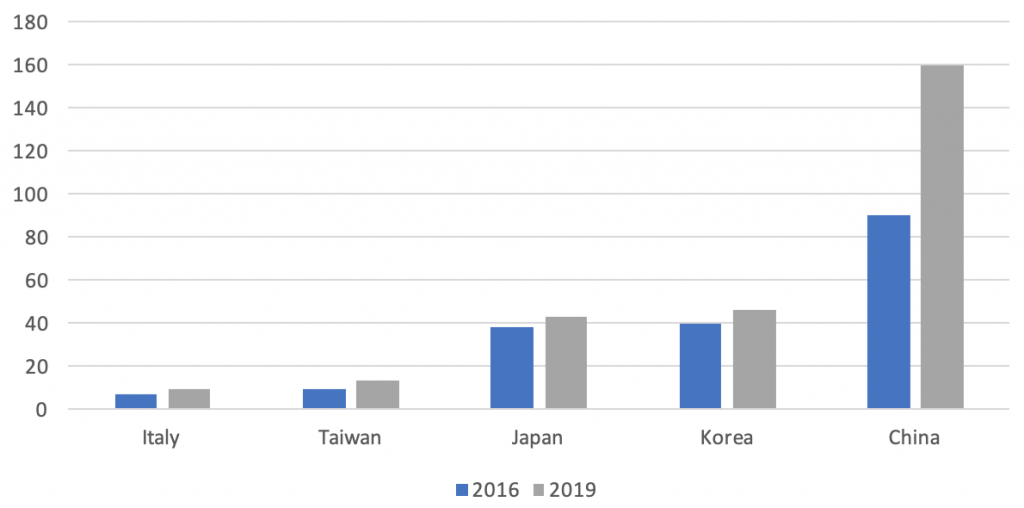 (Source: International Federation of Robotics)
c. Modern logistics infrastructures
China's logistics infrastructure has been improving in terms of quality and efficiency, upgrades have covered the entire supply chain for kitchen utensils and home accessories, including road, port, air, and rail infrastructure. As a result, China has the largest logistics sector in the world, with an annual growth of 20%. This not only means speedy delivery from suppliers to clients, but since most product components are made in China, component shipping and product assembly can also be completed within a short period of time.
Supply Chain Performance of Asian Countries in the Household Items Industry


(The score indicates the country's performance on sub-sectors of trade logistics, ranging from 1 to 5, from low performance to high performance. Source: The World Bank, 2016)
Furthermore, the country is automating its warehouse operations to cut down lead times, ensure on-time cross-border delivery of products and product components, and reduce transportation costs.
---
Potential Problems in China's Kitchen Utensils and Home Accessories Industry
a. Time problems in the kitchen utensils and home accessories industry
There are two fundamentally different ways of production, either 1) white label/ODM manufacturing, which is suitable for popular products in the industry such as forks, spatulas, pots and pans; or 2) OEM production for new and customized products.
During production, adjustments in designs, whether they're existing designs for ODM manufacturing or new designs for OEM manufacturing, must be planned quickly and precisely. This involves finding out what products are already being produced and choosing the ideal mode of production for a given product design (OEM or ODM). Given a large number of ODM and OEM suppliers in China, it can be time-consuming if the client lacks a thorough understanding of suppliers in China. This effort, however, is often overlooked by clients, resulting in unwanted delays.
b. Quality problems in the kitchen utensils and home accessories industry
The kitchen utensils and home accessories industry is a highly regulated sector with strict safety standards. For example, all food contact products sold in the U.S. and the EuropeanUnion must comply with applicable regulations including FDA 21 CFR and the EU Framework Regulation No. 1935/2004. Thus, meticulous quality check and in-depth legal knowledge are required.
On top of that, kitchen utensils and home accessories are marketed with a high brand value and corresponding markups. It is critical to ensure that the production follows the design precisely, and strict quality control mechanism must be implemented consistently so that every detail meets the safety standards in their prospective markets. If such standards are not met, the products will not be allowed to sell in the markets, or face product recalls, or even lawsuits.
c. Cost problems in the kitchen utensils and home accessories industry
The kitchen utensils and home accessories industry is highly competitive, with numerous brands competing for the consumers' attention by constantly renovating their products and reducing prices. Big brands have relocated their manufacturing bases to places where labor costs are lower, one of the most popular destinations is China.
However, there are only a limited number of suppliers capable of producing very specific and specialized kitchen utensils and home accessories, especially the ones that are uncommon or require highly specialized technical expertise. Suppliers are aware of the lack of competition, the brand value and markups of products in this industry so they often try to charge higher prices.
d. Planning problems in the kitchen utensils and home accessories industry
Setting up and coordinating production lines offshore in China requires a lot of careful planning, especially for OEM manufacturing, all stages from prototyping to product testing/certification need to be well-planned to maximize efficiency. It is important for clients to communicate all product specifications to the suppliers, including product packaging at an early stage since customers value trustworthy brands and tend to purchase products that appear to be branded with higher-quality.
However, clients with moderate but not huge order sizes face difficulties receiving the right service because some suppliers do not pay enough attention when the order size is not large enough, do not provide a product sample within a reasonable time, sometimes even ignore requests for customization.
e. Risks in the kitchen utensils and home accessories industry
Establishing kitchen utensils and home accessories production lines in China for clients who have no local presence can become a very complicated process—relying only on communicating with suppliers online often leads to being overpromised and under-delivered. Because the clients could not carry out necessary supplier assessment and due diligence, they risk of working with suppliers with fake certifications, or those who use cheap materials that do not meet the quality and safety standards or product designs created by other brands in violation of Intellectual Property Right (IPR) laws.
Without the legal knowledge and being present in China, the clients also run the risk of signing an unfair contract, or even one which is not legally enforceable in the country.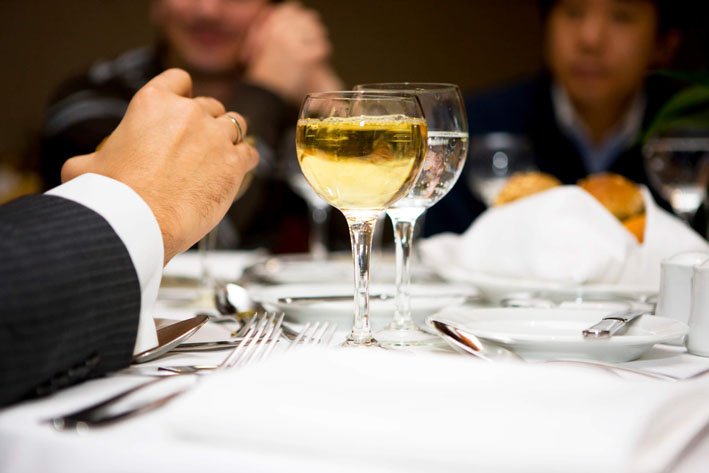 The vast majority of low to mid end kitchen utensils, including glassware, comes from China.
---
Our Recommendations for China's Kitchen Utensils and Home Accessories Industry
a. For reducing time in the kitchen utensils and home accessories industry
Intrepid Sourcing's experienced team provides all the coordination work so that the process runs efficiently. We help our clients to understand the industry by providing them an overview ofvarious materials and manufacturing process possibilities used in kitchen utensils and home accessories. Once they have a full grasp of the industry, they can identify and choose the most efficient and cost-effective options.
Additionally, we work directly with specialized suppliers that are capable of customizing their products per clients' requests, such as special materials, colors, and packaging. This saves the trouble of looking for the suitable suppliers, significantly reducing the time required for procurement and production.
b. For ensuring quality in the kitchen utensils and home accessories industry
Intrepid Sourcing understands the strict safety standards for kitchen utensils and home accessories and has contacts with reliable suppliers that produce for well-known Western brands. Our team of experts can determine where critical areas may be and make adjustments accordingly based onthe design plans. To further avoid product defects, we carry out in-person quality control measures to ensure all aspects of every product component meets the quality and safety standards.
Moreover, we have established connections with Western certification agencies that have subsidiary offices in China. Their prices are usually more affordable than their counterparts in Western countries.
c. For reducing cost in the kitchen utensils and home accessories industry
Intrepid Sourcing is able to put together a list of all relevant suppliers who are capable of producing specific kitchen utensil and home accessory products or product parts. Our team meticulously compare product specifications and adjust product designs early on to avoid defects. Our knowledge of all the manufacturing steps, raw material and labor costs helps us to assess and compare prices, selecting suppliers at the best possible prices without compromising quality.
d. For planning in the kitchen utensils and home accessories industry
We are taking over the planning stage regarding different kitchen utensils and home accessories, committing focused efforts towards our clients. And with our in-depth knowledge of the industry and China, we make sure the process is smooth and reliable.
We also work with specialized product packaging suppliers so that the clients can choose from all imaginable design options rather than settling with a standard packaging.
e. For minimizing risk in the kitchen utensils and home accessories industry
Our engineers can determine if the product will meet certain standards by checking the design. We also have local contacts who are experienced and knowledgeable in all relevant Asian countries. This allows us to effectively negotiate contracts to protect the clients' interests, carry out due diligence to ensure product quality, and secure all transactions.