China and other Asian countries are underrated when it comes to jewelry manufacturing. Jewelry and watches are products wherein they are not known for. However, the industry is alive and thriving. There are a handful of companies in this part of the globe that exclusively focus on jewelry and watches manufacturing. If you happened to be one of these manufacturers, then this jewelry industry report is perfect for you.
---
Jewelry & Watches Industry Overview & Key Statistics
a. Jewelry & watches industry description
Products in the jewelry industry include necklaces, rings, earring, bracelets, brooches, diamond jewelry, cultured pearl jewelry, precious or semi-precious stone jewelry, as well as jewelry parts components. While high-end jewelry products are made from precious metals which includes gold, silver, platinum, precious metal alloys, diamond, emeralds, pearls, jade and other precious and semi-precious stones, low to medium-range products are made from more affordable materials like steel, nickel, and alloys. Plated jewelry is an affordable substitute for precious metals, which gains great popularity among consumers worldwide. Plating means a piece of jewelry is made from an inexpensive metal or alloy and covered with a layer of a more precious type of material.
At present, the majority of low to medium-range jewelry products come from China. According to World's Top Exports, China is the second biggest exporter of jewelry in dollar value in 2017, accounting for 12% of global jewelry exports.
The watch industry has expanded beyond traditional timepieces, since watches today are decorative fashion items with multiple functions that also offer brand value to consumers. There mainly three categories in this industry: work/business watches, casual/fashionable watches, and sports watches. Other varieties include smartwatches, antique watches, multi-function watches, and cartoon watches.
China produces the largest quantity of watches according to Statista and most of them are in the low to middle price range. According to IBISWorld, China's watches and clocks production accounts for over 80% of global production numbers, but only a small share by value.
b. Global jewelry & watches production: China vs. other regions of the world
The following chart shows the top 10 net exporters of jewelry by value in 2017. Net exports, as defined by Investopedia, is the value of a country's total exports minus the value of its total imports. While China only leads slightly in terms of export value, it can be assumed that the country exports by far the most jewelry by quantity, considering the mentioned focus on low to medium-range jewelry products.
Top 10 Jewelry Net Exporters in the World for 2017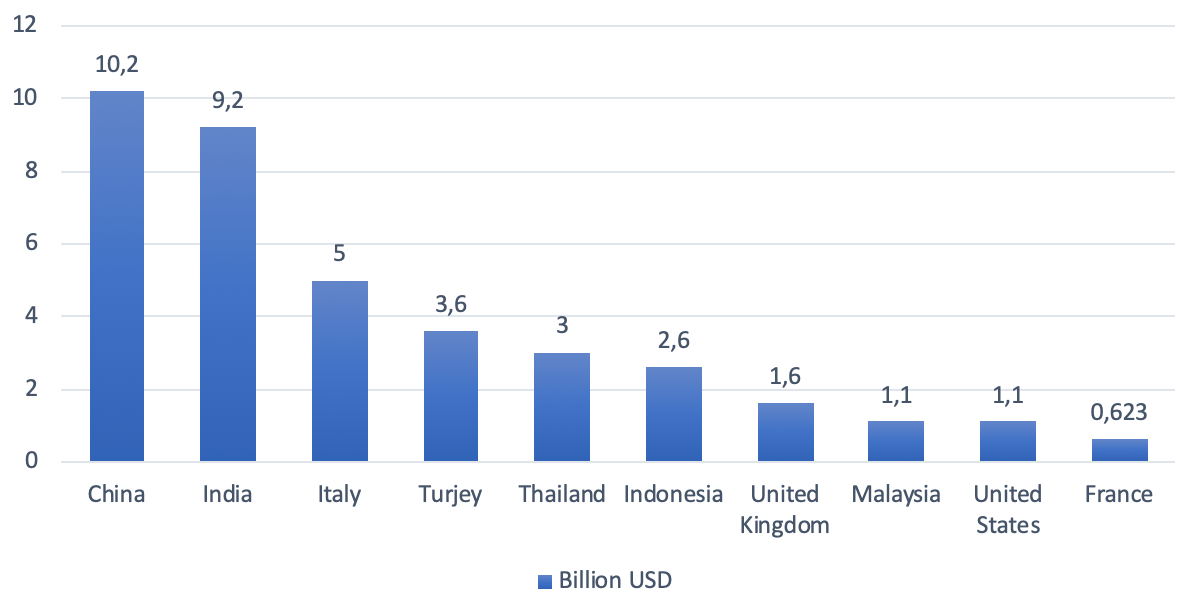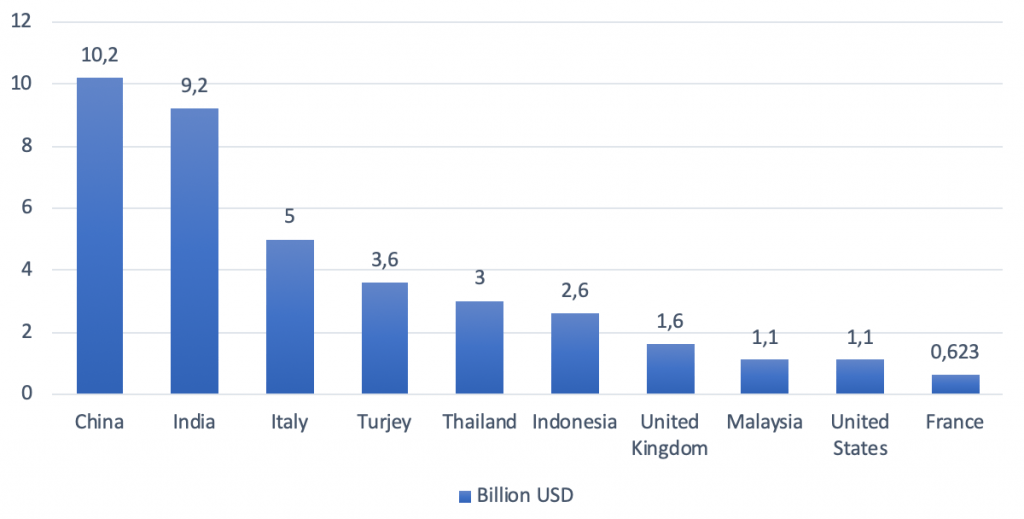 (Source: World Stop Exports)
The same phenomenon can be observed for watches as well. While China exports watches in the greatest numbers by far, the total export value is much lower than of Switzerland (and Hong Kong according to some statistics). The average value of a typical watch exported form China is much lower than for those from most other countries.
Largest Watch Exporters by Quantity in 2016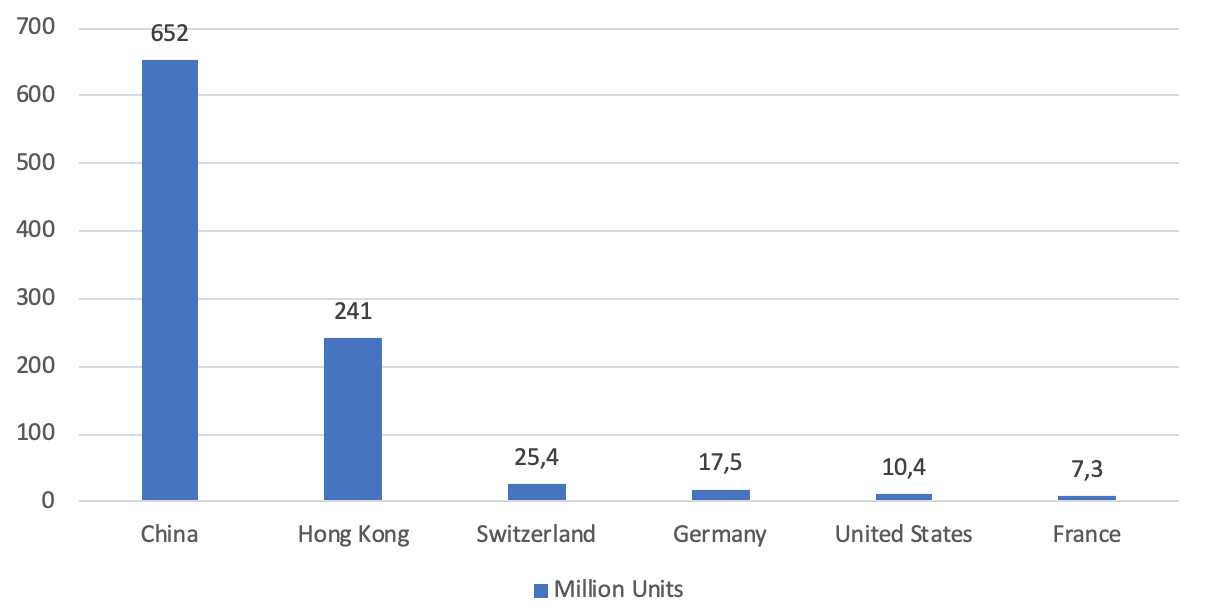 (Source: Statista)
Largest Watch Exporters by Value in 2016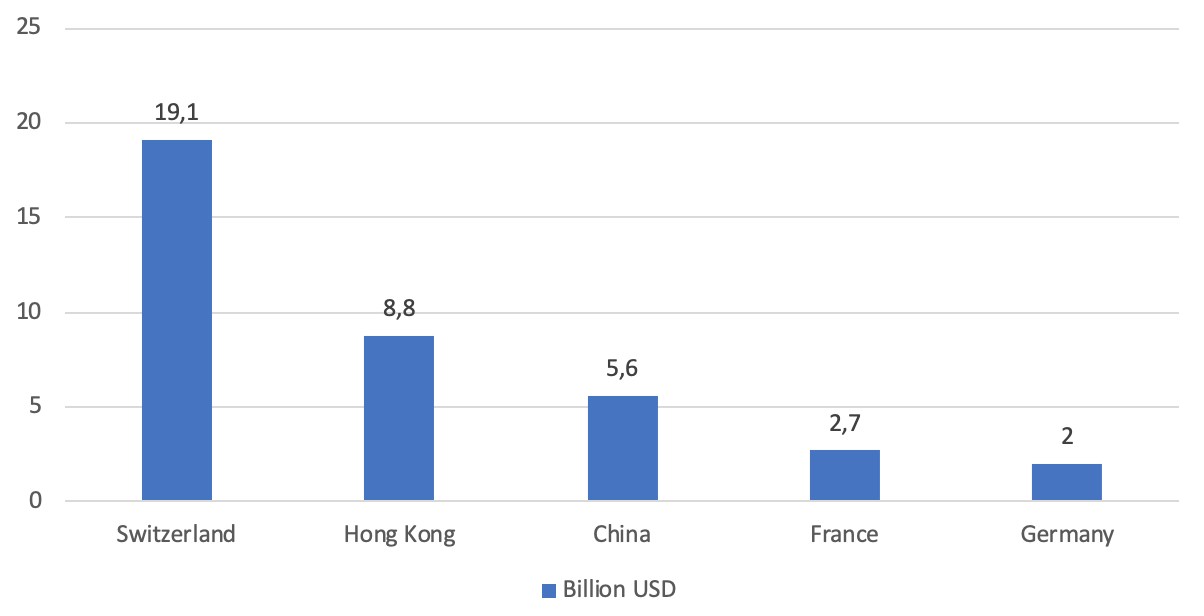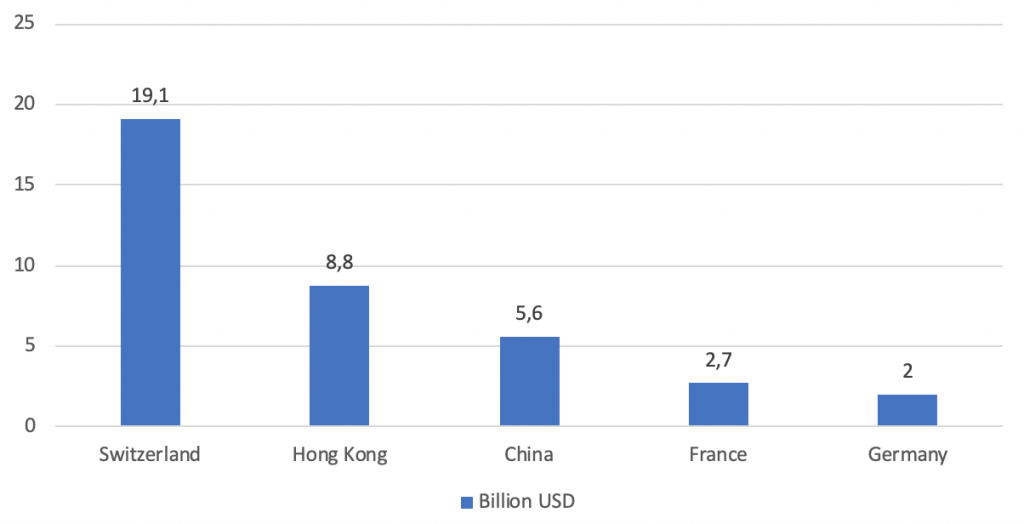 (Source: Statista)
c. Commonly produced jewelry & watches in China
Stainless Steel Jewelry
Plated Jewelry
Pearl Jewelry
Plastic Jewelry and Accessories
Leather Accessories
Children's Jewelry
Work/Business Watches
Casual Fashionable Watches
Sports Watches
Smartwatches
d. Year-on-year jewelry & watches industry growth
Although production of watches in China has decreased from 2013 to 2015 in number of units, as shown in the following graph, IBISWorld estimated revenue for this industry will increase by 5% in 2018, among which 34.8% will be exported. This means that the trend is going towards more expensive and higher quality watches coming from China. The domestic market is currently the main driver behind the industry growth.
Production of Watches in China Over Time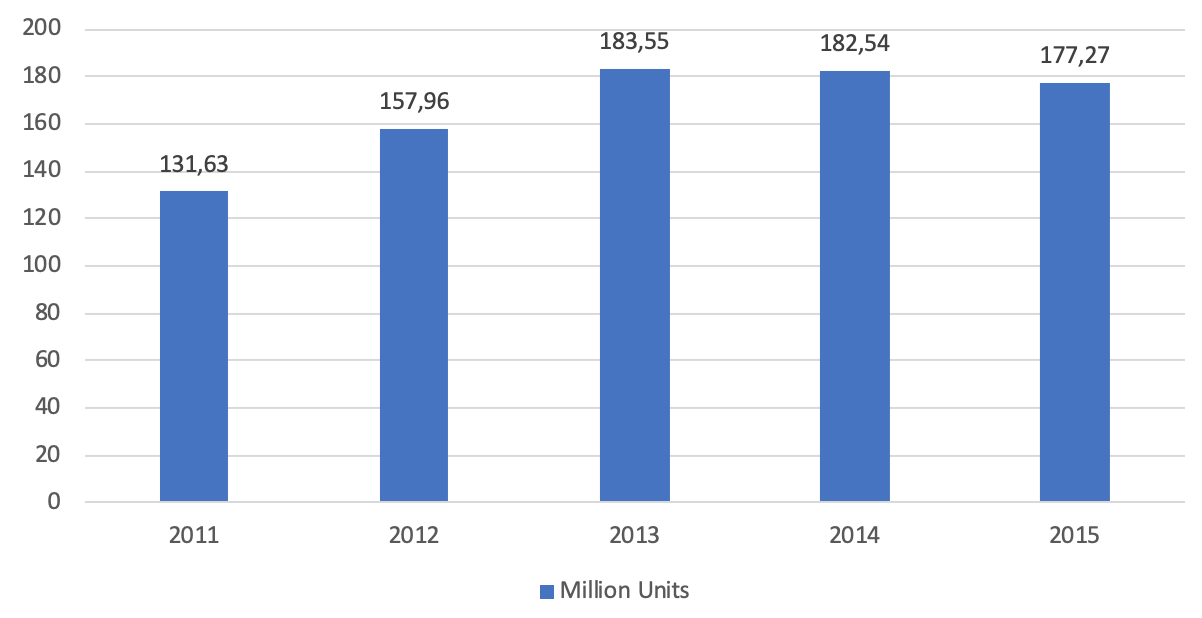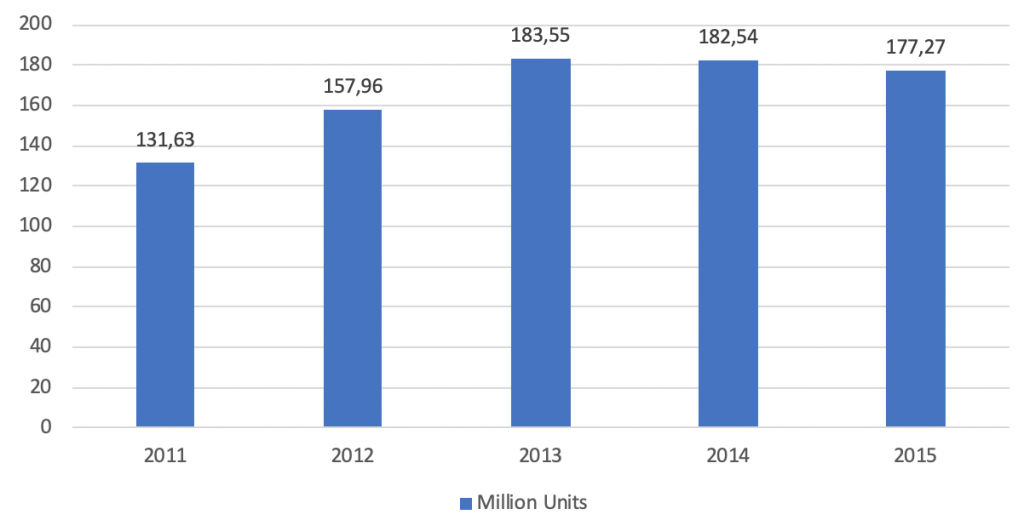 (Source: Statista)
---
Why China is the Right Choice for Jewelry & Watches Production
a. Jewelry & watches production capacity
As largest net exporter of jewelry in the world, China does not only possess the advantage of lower labor costs, but there are also a large number of factories that offer a wide range of designs, materials and components to choose from. There are many registered jewelry companies, licensed individual dealers, and gem and jewelry exchange centers.
China has also become the world's largest manufacturer and exporter of watches. There are six major production areas in the country – the Pearl River Delta region, Fujian, Zhejiang, Jiangsu, Shandong and Tianjin, each with its own complete processing chain.
Chinese jewelry and watches suppliers have extensive experience in original design manufacturing (ODM) and original equipment manufacturing (OEM), able to realize clients' requests to assemble jewelry and watches based on existing designs for white labeling/private labeling or creating custom products. Since there are various jewelry and watches suppliers in China, the supply chain for sourcing and adjusting components or materials is well-established, making the whole process smooth.
As a result, companies from Europe and North America are heading to China in droves for lucrative manufacturing and business contracts. Some components for jewelry and watches that are manufactured in Switzerland or other Western countries are also coming from China.
b. Technological advantages in the jewelry & watches industry
Chinese factories have been adopting technological upgrades, allowing them to effectively manufacture and assembly jewelry and watches while adhering to strict quality control standards. Compared to other low-costcountries, China is more technologically generally more advanced and capable of producing smart wearables, actively installing robot technology and further increasing productivity.
China: World's Largest Robotic Importer (in thousand units)
(Source: International Federation of Robotics)
In the forecast period, the application of smart technology in the jewelry and watches category in China will be a trend as tech-savvy players have already made gratifying breakthroughs. As most electronic components are manufactured in China, its well-established supply chain allows for faster assembly for smart wearables, shortening lead times. On the other hand, the manufacturing processes for regular jewelry and watches are increasingly automatized.
c. Modern logistics infrastructure
China's key resources include warehousing and distribution centers making jewelry and watches easier to deliver. China provides,and has been investing heavily in, a wide variety of logistics services—international air and ocean forwarding, logistics project planning and supply chain management, and visibility system development and implementation.
Supply Chain Performance of Asian Countries in the Jewelry & Watches Industry


(The score indicates the country's performance on sub-sectors of trade logistics, ranging from 1 to 5, from low performance to high performance. Source: The World Bank, 2016)
The country has also adopted web-based tracking software provided by each logistics provider and giving periodic updates to customers on both the shipping and receiving endof the transaction which is key to ensuring security and traceability.
---
Potential Problems in China's Jewelry & Watches Industry
a. Time problems in the jewelry and watches industry
For the jewelry and watches industry, time management is important because the innovation of products comes at a rapid rate from changing consumers habits. Companies are constantly launching new products. Long lead times caused by insufficient lead time assessment, lack of control of suppliers due to no local presence, or inefficient logistics organization could result in products being out-of-fashion.
However, adapting and setting up productionlines for jewelry and watches are complicated because individual designs and materials are often used as well as corresponding production steps are needed. Changes to existing designs (white label/private label) and new designs (OEM) must be planned precisely and quickly, which is often underestimated and leads to delays.
b. Quality problems in the jewelry and watches industry
Jewelry and watches are marketed with a high brand value and corresponding markups. It's particularly important to ensure that design and quality can be implemented accordingly to reflect their brand value. Any changes to design and functionality must be implemented carefully. Even a small crack or a loose rock can lead to defected products. Thus, conducting meticulous inspections during all stages of the process is extremely important to ensure product quality and functionality. Supplier assessment is equally critical to make sure that they are properly licensed and are able to produce at required quality.
c. Cost problems in the jewelry and watches industry
Not conducting a proper feasibility study can lead to higher cost, underestimated price and overestimated production speed.
There is a limited number of suppliers capable of manufacturing specialized items used in jewelry and watches in China, such as special watch components, or jewelry materials and designs. As a result, these suppliers will try to take advantage of the lack of competition and high brand value to charge unreasonably high prices, much higher than the actual material and labor costs.
Clients often fail to sufficiently assess and compare different suppliers due to a lack of manufacturing experience or not understanding the language and culture. So they often miss out on suppliers who can offer better prices.
d. Planning problems in the jewelry and watches industry
Common issues for planning include long lead-times and high costs of prototypes. Insufficient implementation of a new production line often results in delays and poor product quality, and inadequate product costing.
Inadequate planning can lead to longer lead-times and higher costs. Before product development and production, it is important to communicate the clients' desired specifications for their jewelry designs or watch components in a clear and detailed fashion. This makes developing and procuring product prototypes extremely critical, making sure all requirements are met before bulk production.
Throughout the production line, the supplier must also have checkpoints, to ensure that the assembled jewelry pieces or watch parts contain the right components and in the right quantity.
A common problem is that,clients with moderate order sizes have difficulties to get the right service they need because suppliers don't care enough about these orders to provide quick samples. A simple customized sample can take an unusually long time to produce.
e. Risks in the jewelry and watches industry
One of the biggest risks are defective components and bad raw materials provided by subcontractors. Hence, supplier assessment is key to ensure the factories have a standardized control procedure for all incoming watch parts and jewelry materials.
For overseas clients, contacting suppliers online often leads to a convoluted coordination process, getting overpromised, and sometimes the suppliers even offer your developed custom design or brand to other customers. Thus, it is important to negotiate a locally enforceable contract that includes intellectual property rights (IPR) protection.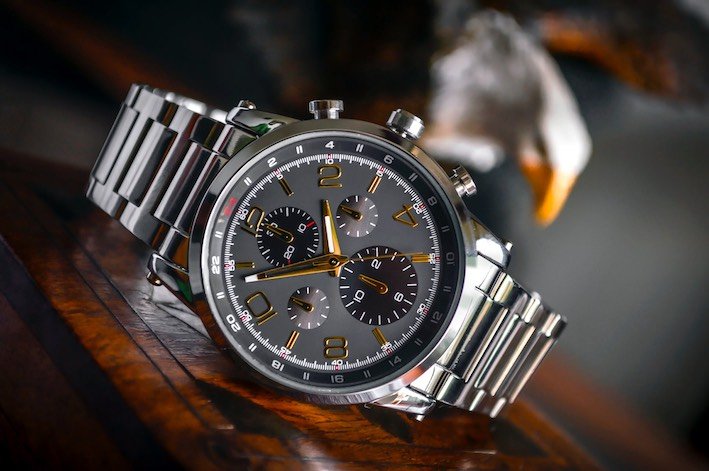 Production for timepieces and jewels has to be optimized
so that the output reflects your brand value.
---
Our Recommendations for China's Jewelry and Watches Industry
a. For reducing time required in the jewelry and watches industry
With our experience, Intrepid Sourcing provides the coordination of tasks to handle the manufacturing process smoothly. We provide an overview of China's jewelry and watch industry that clearly lists all material and functionality possibilities.
To simplify and accelerate the procurement and manufacturing methods, we work directly with specialized suppliers for clockworks that can fulfil special wishes for different wristbands, case materials and functions (like date, time zone or similar for watches, analog/digital, and different releases or chains for jewelry so that procurement and production process are made faster.
b. For ensuring quality in the jewelry and watches industry
Intrepid Sourcing has contacts to jewelry and watches factories that produce for well-known big Western brands. By looking at the product design, we can tell where the critical areas may be and can adjust accordingly. We also conduct thorough quality control (QC) procedures to ensure every detail at every single piece of jewelry or watch is in perfect condition.
Because jewelry and watches are of close contact to the skin, we use certified materials or test the materials and make sure that they do not cause allergic reactions. For example, for plated jewelry, we make sure the plating is done with a pure real metal and are not diluted.
c. For reducing cost in the jewelry and watches industry
We have contacts with relevant suppliers who are capable of producing every specialized jewelry or watch component. We also thoroughly compare specifications and possible design changes. With our knowledge of manufacturing steps, raw material, andmarket prices, we are able to identify the suppliers who can manufacture the product components at reduced costs. Furthermore, we are familiar with market prices for given quality and quantity levels.
d. For planning in the jewelry and watches industry
We are taking over the planning phase, making sure the suppliers are dedicating focused attention towards our clients. With years of experience working with jewelry and watches manufacturer, we know how to make the process fast and reliable. Even for clients whose order sizes are not as high as those big Western brands, we make sure they can procure customized prototypes without delays.
e. For minimizing risk in the jewelry and watches industry
We have a local presence and experience in all relevant Asian countries, enabling us to effectively negotiate and draft enforceable contracts to make sure suppliers fulfill their requirements as well as protecting the clients' IPR, carry out due diligence, and safeguard all transactions.