The gifts and premiums industry is a vast enterprise in the world of manufacturing here in China and Asia. However, it is often overlooked there are thousands of manufacturing companies in this area who cater to the gifts industry. If you are thinking of opening a white label or private label business in this industry, then you should check out this gift and premium industry report.
---
Gifts and Premiums Industry Overview & Key Statistics
a. Promotional items industry description
Gifts and premiums pertain to products which are usually provided as marketing or promotional items, giveaways, souvenirs or awards for purposes of strengthening consumer relations, motivating customer purchases, or affirming employee-employer relations.
The giftware and premiums industry covers a broad spectrum of consumer products, ranging from standard products such as home decors, drinkware, stationery (pens and stickers), kitchenware, food items (like McDonalds Happy Meal and Kellogg's Cereal extras) and clothing apparel accessories to more sophisticated, higher-valued goods like timepieces, jewel, silverware and artworks.
The global personalized gifts market value is expected to reach 31.63 billion USD by 2021, enjoying an incremental growth in terms of value of $11.17 billion USD from 2016, which was worth US$20.46 billion.
b. Global giveaway production: China vs. other regions of the world
China is the largest producer of gifts and premiums in the world, accounting for more than 80% of the world's giveawayitems. In 2009, the annual sales revenue of China's gifts market was 890 billion CNY ($139.6 billion USD), while promotional gifts reached 400 billion CNY (62.7 billion USD). Currently, there are about 10,000 gift manufacturers and 100,000 gift corporations in China.
In Hong Kong alone, giftware and premium export values amounted to $176 million USD in 2015, but is predicted to increase further in tandem with growing trends on personalized gift items and higher value corporate giveaways.
The gifts and premiums industry is intimately tied to different ancillary industries, such as the molding sector (for toys and plastic items), metal industry (for timepieces/key chains), stationery industry (pens and notebooks) and kitchenware (drinkware), hence exact production values cannot be determined. Nevertheless, China's production numbers, as well as industry revenues across different product categories, rank among the highest in the world, signifying it as the world leader in manufacturing giftware sets and giveaways. For pencils and crayons alone, China's export revenues reached $729 million USD, accounting for 44% of the global production value.
World's Top Exporting Countries for Pencils and Crayons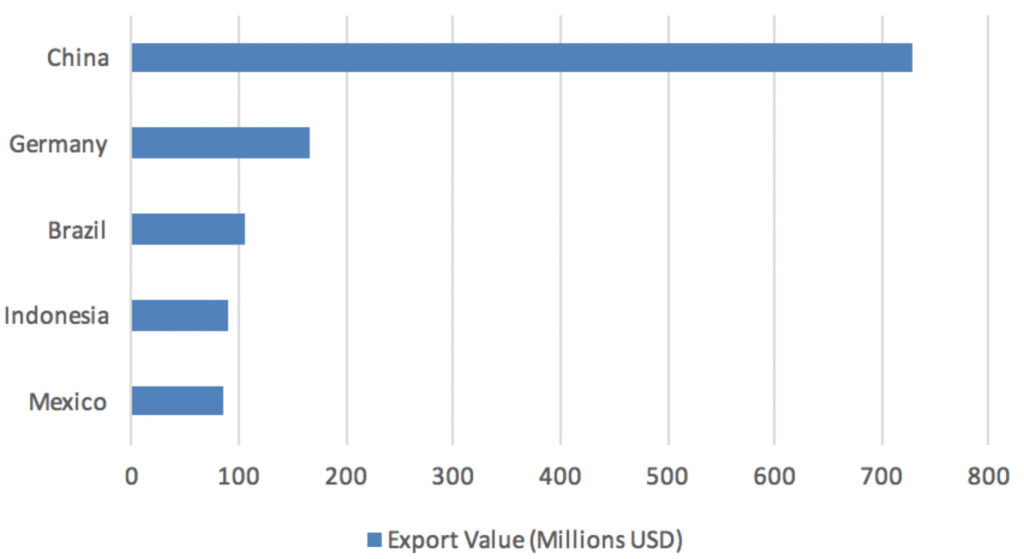 (Source: WorldAtlas)
c. Commonly produced gifts and premiums in China
Home decors and home accessories
Drinkware
Stationery (such as pens and notebooks)
Kitchenware
Clothing and apparel (such as baseball caps)
Silverware
Timepieces
Accessories (such as key chains)
Artwork (prints)
d. Year-on-year promotional items industry growth
The industry revenue for gifts and premiums in China experienced an annual growth of 20%, which is in sharp contrast to the receding global gift market. According to IBISWorld, this growth is fuelled by the fact that some of the most common gift items have enjoyed positive year on year growths over the years–the homeware sector is predicted to face an annual growth rate of 13.9% (CAGR 2018-2022) while the stationery and office supplies is forecasted to have an estimated annual rate of 7.4% by 2022.
Trend for Cased Pencils Exported from China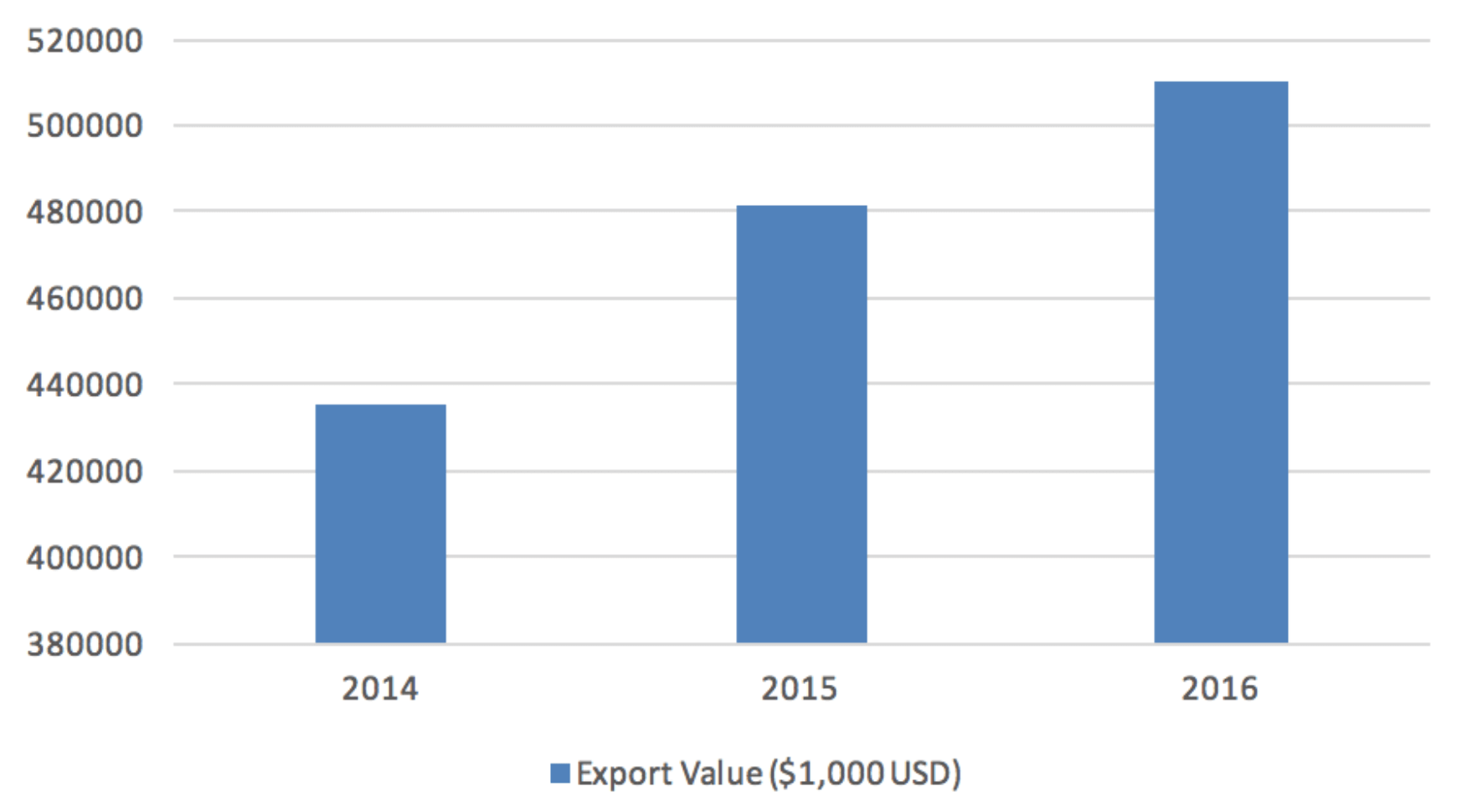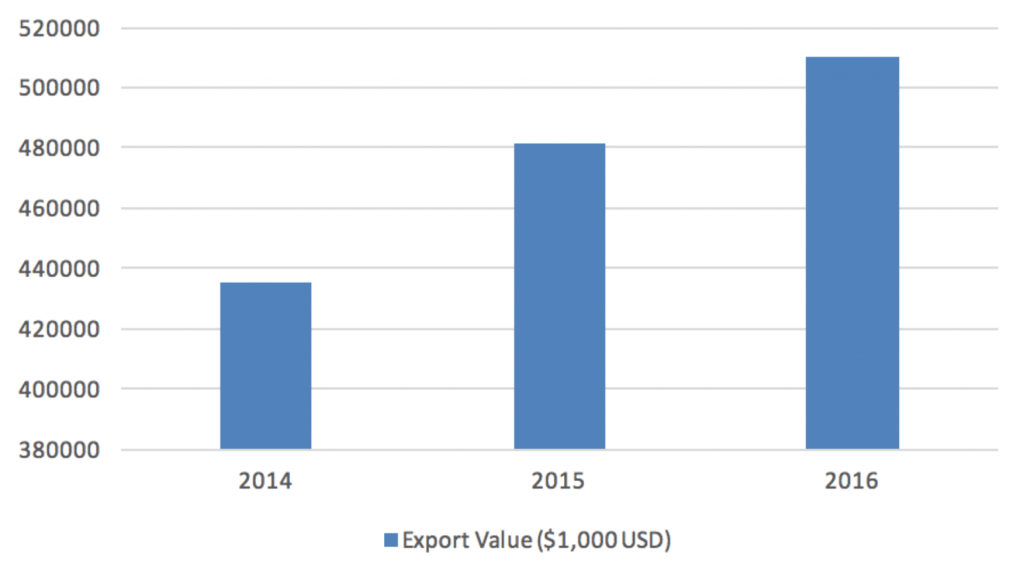 (Source: U.S. International Trade Commission)
---
Why China is the Right Choice for Gifts and Premiums Production
a. Gifts and premiums production capacity
China's giftware and premiums industry features extensive production capacity, established supply chains, customized product designs, and cost-effective production costs. Chinese gifts and premiums suppliers specialize in original equipment manufacturing (OEM) and original design manufacturing (ODM), which translates to a depth of experience in creating your own product designs or assembling gift products and premiums based on supplier product designs.
The extensive variety of gifts and premiums suppliers in China includes thousands of factories which are capable of producing price-competitive promotional products for the premium and give-away market, including middle to high-end gift items. They can accommodate low minimum order quantities (MOQs) as well as high quantity orders, and also those that require advanced customization.
The list of promotional items produced in China isso diverse that it is easy to find functional and attractive promotional products that send the message across at reasonable rates.
China's local giftware industry is backed by a strong network of competent ancillary sectors covering the entire supply chain. For instance, the local mold-making sector supports toys, pens and lighter production while the metals industry supports timepiece and key chain manufacturing, along with other casings, bands, andcomponents. Unlike Western counterparts–focusing on specialized, large volume contracts–the production capacity of Chinese suppliers is extensive and easily scalable, caters to both large-scale and small volume orders allowing clients to increase the production volume of giveaway products in accordance with consumer demand. Chinese gift suppliers can likewise be sensitive to changing market needs, besides being efficient and reliable if the collaboration is well organized.
b. Technological advantages in the giveaway industry
Besides manufacturing expertise and extensive supply chains, Chinese production showcases innovative technologies designed for precise and highly efficient giftware production. The Global Innovation Index 2016 (GII) has listed China as one of the most innovative countries in the world, making it capable of creating more diverse and interesting give-away items, especially in the small electronic devices market.
China has also adopted advanced technologies to optimize its domestic production, investing in smart robotics, cloud data and automated factory technologies as groundwork to streamline processes.
The country is also undergoing an industrial upgrade by heavily investing in science, technology, engineering and math (STEM) education, resulting in a surge of technical experts in all fields, meaning a sufficient supply of well-educated and tech-savvy supervisors of giftware manufacturers, which will further increase productivity.
World's Largest Robotic Importers (in thousands)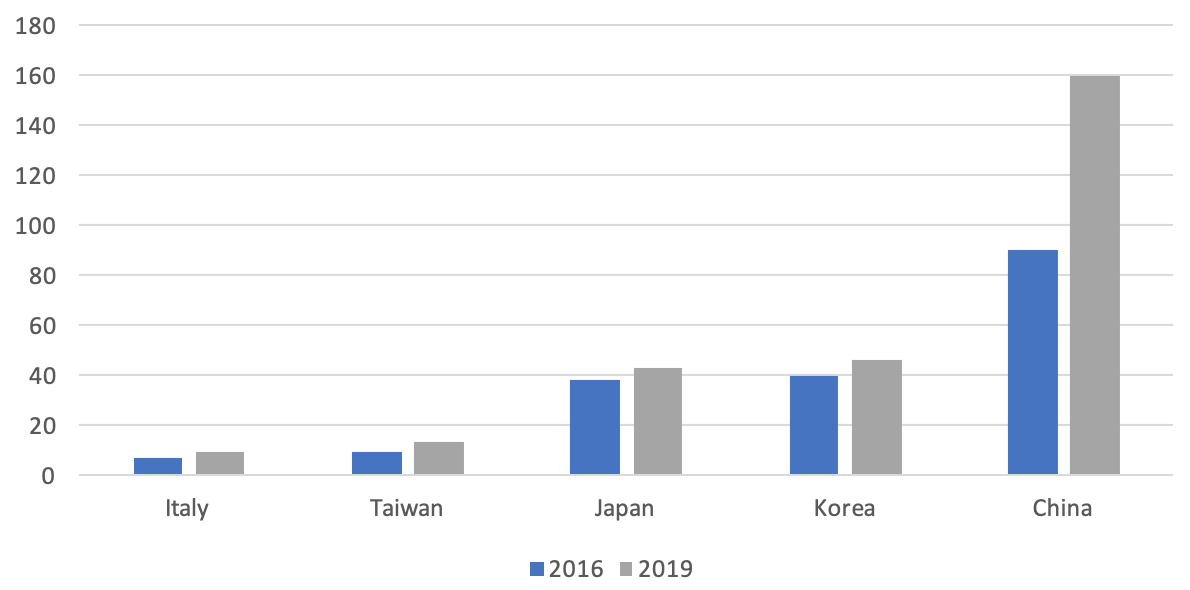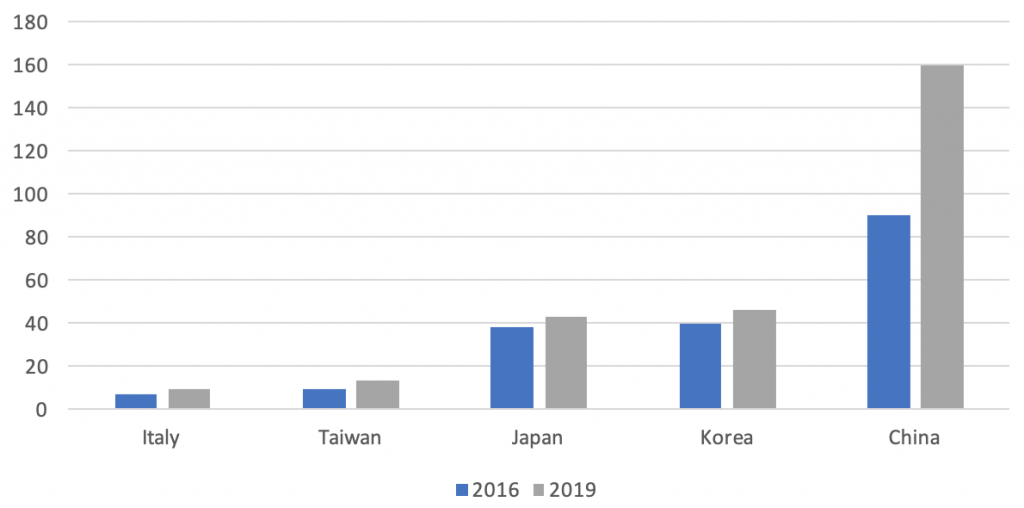 (Source: International Federation of Robotics)
c. Modern logistics infrastructure
Over the years, China has been upgrading its infrastructure, optimizing road transportation, air freight, contract logistics and international cargo forwarding. As a result,China's logistics sector is the largest in the world, with an annual growth of up to 20% in recent years.
This well-developed and expansive logistics network connects numerous giftware manufacturers and their supply chain at the southeast coast of China—the heart of the country's export manufacturing sector—with the rest of the world, ensuring efficient cross-border delivery.
Supply Chain Performance of Asian Countries in the Fashion Accessories Industry


(The score indicates the country's performance on sub-sectors of trade logistics, ranging from 1 to 5, from low performance to high performance. Source: The World Bank)
Meanwhile, China is undertaking its largest infrastructure project to date called the "One Belt, One Road" initiative, with the primary objective of expanding its global trade reach by establishing a vast logistics, shipping and transport network of new roads, railway tracks, ports, and airports across Asia, Europe, Africa and Oceania. This will significantly reduce delivery time, especially for clients in land-locked countries.
---
Potential Problems in China's Gifts and Premiums Market
a. Time problems in the gifts and premiums industry
It is a common stereotype that China-made products are entirely of bad quality. All too frequently, there are unscrupulous manufacturing companies in the giveaway industry disguising as legitimate suppliers online, who lack the depth of experience and knowledge needed to get the production done in accordance with client expectations. There are particularly many suppliers in this field that are unreliable and guilty of mis-assessing product design requirements with delayed revisions, which lead to longer lead times and schedule delays. These suppliers are attracted to the souvenir industry since the investment requirements are relatively low.
Hence, theway of productionand supplierchoice has to be done quickly but carefully. Supplier selection is of utmost importance, so that the gifts and premiums can be produced in the shortest lead time possible at high quality.
Another problem is that clients are not in the region, so they are unable to arrange a face-to-face assessment of the potential suppliers and ensure their compliance with project timeframes, leading to unnecessary delays.
b. Quality problems in the gifts and premiums industry
Promotional gifts and giveawaysmust symbolize high brand value. These premiums are given as tokens of appreciation for employees, or to reward the customers for their continued patronage. Thus, it is imperative that these products, even the simplest ones, should always come with high quality, attractive and fully functional. Otherwise, giving out cheap-looking, poor-quality items can only jeopardize the brand's reputation.
It is particularly important to ensure that both the design and quality of each gift item are be implemented accordingly. Samples should be subject to rigorous inspection prior to launch, and design should be thoroughly analyzed before final production.
c. Cost problems in the gifts and premiums industry
The gifts and premiums industry in China is highly competitive, especially for the most popular items. There are many suppliers for almost all types of giveaway products. Some suppliers know that clients have the habit of collecting many quotations and usually pick those with the lowest offers. In order to compete and attract clients, local manufacturers reduce their operational costs and sometimes compromise the quality of their products to lower their prices. The danger in this is that most clients are misguided into purchasing low-priced gift products listed on catalogs without checking the feasibility of production at the demanded quality.
Therefore, clients should conduct thorough research on market prices and on the comparison of gifts and premiums product differences. They should also be extremely cautious in settling for the lowest priced products which are often of subpar quality, but instead seek suppliers who are capable of comprehensive and specialized production to get better prices while maintaining quality.
d. Planning problems in the gifts and premiums industry
In order to effectively implement a new production line in China, planning is key. For giveaways, product packaging is crucial since well-designed and branded items reflect the brand's image and are popular among customers. Consequently, communication with the suppliers needs to be made clear at the beginning of production, making sure they understand all desired specifications for the products and packaging.
As mentioned before, another problem is that clients with moderate order sizes face difficulties receiving the right service because they are overlooked by a number of selective quality suppliers—sometimes they even ignore simple requests such as a quick custom sample. These suppliers have difficulties to filter out worthwhile contacts while still being willing to take on smaller orders.
e. Risks in the gifts and premiums industry
Clients relying on contacting suppliers online often find themselves ending up in a convoluted coordination process, from finding the right supplier to produce their prototype to manufacturing their desired gifts and premiums.
Moreover, without a local presence, clients face the risk of insufficient supplier assessment, overpaying for something relatively inexpensive while the quality is still poor.
Additionally, clients may not be familiar with local laws and regulations,thus finding themselves vulnerable to bad contract negotiations. Without a clear and detailed Chinese contract, they are exposed to the risks of contractual breach and unable to enforce contract terms in case that something goes really wrong.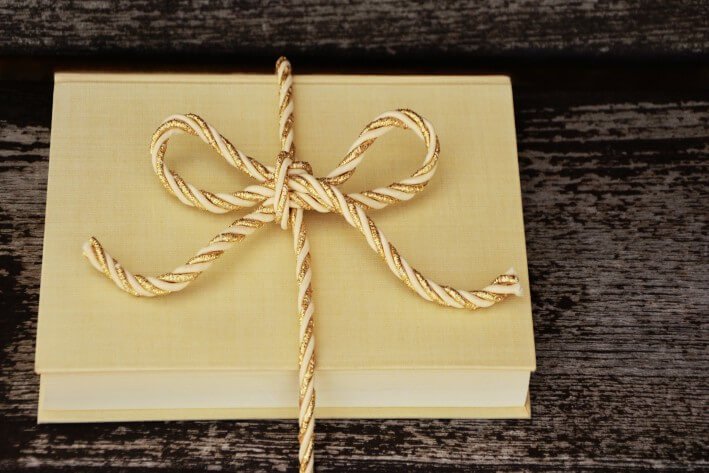 Appropriate packaging and wrapping of gifts and promotional items should be considered early on in production planning.
---
Our Recommendations for China's Gifts and Premiums Market
a. For reducing time required in the gifts and premiums industry
Intrepid Sourcing has the experience and expertise to make sure the entire process is coordinated smoothly and quickly. We provide our clients with an overview of materials used for gifts and premiums, and lay out the manufacturing process possibilities to make sure the products are manufactured in the most efficient way.
To simplify and speed up the procurement and production process, we work directly with suppliers that can fulfil special wishes for materials such as special shapes and packages for reasonably priced giveaways.
b. For ensuring quality in the gifts and premiums industry
Intrepid Sourcing has contacts to reliable trinkets factories in China that produce gifts and premiums for well-known big Western brands. Our quality control mechanisms ensure that each detail at every single piece of the giftware is in excellent condition.
We also have the knowledge of which kinds of prints and packaging are appealing to customers, helping the clients choose what best suits their brand's image and customers' preferences.
c. For reducing costs in the gifts and premiums industry
Intrepid Sourcing has the ability to quickly identify all relevant suppliers who are capable of producing specific gifts and premiums. We have an in-depth understanding of material prices and labor costs in the current market as well as other relevant, non-pricing factors to help clients achieve the most cost-effective deal without compromising product quality.
d. For planning in the gifts and premiums industry
With years of experience, we know the coordination process with suppliers in the gifts and premiums industry by heart. We help our clients with planning and dedicate focused effort towards them, making sure the entire process is efficient and reliable.
We also cooperate with specialized product packaging manufacturers so that the clients can choose from an expansive selection of creative designs instead of settling with a standard packaging. This also has to be considered early and integrated to the planning process.
e. For minimizing risk in the gifts and premiums industry
We have local presences in relevant China and other Asian countries. Combined with our experience and expertise in local laws and business culture, we ensure all contracts are legally enforceable and all business transactions are safeguarded in these countries.