The toy industry has a special place in the world of manufacturing. A handful of manufacturers thrive in this industry due to opportunities and an endless demand in the market. As a startup entrepreneur in the toy business, this industry report for the toy industry is a must-read for you to gain knowledge of the market before gaining a foothold in the industry.
---
Children Products and Toys Industry Overview & Key Statistics
a. Children toys industry description
Children's products pertain to consumer products which are designed or intended primarily for children 12 years of age or younger. The determination of whether a certain product belongs to the children's products category rest on the following criteria: a) statement by the manufacturer regarding the product's intended use as indicated on its label, b) designation on the product label or other advertising or promotional materials that that such product is designed for children 12 years of age or younger, c) common consumer belief that such product is intended for use of children 12 years of age or younger. Conversely, products designed or intended for consumers older than 12 years of age are labelled as 'General Use' products.
Among the most popular items included in the children's products category are children toys. Perceived to hone the early cognitive development and creativity of children during playtime, toy products – ranging from vast categories of action figures, arts and crafts, battling toys, collectible toys, costume and dress up dolls, mini playsets, educational toys, games and puzzle, infant toys, models, musical instruments, outdoor seasonal toys, sports toys, ride-ons, powered vehicles, to youth electronics (such as robotics or drones) – continue to be high-demand products among parents and kids alike.
China has been the world's largest manufacturer and exporter of children's products and toys for a few decades, accounting for almost 80% of the global toy supply. From 2007 to 2015, the country's production volumes soared by 18.5%, due to enhanced large-scale toy production capabilities and growing local consumer demand as a result of the new second-child policy as well as a growing middle class.
According to the United Nations (UN), the value of China's toy exports reached US$44 billion in 2016, with traditional toy exports such as doll sets and educational toys registering the highest export values at US$18.4 billion. Export values of toys to the United States totaled US$25 billion, while US$4 billion worth of toys were each exported to Japan and Britain in the same year.
Export Values for Traditional Children Toys Exports from China


(Source: China Briefing)
b. Global toys production: China vs. other regions of the world
In 2015, the global production of dolls and toys increased by 10% in value (approximately higher by an absolute increase of US$3.7 billion) compared to 2014. Toy production likewise registered 5.2 million tons in 2015, enjoying a volume increase of 26% against the previous year.
According to Research agency IndexBox, China was the world's largest manufacturer of dolls and toys in 2015, accounting for over 70% of worldwide toy production and earning profits of about US$28 million.
In 2016, China remained atop the list of the world's biggest toy exporting countries, and is unlikely to lose its top position any time soon.
Export Values for Top Toy Exporting Countries in 2016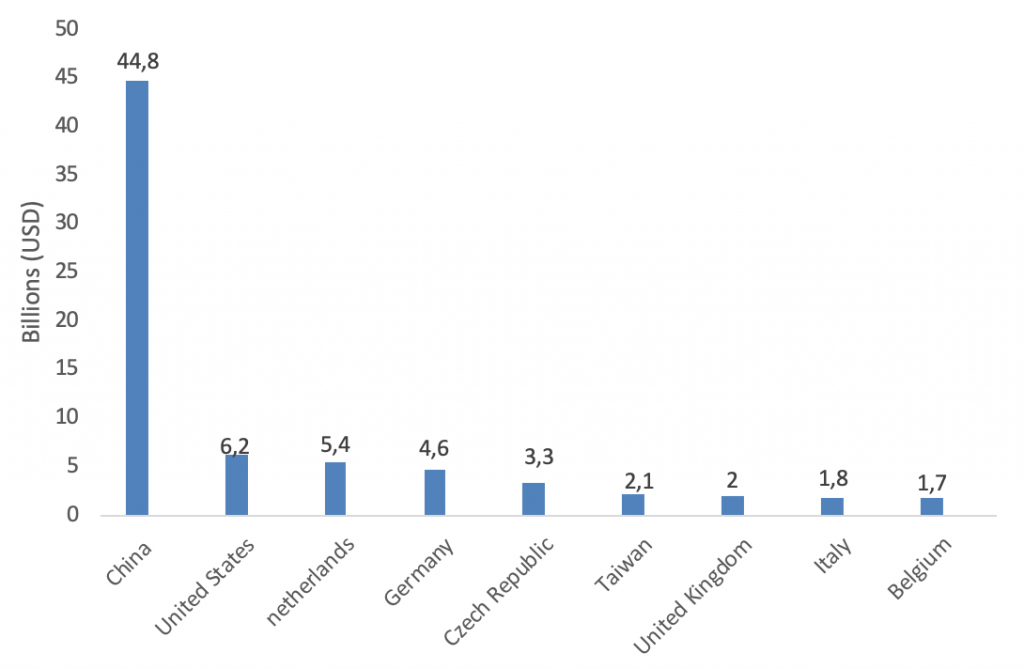 (Source: World's Top Exports)
c. Commonly produced children products and toys in China
Electronic Toys
Stuffed Toys
Educational Toys
Dolls and Dress Up Kits
Puzzles and Building Sets
Action Figures
Feeding Bottles
Strollers
d. Year-on-year industry growth
The initial boom of China's children's products and toys industry can be attributed to huge investments on low-cost manufacturing, but it is the emergence of its massive domestic consumer market that is expected to further the growth potential of the industry in the coming years.
According to the 2017 Industry Development Report of the China Toy & Juvenile Products Association, China's total toy exports accounted for more than US$44.2 billion, with a 31.2% year-on-year growth in terms of revenue shares.
Children's products are in general are commonly produced in China, not limited to toys, as shown in the following chart: exports of children's products accounted for billions of revenues (in USD) across different product categories.
Export Values for Different Children Products from China in 2017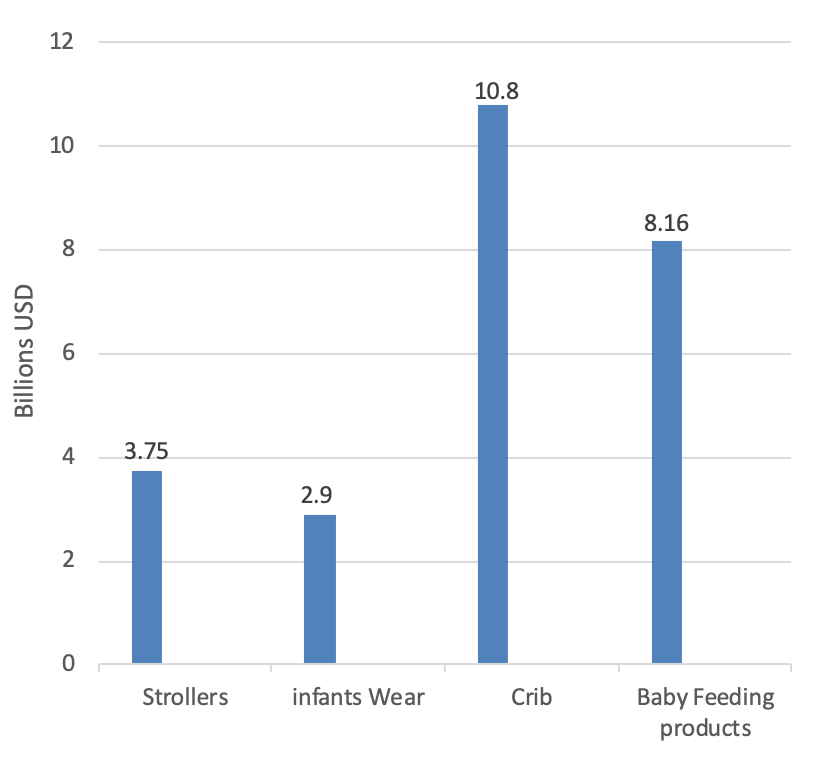 (Source: China Toy & Juvenile Products Association)
---
Why China is the Right Choice for Children Products and Toys Production
a. Children toys production capacity
Hailed as the world's factory, China has earned its reputation as a global hub for children's products and toys production. With extensive production capacity and established supply chains, China caters to the original equipment manufacturing (OEM) requirements of some of the largest toy companies in the world, including Mattel and Hasbro. According to the US Commerce Department, 9 out of every 10 toys bought in the United States are produced overseas, with Chinese production accounting for a majority of these toy imports.
There are currently more than 10,000 children's product and toy manufacturers in China, mostly located in the coastal areas, with a corresponding labor force of around 6 million workers. China's Guangdong Province, for instance, is home to thousands of toy factories. The majority of these suppliers feature output value and product quality at par with global standards. Guangzhou, in the provincial capital of Guangdong, is China's leading toy production and export center which is estimated to produce more than half of the world's toys alone.
Unlike Western Counterparts which focus on specialized, large-volume contracts, the production capacity of Chinese suppliers is extensive and easily scalable, caters to both large-scale and small-volume orders and allows clients to increase the production volume of toy products in accordance with consumer demand.
b. Technological advantages in the children products industry
China's manufacturing expertise and extensive supply chains give it a competitive advantage that is tough to overcome. Following strong government support in R&D and stable GDP growth, China has likewise greatly improved its technological prowess.
No longer a mere copycat, China is at the forefront of innovative technology. Global Innovation Index 2016 (GII) reported that China is among the world's most-innovative economies, joining the list of technologically advanced countries like the United Kingdom, the United States, and Switzerland.China has also adopted advanced technologies to optimize its domestic production, investing in smart robotics, cloud data and automated factory technologies as groundwork to streamline processes.
China: World's Largest Robotic Importer (in thousand units)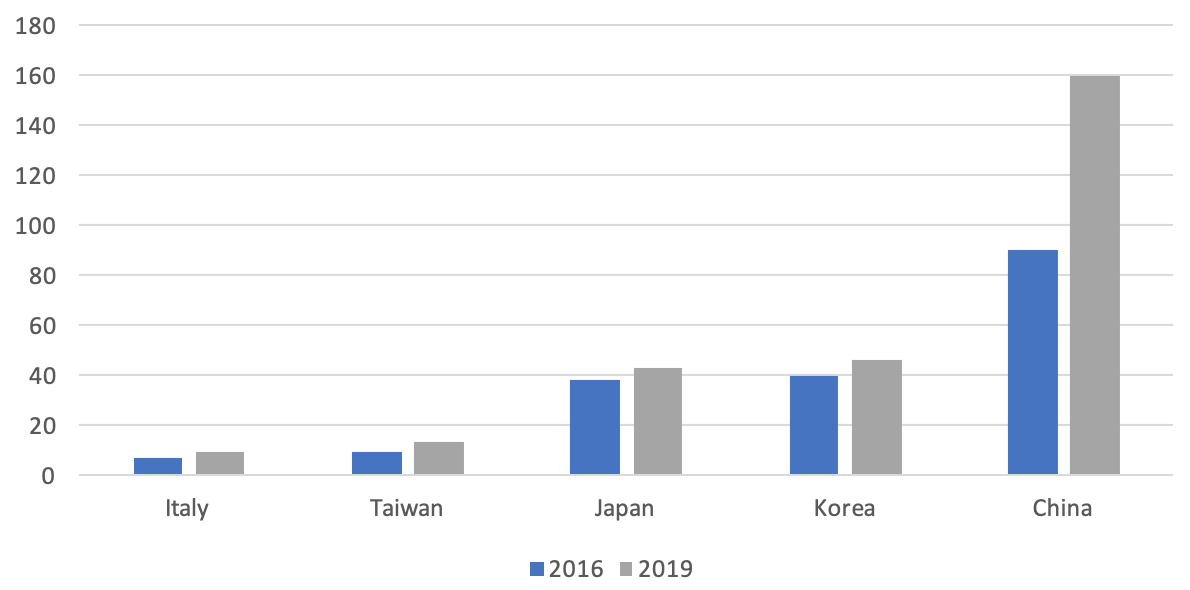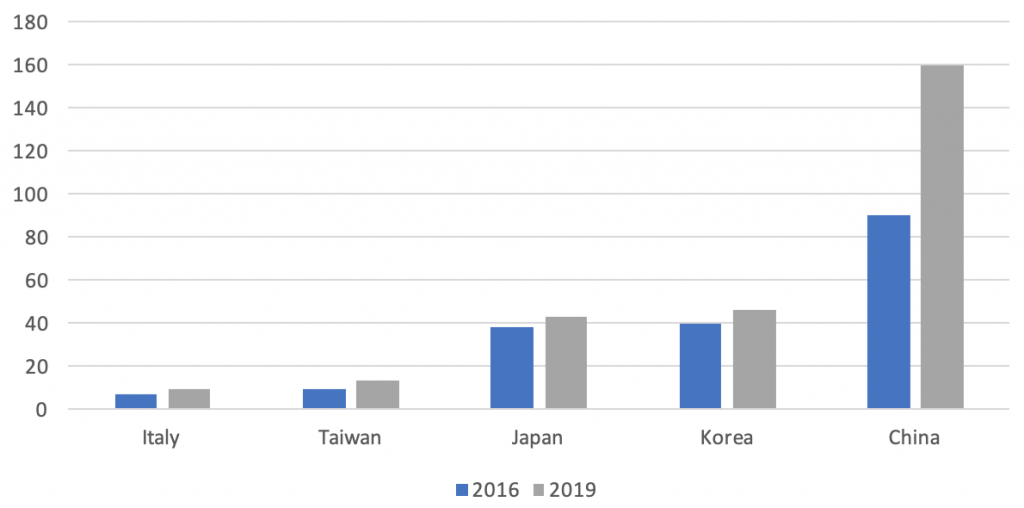 (Source: International Federation of Robotics)
China's Ministry of Industry and Information Technology reported higher investments in Artificial Intelligence, with focus on artificial neural network processing chips, intelligent robots, automated vehicles, intelligent drones, and machine translation, as a means to boost China's automated production capabilities. According to the International Federation of Robots, the number of installations of robot technology in China's industrial settings increased by 27% and are expected to grow another 75% by 2019. By 2020, China is expected to reach a density of about 150 per 10,000 human workers which can fuel automation across the toy production industry. Although labor cost for toy production in China are increasing, it can be offset by this technological progress.
According to Forbes, China also recently witnessed an influx of highly trained people (mostly engineers) into the science and technology sector. This means an emergence of a tech-savvy and sophisticated labor force featuring adomestic pool of engineers and technicians who are capable of supervising the production of children's products and toys and spearhead China's intended industrial upgrade.
c. Modern logistics infrastructure
In 2015, China initiated infrastructure upgrades for 20 cities in China's nine regions, optimizing road freight, air freight, contract logistics and international freight forwarding. Multi-billion investments inport, road, and rail infrastructure helped boost China's logistics sector as the world's largest, with annual growth of 20%. This well-developed logistics network spans global coverage, able to provide offshore clients with accurate information and visibility as to the status of products' cross-bordermovement, from point of order to delivery. There are Asian countries where labor cost is even lower than in China; however, China's superior logistics infrastructure makes it highly competitive in the export market.
Supply Chain Performance of Asian Countries in the Toys Industry


(The score indicates the country's performance on sub-sectors of trade logistics, ranging from 1 to 5, from low performance to high performance. Source: The World Bank)
Equipped with systems capabilities to monitor supply chains and inventory levels, China's suppliers and logistics providers ensure on-timecross-border movement of children's products and toys consistently, from placement of order to shipping. They can send automated notices to clients in case of schedule delays or disruptions, and transmit shipping data electronically, so that offshore clients have real-time knowledge of freight movement and freight location.
---
Potential Problems in China's Children Products and Toys Industry
a. Time problems in the children toys industry
Success in the children's products and toys market, which is a highly regulated sector, requires massive trendiness and creativity along with vast resources and legal know-how.
Production alone, is a complex process, as there are two fundamentally different modes of toy production, done either via 1.) white label/ODM manufacturing suitable for prior existing toy designs and popular toy product categories such as teddy bears, dolls and toy blocks or 2.) OEM production, which is a better alternative when manufacturing new and customized toy designs.
During production, design flaws should be identified early on. Likewise, changes to existing designs (white label) and new designs (OEM) have to be planned precisely and quickly, otherwise, mass produced finished toy products could fail quality standards. Assessment of design flaws and prompt revisions in toy designs can be overlooked by some suppliers, leading to underestimated lead times and schedule delays. The determination of the ideal mode of toy production for a given toy design (whether OEM or ODM), given the breadth of available ODM and OEM suppliers in China, can also take up much time if the client lacks thorough understanding of OEM or ODM methodologies and supplier selection.
To further compound the problem is that most clients have no localpresence in China, which means they have no means to assess potential suppliers and monitor their compliance with project timeframes. Delays attributed to disrupted supply chains, design changes or extended failure analysis, are therefore not always immediately detected due to lack of transparency from suppliers.
b. Quality problems in the children toys industry
The consumer market for children's products and toys comprise millions of young consumers who are vulnerable to accidents and injuries, hence stringent regulations are in place to ensure that every product meets specific safety standards and product quality standards for toys.
In different countries, there are strict regulations imposed and certifications required in order to allow the commercial sale of toys, among the common ones are the international standards of ISO 8124-1:2000 (mechanical and physical properties), ISO 8124-2: 1994 (Flammability) as well as theConsumer Product Safety Improvement Act in the United States and the Toy Safety Directive of the European Union.
Since children's products and toys are marketed with high brand value and corresponding mark ups, guaranteeing the overall product quality and safety standards is imperative. Thus, strict quality standards and product testing must be carried out consistently, from design and prototyping through the release of the finished toy product, to detect defects and faulty designs early on. Otherwise, the defective toys may be the subject of high profile product recalls or even liability lawsuits. Supplier assessment is likewise a must to determine if the supplier has proper certifications and licenses from China's regulatory agencies.
c. Cost problems in the children toys industry
The children's products and toys market is highly competitive. Toy brands strive to acquire a substantial share of the consumer markets by innovating their creations and creating engaging content, all while trying to reduce their operational costs.
In an effort to reduce costs, big brands relocated their mass production of toys to factories in areas where wages are lower. A common destination is China.
A frequent problem encountered by outsourcing toy companies, however is that, there are not that many suppliers capable of manufacturing very specific and specialized toys, especially those that are not very common or require advanced levels of technical expertise.
Finding a niche toy can be very lucrative (such as the case of the fidget spinner which proved to be a popular hit among consumers) but it requires niche and specialized manufacturing knowledge/capability. The recent bankruptcy of Toys"R"Us was partially driven by more specialized niche toys available online that a single company cannot control anymore.
Clients therefore should not only adequately survey the market for price comparison of children's products and toys, but also seek suppliers with comprehensive and specialized production capabilities yet readily offer better prices than other costly suppliers.
d. Planning problems in the children toys industry
Meticulous planning is critical to effective implementation of a production line in China. Before product development and OEM toy production, clients must clearly communicate to suppliers their desired specifications for their catalogue of children's products and toy products. This includes adequate planning especially for product packaging, since children value colorful toys and tend to select toy products which are creatively wrapped.
The problem is that clients with decent order sizes (but not high volume) experience difficulties procuring the right service because some suppliers disregard requests for customization when the orders are not close to their minimum order requirements. They also lack transparency, deliberately neglect to provide proper planning to save time, prototyping, product testing andeven use risky methods and have been found to incorporate banned chemicals (lead for instance) in order to reduce their costs.
e. Risks in the children toys industry
For clients having no personal presence in the region, it can be challenging to negotiate contracts, assess suppliers and conduct necessary due diligence.
Relying on asking random suppliers or contacting them online often results in contracting manufacturers who overpromise and under-deliver. Clients run the risk of transacting with suppliers with fake certifications, or those that fraudulently use cheap materials or offer developed custom designs when in fact these designs belong to other brands in violation of Intellectual Property Right (IPR) laws.
Clients without any inland representatives in China often find themselves distraught on how to go through the entire process of manufacturing their children's products and toys, from finding the right supplier to produce their prototype to building their desired toy products, without compromising quality.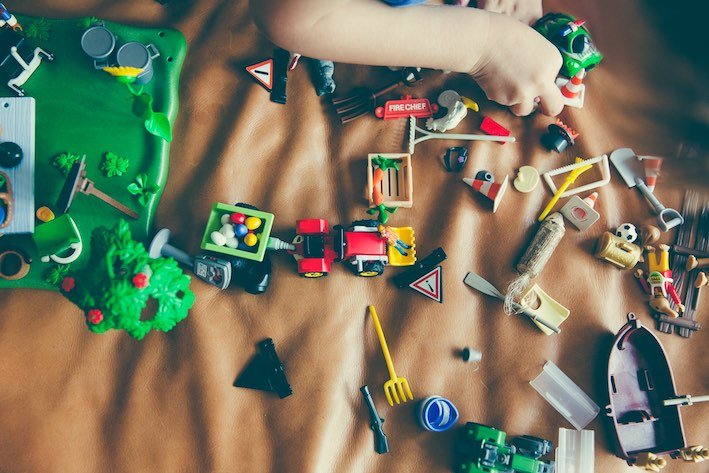 The manufacturing of children products is usually subject to special toy certifications.
---
Our Recommendations for China's Children Products and Toys Industry
a. For reducing time required in the children toys industry
With its experience and expertise, Intrepid Sourcing is able to smoothly coordinate and manage the process. We provide clients with an overview of China's children's products and toys industry and help them understand the different kinds of raw materials and components (special fabrics, plastics and wooden materials) used in toy products and present to them other cost-effective alternatives.
We work directly with specialized suppliers that can fulfill special client requests for customization of certain product features and specifications in terms of product dimensions, colors and packaging. This makes the procurement and production process less complex, hassle free and faster.
b. For ensuring quality in the children toys industry
Intrepid Sourcing understands the complicated toy production process and knows where to access high-quality raw materials (devoid of poisonous chemicals like lead) needed for manufacturing children's products and toys.
We also have contacts to reliable children's products and toys factories that produce for well-known big Western brands. Our in-person quality assessment and control helps identify product flaws during the early stages of product development to ensure all finished toy products are working in excellent condition and are compliant with quality standards and safety regulations.
Further, we have contacts to Western certification agencies which have branches in China, and offer their services at reduced rates than the service providers in Western countries.
c. For reducing costs in the children toys industry
It is important to identify quickly all relevant suppliers capable of producing specific product parts for toy production and complete toy products. We carefully compare product specifications and implement possible design changes immediately to avoid product defects early on. Our in-depth knowledge of the entire production process for toys, and knowledge of the prevailing prices of raw materials and labor costs give us a comparative advantage. It helps us easily procure raw materials at best possible prices for both large and small quantities and make cost analysis for these crucial cost aspects in toy production.
d. For planning in the children toys industry
By streamlining the planning stage and dedicating focused effort towards our clients, we make the process faster and more reliable for offshore clients, especially those who have no experience in outsourcing to Chinese suppliers.
We work with reliable toy suppliers along withproduct packaging suppliersto expedite the lengthy and technical process of toy production. This also means that we are able to provide clients with all imaginable design options so that they don't have to settle with standard packaging.
e. For minimizing risk in the children toys industry
Our in-house technical engineers can judge the design of children's products and toys and their requirements beforehand. We also have contacts, experience and knowledge about safeguarding transactions and contracts in all relevant Asian countries. We can even help execute a Chinese contract to protect your interest and safeguard your transactions with suppliers in China.