China has always been a big player in the plastic and molds industry. As a plastic manufacturer with operations in the country, it is a must for us to monitor the ongoing trends within the industry. This industry report provides the statistics and numbers along with the problems you may probably face like a plastic business in the country. The report also provides suggestions on how to make the industry flourish more and prevent the issues the industry currently faces.
---
Plastics Industry Overview & Key Statistics
a. Plastics industry description
Plastic pertains to a material with synthetic or semi-synthetic organic compounds malleable and easily molded into solid objects. Their mechanical and thermal properties–durability, corrosive-resistance and malleability–make them ideal parts for manufacturing. When plastic is used as components for original equipment manufacturing (OEM), they are sometimes referred to as engineering plastics.
Plastics are known to have high performance attributes. They are weight saving, good insulators, easily thermoformed and chemically resistant, not to mention cost-effective. Thus, some of the most common engineering plastics in the plastics industry, besides synthetic rubber–like Acrylonitrile butadiene styrene (ABS) used in computer monitors, printers and keyboard caps, Polyurethanes (PU) used as hard plastic parts of electronic equipment or automotive suspensions, Polycarbonate (PC) used for compact discs, MP3 and phone cases and automotive headlamps, Polyethylene (PE) used for cable insulators and molded plastic case and Polypropylene (PP) used for consumer electronics, car fenders (bumpers) and plastic pressure pipe systems)–have replaced other traditional engineering materials like metal and wood.
Since 2013, China has become the world's largest plastic producer, accounting for nearly one-fourth of the global plastics production, according to Statista. The plastics industry in China witnessed increased production outputs over the years, thanks to the growing demand for engineering plastics in high-end industries like automotive assembly and electronic manufacturing. In 2016, there were over 15,000 plastic manufacturing companies in China, with total sales revenues reaching approximately 2.30 trillion CNY (US $366 billion). Inland plastic production from 2017 to 2018 reached about 13.95 million tons of plastic product and plastic parts.
b. Global plastics production: China vs. other regions of the world
According to Statista, the world plastics production totaled around 322 million tons in 2015.The production volume grew by 3.4% compared to 2014, with a registered Compound Annual Growth Rate (CAGR) of about 8.6% from 1950 to 2015. In 2016, the production volume increased by 12 million tons, reaching a total of 335 million tons.
Global Plastics Production (1950-2016)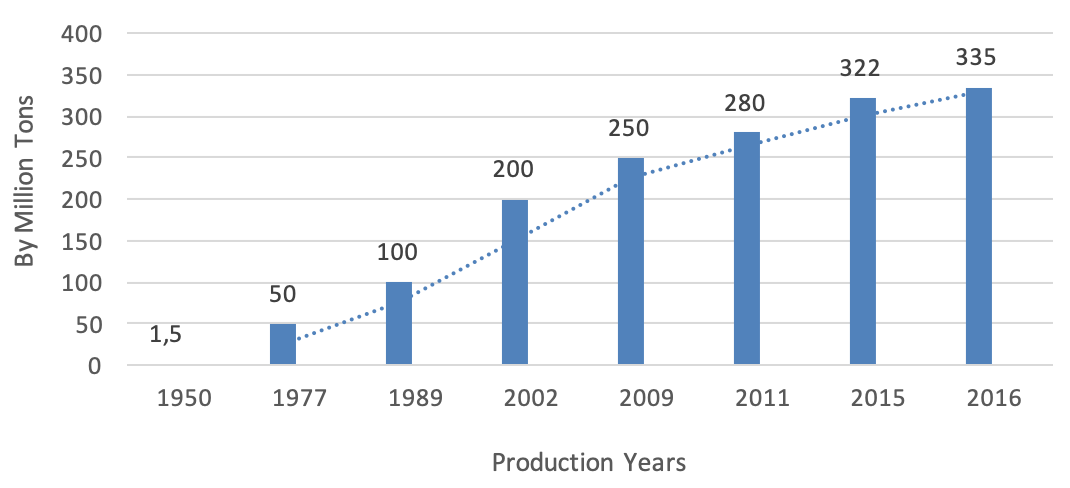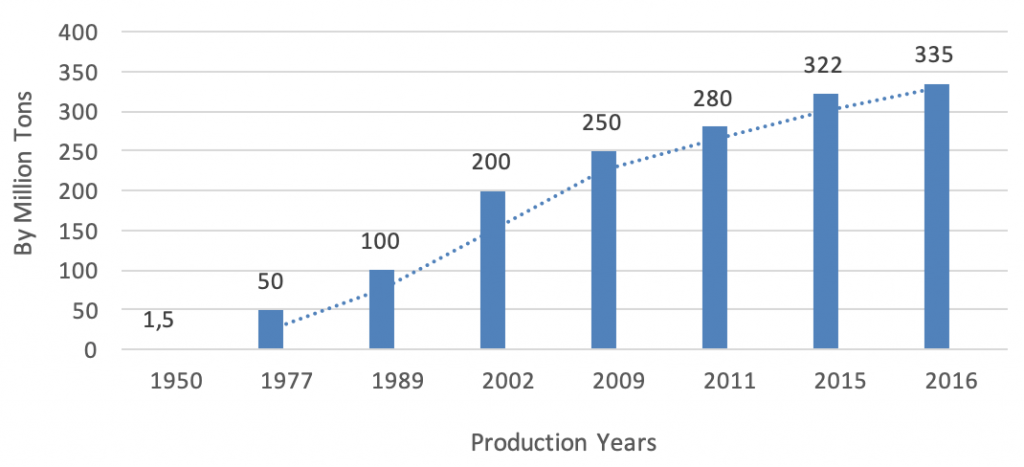 (Source: Statista)
Asia accounts for more than 49% of plastics production worldwide, with China leading the plastics production with a share of at least 28% share.
Plastics Production by Region in 2016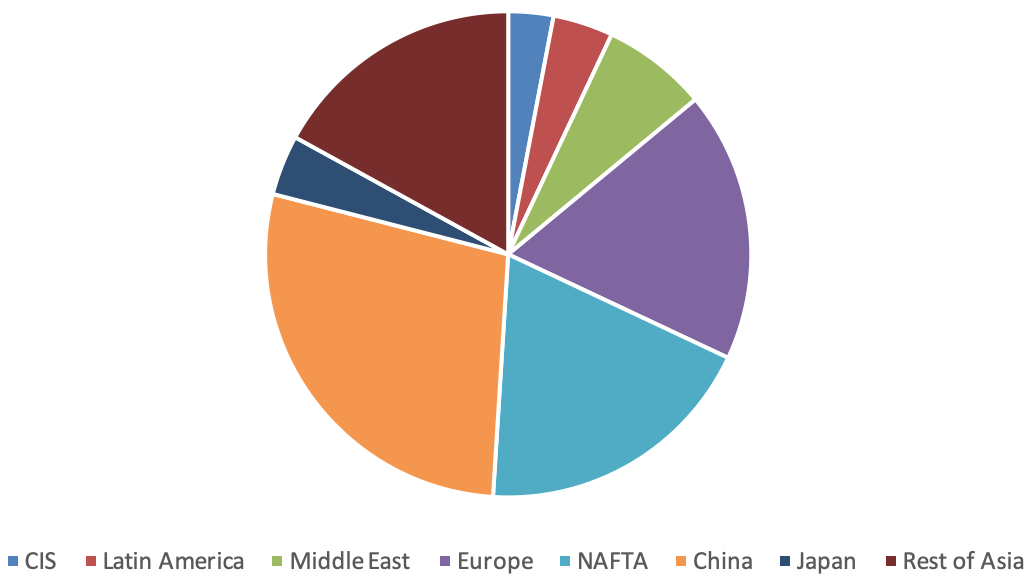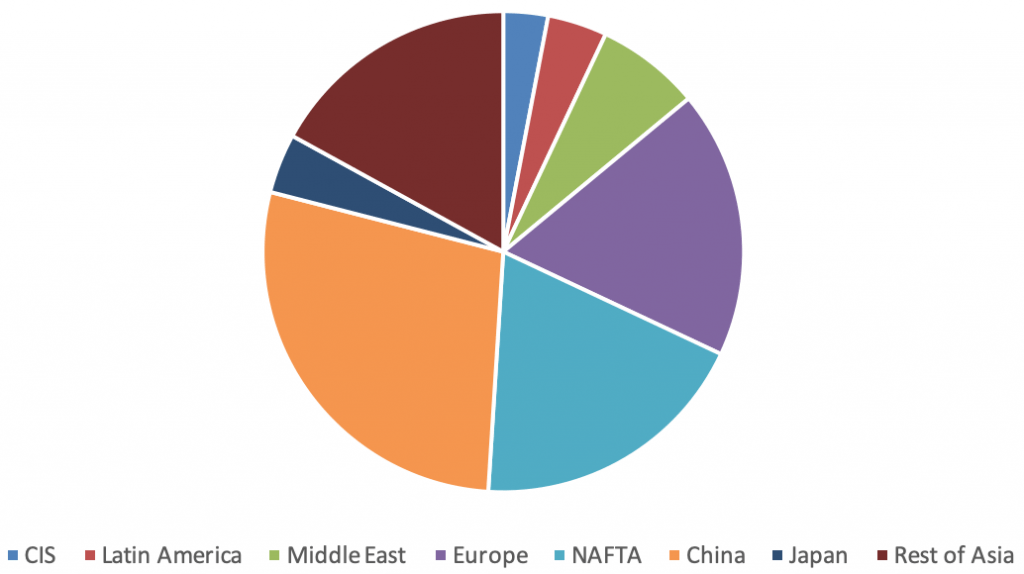 (Source: Plastics Europe Market Research Group)
China also topped the list of countries earning the highest dollar value worth of plastic exports during 2016.
Dollar Value of Plastics Exports in 2016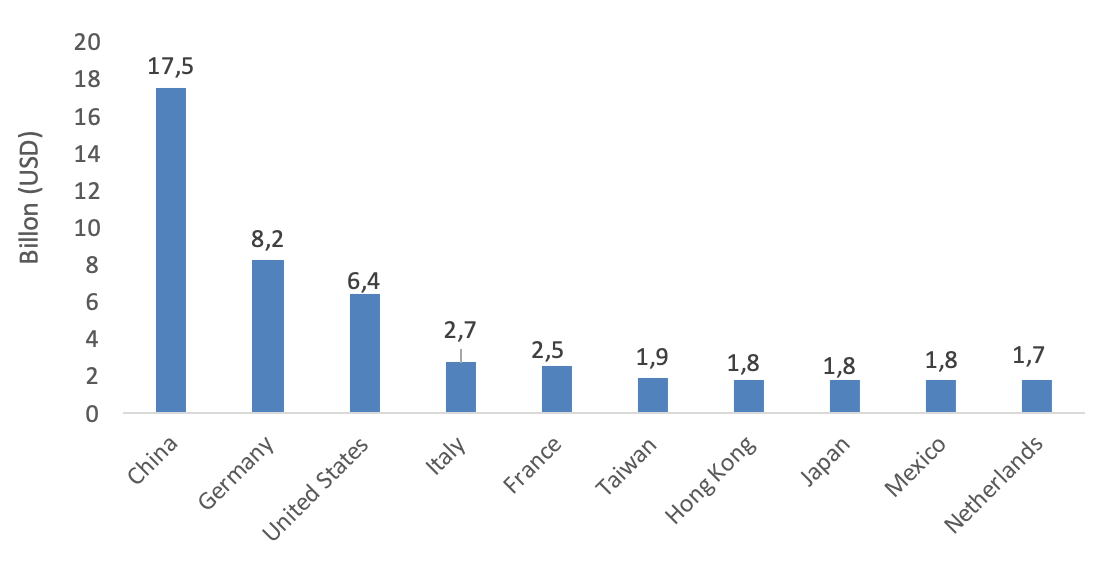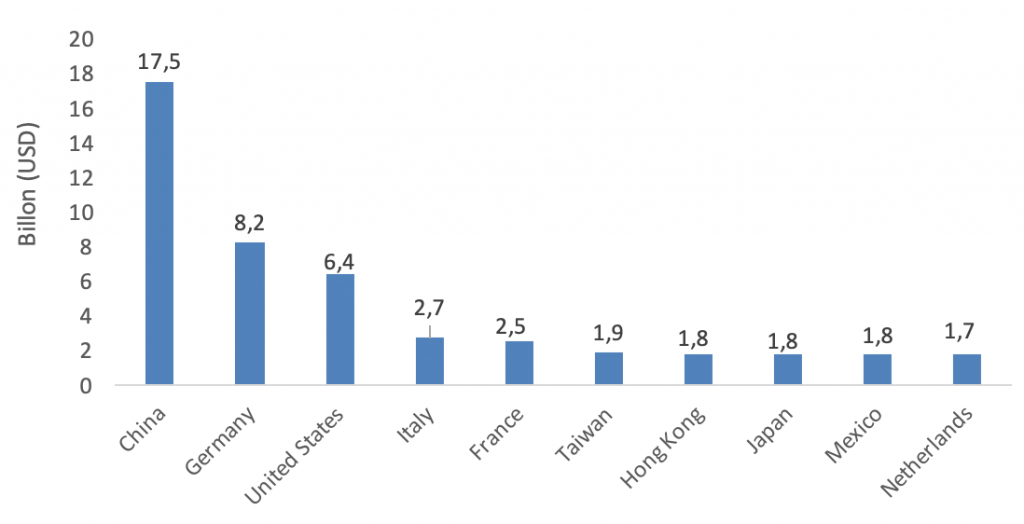 (Source: World's Top Exports)
c. Commonly produced plastic products in China
Plastic casing and coatings
Plastic molds and injection molds products
Plastic insulators
General purpose commodity plastics
Other customized plastic parts
d. Year-on-year plastics industry growth
According to IBISWorld, revenue shares for plastic parts manufacturing in China increased by over 6% from 2016, earning a total of USD $38.9 billion in 2017.
According to the China Plastic and Rubber Journal (CPRJ), China's plastic production volume in the first three quarters of 2017 amounted to 60 million tons, with a year-on-year growth of up to 5.6%.
For plastics exports, the totalvolume of plastic product shipments reached almost 9 million tons in 2017, with export values amounting to 194 billion CNY (US $31 billion), up by 12.7% and 15.2% from 2016, respectively. Thus, China's market share in the worldwide plastics production is expanding, in tandem with the ever-increasing demand for plastic products and plastic parts.
---
Why China is the Right Choice for Plastics Production
a. Plastics production capacity
China has more than 15,000 plastic factories concentrated in the Eastern and Central South regions. The sheer size of China's manufacturing base means that it can undertake the production of all types of plastic products, no matter the complexity or specified product niche required in manufacturing. Strong suppliers and supply chain infrastructures are among the notable strengths of China's plastic industry, enabling it to fulfill large volume orders at lowest cycle times and maximum cost-effectiveness.
Chinese huge plastic factories, including low-cost mold makers (relative to those found in Western countries), are intricately linked to an extensive domestic supply chain network, which gives them immediate access to abundant stocks of in-demandmanufacturing components and raw plastic materials, ranging from injection mold materials like ABS, PU, PE, PC and PP and general-purpose alloys to specialty plastic resins and engineered polyblends.
China has numerous plastic suppliers catering to both large-scale and small volume orders for custom-made plastic parts, compared to Western counterparts, which focus only on rather expensive, innovative products. The production capacity of domestic suppliers is likewise easily scalable, allowing clients to increase production volume of plastic products in accordance with consumer demand.
For companies with large-scale production requirements of high-quality plastic parts but have budget constraints, offshore sourcing in China is more practical because of the significantly reduced acquisition costs, not to mention local plastic manufacturing companies and mold makers are better suited for white small-scale production.
b. Technological advantages and automation in the plastics industry
Robotization is a growing trend in China's plastics industry. China has adopted advanced technologies to optimize its domestic plastics production, investing in smart robotics, cloud data and automated factory technologies as groundwork for an industrialupgrade.
Injection molding companies like TK Group Holdings Ltd., GW Plastics Inc. andEvco Plastics are reportedly increasing their application of automated technologies in their business operations, to achieve precise custom plastic parts development, enhanced product consistency and overall quality and production efficiency. In injection molding, the process is lengthy and complex – thermoplastic raw materials (plastic pallets) are heated, transformed into molten liquidized form, injected into customized mold and cooled until they form the final finished product. With automated features in China's plastics production, the production line can be optimized, enabling the production of thousands of customized engineering plastics in fewer cycles.
According to the International Federation of Robots, the number of installations of robot technology in China's industrial settings increased by 27% and are expected to grow another 75% by 2019. By 2020, China is expected to reach a density of about 150 per 10,000 human workers which can fuel automation across the plastics industry.
China: World's Largest Robotics Importer (in thousand units)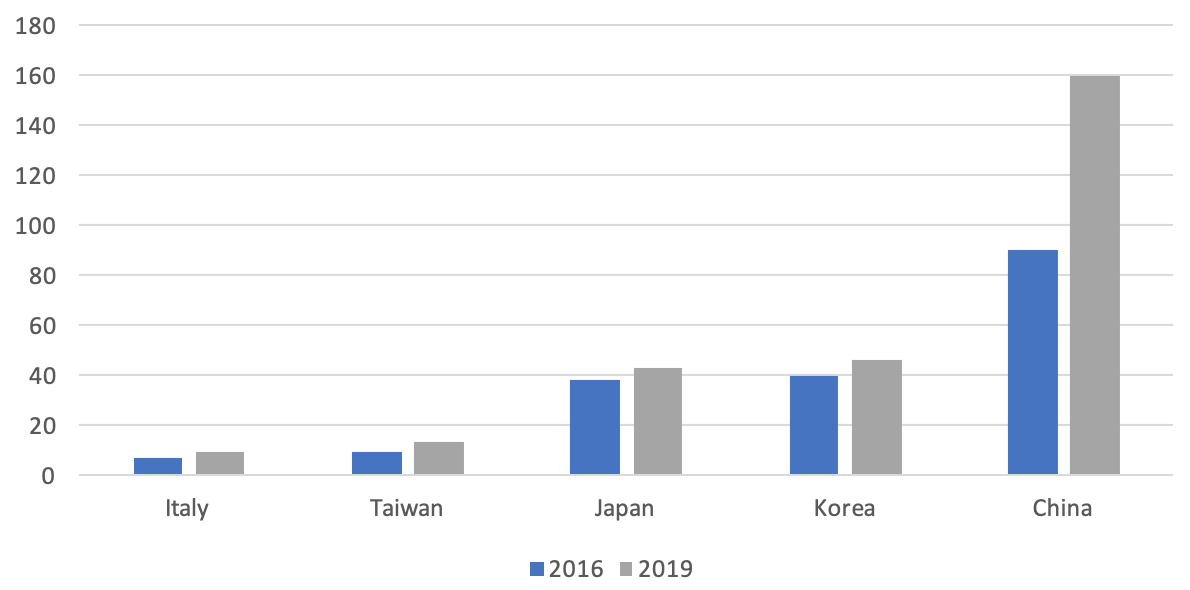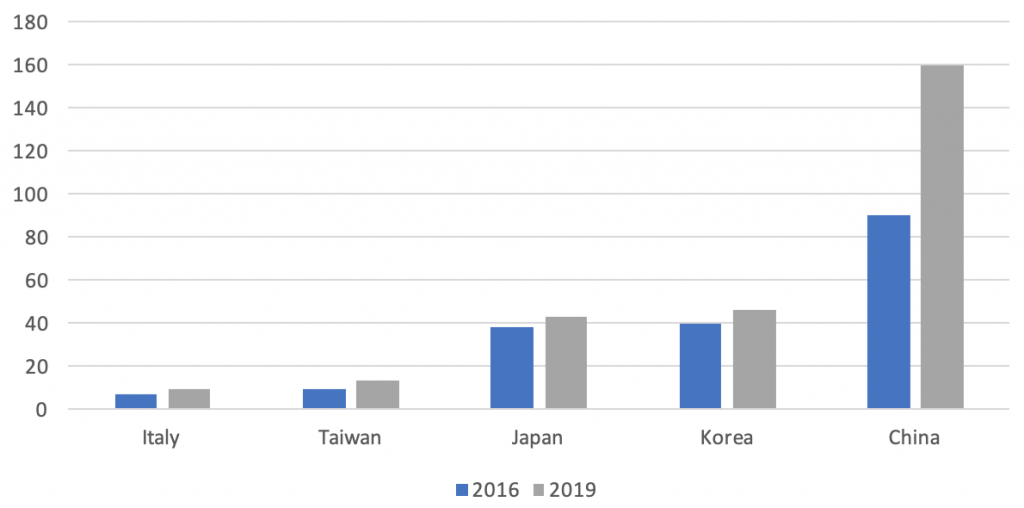 (Source: International Federation of Robotics)
The automation trend across numerous industries is expected to flourish in China because of strong government support. The Chinese Government is planning to strengthen its domestic robotics industry by initiating its own Robotic Industry Development Plan from 2016 to 2020, designed to expand China's inland production of robotics, valued at about $15 billion CNY (US $ 2.39 billion).
The Chinese Government's large investments in human capital also increased the domestic pool of engineers and technicians who are capable of supervising the whole plastic manufacturing process, particularly in thermoforming, extrusion, injection molding, injection blow molding, and extrusion blow molding.
c. Modern logistics infrastructure
The Chinese Government is heavily investing in infrastructure projects, building more modern highways, rail networks and ports with urgency in order to streamline the overall logistics networks and supply chain management in China.
At present, China is undertaking its largest infrastructure project to date called the "One Belt, One Road" initiative, with the primary objective of expanding its global trade reach by establishing a vast logistics, shipping and transport network of new roads, railway tracks, ports, airports, pipelines, transnational electric grids and fiber optic lines across Asia, Europe, Africa and Oceania.
The Chinese Government is also constructing additional high-speed railways and new superhighways from Central China (Chengdu and Chongqing) to link to Eastern coastal export harbors and rapidly improve domestic logistics capabilities.
Supply Chain Performance of Asian Countries in the Consumer Electronics Industry


(The score indicates the country's performance on sub-sectors of trade logistics, ranging from 1 to 5, from low performance to high performance. Source: The World Bank)
China's suppliers and logistics providers are equipped with systems capabilities to monitor supply chains and inventory levels and ensure on-timecross-border movement of plastic parts and products consistently, allowing shorter lead times. They can send automated notices when there are schedule delays or disruptions and transmit shipping data electronicallyso that offshore clients have real-time knowledge of freight movement and freight location.
Undertaking inland plastic production in one's country of origin also poses huge logistical challenges as it is common for components to skate across different continents before arriving at their destination point.
---
Potential Problems in China's Plastics Industry
a. Time problems in the plastics industry
The creation of plastic injection mold prototypes is both an art and a science. Utmost attention to detail and technical expertise are required in the mass production of new plastic parts, otherwise small but costly mistakes lead to repetition of plastic manufacturing procedures from the beginning, resulting in longer lead times.
This is because custom made plastic parts always have to be made from scratchsince molds have to be created or adapted accordingly. Most plastic raw materials like plastic pellets are subjected to heat, liquidized, and thermoformed, thus making quick changes to the molding process without rehashing the mold design is not always possible.
Mass production of plastics is relatively straightforward once the mold exists. However, mold-making requires a rather sophisticated and meticulous metal work to create the desired shapes. Proper planning and monitoring are imperative early on so that the technical team can develop a tool or mold based on client specifications and functionality requirements and come up with the most appropriate molding process to be used – whether injection molding, blow molding, rotational molding, extrusion molding or thermoset molding.
Prototypes are created differently (via CNC Machine or 3D prints) to get a final design ideal for mold-making and come up with accurate product dimensions, as only minor changes to size are allowed once the mold is made. Thus, developing a plastic prototype is likewise necessary to determine the feasibility of the mold design for mold-making and subsequent mass production of the final molded plastic parts. This enables the tool design engineers to be cognizant of any mold design flaws early on, adjust the schedule of deliverables and run the desired mold in the molding equipment without further problems.
A common problem is that clients without localpresence in the region are left without any means to monitor compliance with project timeframes. Delays attributed to disrupted supply chains, design changes or extended failure analysis, are therefore not always immediatelydetected due to lack of transparency from suppliers.
b. Quality problems in the plastics industry
Plastics is usually made from homogeneous raw materials called pellets or resins. The quality of plastic pellets is critical, as it affects the overall durability of the finished plastic products. The moisture content of plastic resins, such as polyamides or polycarbonates, for instance, impacts the product appearance and its properties. Low-quality plastic pellets yield the following defects: formation of flash, jetting, short shots, surface delaminations, splaying, impaired mechanical properties and reduced impact and tensile strength.
Thus, the quality of raw materials, along with proper tooling and repetitive iterations, is imperative because the right kind of resin pellets affects the mold's design accuracy and the quality of the finished plastic product itself.
In-depth product testing must be carried out consistently, from mold design and plastic production through the release of the finished product, to detect defects early on. Supplier assessment is likewise a must to determine if the supplier has proper certifications and licenses from China's regulatory agencies.
c. Cost problems in the plastics industry
In plastic production, where every procedure of product development, from mold building to prototyping is labor intensive, investing in China is more cost-effective. Although injection machines are readily available in Western countries, plastic molds are not as accessible. More often, plastic factories and suppliers in China have an extensive on-hand supply of plastic molds of excellent pattern accuracy used for a different array of plastic products, extremely useful for high volume requirements.
Since raw materials like plastic pellets and resins are commonly made in China, supply chain integration in terms of large-scale plastic production requirements is also better in China. Thus, notwithstanding immediate access to plastic injection machines in the country of origin, clients stand to lose more and incur greater costs when local manufactured plastic molds still have to be transported from China all the way to their head offices.
Thus, to maximize the cost-effectiveness of sourcing in China, companies should carry out a proper feasibility study. Lack of feasibility assessment leads to underestimated costs and overestimated production speed.
When clients fail to adequately survey the market for price comparison of plastic parts and products, they often miss out on suppliers offering better prices and end up sourcing costly from other suppliers.
d. Planning problems in the plastics industry
Meticulous planning is critical to effective implementation of a production line in China. Before product development and OEM production, clients must clearly communicate to suppliers their desired specifications for their plastic parts and products. During the planning stage for new plastics products, prototyping is especially important to ensure correct design before the molds are created.
The problem is that clients with decent orders (but not high volume) experience difficulties procuring the right service because there are selective suppliers who don't perform well and disregard requests for customization when the orders are not close their minimum order requirements. Worse, there are suppliers who lack transparency, deliberately neglect to provide proper planning, prototyping, and mold creation and even use risky methods such as rapid injection molds over fail-safe alternatives like genuine inject molding.
e. General risks in the plastics industry
For clients having no personal presence in the region, it can be challenging to negotiate contracts, assess suppliers and conduct necessary due diligence.
Relying on asking random suppliers is inefficient and often results in contracting manufacturers who overpromise and under-deliver or are not flexible enough to improve the design or implementation.
Thus, clients with no personal presence in China often find themselves distraught on how to go through the entire process, from finding the right supplier to producing the plastic mold design and plastic prototype, without compromising quality. Without proper supplier selection, they run the risk of collaborating with suppliers who are ill-equipped to handle large-scale orders or implement product design changes.
The creation of new plastic parts usually requires new molds, which are expensive and should hence be supervised carefully.
---
Our Recommendations for China's Plastics Industry
a. For reducing time required in the plastics industry
Intrepid Sourcing has the experience and expertise to smoothly coordinate and manage the process. We provide clients with an overview of China's plastics industry, with an in-depth focus on the different kinds of plastics and mold making processes with many alternatives.
We work directly with specialized suppliers and prototype companies that have the expertise in molds making and plastics production/assembly companies so that ideas for any plastics products can be finalized into feasible designs and implemented quickly from scratch.
b. For ensuring quality in the plastics industry
Intrepid Sourcing understands the complicated plastic production process and the critical raw materials needed for mold creation. We have built strong relationships with different plastics and mold suppliers in China that produce for well-known Western brands.
Our in-person quality assessment and control helps identify plastic product flaws during the early stages of product development to ensure all finished plastic products are working in excellent condition.
c. For reducing costs in the plastics industry
Intrepid Sourcing can quickly identify all the relevant suppliers that are capable of producing specific, customized plastic parts and engineering plastics.
Then, using our knowledge of the prevailing fair prices of materials in the market and how to determine the quality of the products, we can assess the price and reduce costs. We help our clients easily procure raw materials at best possible prices for both large and small quantities and make cost analysis for these crucial cost aspects: prototyping, mold creation and assembly.
d. For planning in the plastics industry
Intrepid Sourcing streamlines the planning stage and dedicates focused effort towards clients. We make the process faster and more reliable for offshore clients, especially those who have no experience in outsourcing to Chinese suppliers.
We work with special plastics and mold prototyping and product development companies to expedite the lengthy and technical process of plastics production, helping our clients get the best rates for different plastic parts and products and process alternatives.
e. For minimizing risk in the plastics industry
Intrepid Sourcing has its in-house technical engineers that judge the design and requirements beforehand. Through this knowledge, we can assist you in procuring relevant certifications and effectively implementing production lines in collaboration with specialized plastics suppliers. We also help execute a Chinese contract to protect your interest and safeguard your transactions with suppliers in China.