I. China's Electronics Industry
A. Industry Description
The Electronic and Electrical equipment industry encompassess manufacturing machinery, apparatus and supplies for the generation, storage, transmission, transformation and utilization of electrical energy. However, it does not include industrial machinery and equipment powered by built-in or detachable electric motors.
It cannot be restricted to mass produced items that are manufactured in large volumes since these only represent 53% of the electronics industry in 2008. The electronics scope include embedded electronics in transport (cars, planes, trains, etc)in defence equipment, in IT infrastructures as well as electronical devices used in manufacturing or professional services that boost productivity which are also known as professional electronic equipment.
With regards to China's electronic industry, it is mainly driven by computer-related goods, communication equipment, electronic parts and household entertainment equipment. In order to increase the gross value added of electronic parts-related investment, in now comprises 50% of the total investment in the electronic industry.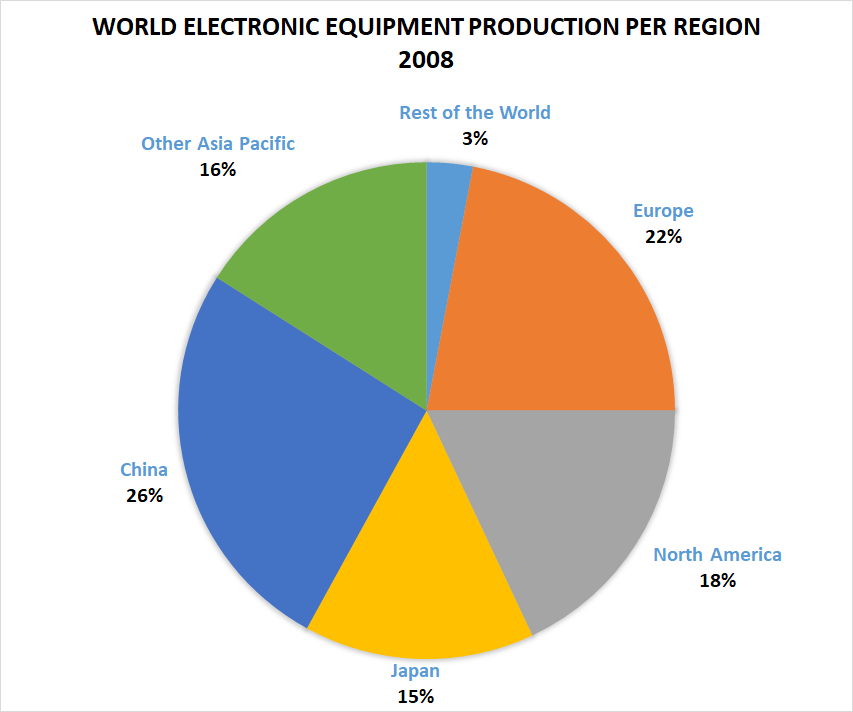 B. Supply
China is becoming the main driver in the global electronics industry such that they were able to overtake the U.S as the world's largest supplier of electronic information technology goods. The country's electronic information manufacturing industry by 11.2% in January 2014 which was up 5% higher than the industry average of 6.3%.
 Based on a report by OECD, China's exports on items such as laptop computers, mobile phones and digital camera rose by more than 46% reaching $180 billion in year 2004. Exports from the U.S however reached $149 billion.  Cell Phones and computers account for 27% of China's exports. It's government is planning to impose its own technology standard on a range of consumer electronic products including mobile phones, personal computers digital cameras and wireless networking. Statistics from the Ministry of Industry and Information Technology (MIIT) released data that between January and May of 2015, the completed fixed-assets investment in the electronic information projects valued at over five million yuan reached 478.95 billion yuan. Its growth rate was at 17.3% compared to the same period in 2014. In the same period, the new fixed-assets investment amounted to 192.47 billion yuan which was 12.4% from a year ago.  
As illustrated in the table below, mobile phone remain to be the top export product from the country, followed by color display and personal computers.
C. Demand
Due to China's continued high speed growth which has been stimulated by the rise in industrial output, import/export, consumer consumption and capital investment. Since the U.S has been overtaken by China, electronic equipment is now the top import item. In 2014, exports reached $ 294.6 billion, which accounted for 33.3% of China's total exports.

The shift of China towards being both a producer and manufacture placed side by side with a growing consumer demand of electronic products will continue to drive the market. Demand for homegrown Chinese companies in certain tech categories such as electronic equipment are rising at exponential rates as seen in the table below.
II. Value Chain of the Electronics Industry
A. Shift of Electronic Production in China
Originally, China electronics production was jumpstarted by subsidiaries of U.S, European and Japanese electronic companies as a means to seek lower labor cost. However homegrown firm have now overtaken some of the major players in the industry. It would seem that China will remain as the dominant electronics producer for the foreseeable future.
Both China and East Asia have been vital in the growth of the electronics industry, both as production locations and final markets. As illustrated in the table below, Mainland China, and Hong Kong are the top 2 importers and exporters of worlds intermediate electronic goods. Including Taiwan, they would account for 33.1% for imports and 29.4% for exports.
B. Value Chain
The value chain of the electronics industry value chain revolves around component and equipment manufacturers as either Original Equipment Manufacturer or dedicated sub-contractors providing manufacturing services (EMS) or also design services (ODM) to OEM clients. In 2008, revenues from sub-contractors amounted to 20% of the electronic equipment industry. This has been steadily rising since the 1990s due to the emergency of mass market products and globalization. The service that subcontractors provide to OEM's increased the flexibility for them since it allowed them to overcome their time to volume and time to market limitations.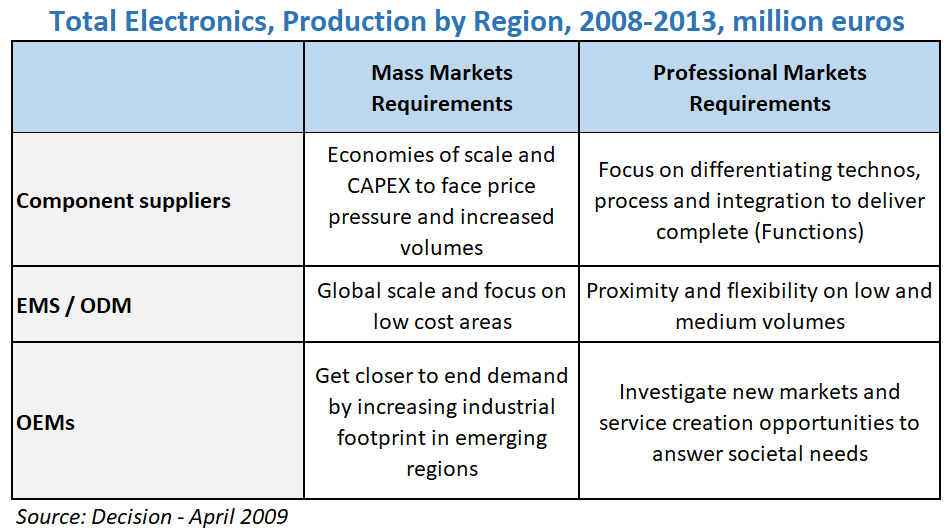 C. Volatility of Electronic Supply Chain
One of the main challenges that are faced being in business of electronic and electrical equipment industry would be the continued specialization and product complexity. With the changing consumer demands, companies find it difficult searching for optimal production facilities that are capable of catering to their needs. Enterprises are skewing to outsourcing to manufacturers that have the experience in the field.
Preference to outsource electronic and electrical equipment in the country could be attributed to the low-labor-cost environment. The supply chain in China for both multinational and domestic firms are generally set up for low cost positioning, however this preference is becoming obsolete. With longer cycles that are characterized by cross functional collaboration are hindering companies and leading of inefficiencies. Companies are realizing that certain systems and processes are unsuitable to these changing demand patterns. With poor and delayed forecasts, operations are being disrupted leading to excess inventories therefore affecting customer in the downstream.
III. Product Categories
A. Consumer Electronics
Consumer electronics encompass a broad set of electronic devices that perform one or more functionalities in a home or for an individual. They include mobile and computing devices which can be easily carried by an individual outside the home such as smart phones or tablets.
Televisions
DVD players
Refrigerators
Washing Machines
Computers
Laptops
Tablets
In the consumer electronics category, the television market has reached maturity. New product developments are pivoted towards new technology and new sales channels. In 2014, 42 million units of TV were sold. Main factors that are considered by consumers are large screen, high definition (HD) smart TVs.  With the development of the online market, sales for consumer electronics through this channel are expected to grow further.
On the other hand, China's PC market remains at the growing stage, wherein tablets take majority of the share. The market demand for smartphones is exponentially rising, with the increase in penetration rate for 4G devices. Emerging technology and new product development are sources of growth for the consumer electronics market. Wearables  and 3D printing devices are still at the introduction stage but are prospected to be high contributors to growth.
Due to the strong local buying power and the rapid development of local innovation, China is expected to become the number one market for consumer technology. The consumer technology market in China is expected to grow by around 5% to $281 billion which will overtake the US as the primary market of consumer technology goods.
B. Household Appliances
Household appliances are electrical machines which performs household functions such as cooling/heating, cooking or cleaning. They can be classified as follows:
Household cooking Equipment
Household Refrigerators
Household Laundry Equipment
Electric Housewares and Fans
Household Vacuum cleaners
Figures from the National Bureau of Statistics cited that in 2015, of all categories of major appliances only micro oven was able to attain a double-digit growth of 13.5% in output, whereas refrigerator and air conditioners fell by 1.4% and 0.4% respectively, freezer and washer rose by 1.5% each and electric water heater by 4.6%. For the portable category, the output of vacuum cleaner, water dispenser and electric roasting machines dropped by 2.3%, 2.8% and 10.3% respectively. On the other hand, numbers for electrical fan and electric cookers grew by 5.4% and 23.97% respectively after receiving negative growth rates in 2014.
In 2015, consumer demand in the local market has slowed down, wherein sales and sales volume for refrigerators fell by 9.1% and 6.5% respectively. Whilst sales and sales volume for air conditioner slid by 16% and 19.8% on a year on year basis. Performance for washing machine showed a minimal increase at 0.6% and 1.1%, securing the best sales performance in the category.
C. Electric Equipment
Electrical equipment refers to components that comprise electrical distribution systems such as Electric switchboards, distribution boards, circuit breakers and electricity meters. Examples of electrical equipment are as follows:
Electrical Lamp Bulbs and Tubes
Current-Carrying Wiring Devices
Noncurrent-carrying wiring devices
Residential electric lighting fixtures
Commercial and Industrial electric lighting fixtures
Vehicular lighting equipment
D. Household Audio Equipment
Household Audio Equipments encompass electronic audio and video equipment that are used for home entertainment. This category includes audio components for television sets, radio broadcast receivers, tape players, video recorders and players.
Amplifiers: radio, public address, or musical instrument
Audio recorders and players: automotive and household
Clock radio and telephone combinations
Clock radios
Coin-operated phonographs
Disc players, compact
Electronic kits for home assembly: radio and television receiving sets,
Home tape recorders: cassette, cartridge, and reel
Jukeboxes
Loudspeakers, electrodynamic and magnetic
Microphones
Music distribution apparatus, except records or tape
Musical instrument amplifiers
E. Semiconductors
The semiconductor industry is comprised of diodes and stacks, including rectifiers, integrated micro suits (semiconductor networks), transistors, solar cells and light sensing and emitting semiconductor (solid-state) devices. China remains the largest and fastest growing semiconductor market globally, accounting for 29% ($100 billion) of the $335 billion in the world market in year 2015. Forecast show that China's market is expected to grow 10% year on year from $ 168 billion in 2014 to $203 billion in 2016.
Although the country's domestic semiconductor industry has yet to reach the level of the U.S, it continues to grow. Total global sales of the semiconductor manufacturing equipment in China was at $4.9 billion in 2015 which accounted for 13.4% in terms of global market share. Compared to figures in 2014, it was higher by 12%.
China is expanding its semiconductor production/fabrication facility (fab) capacity and acquiring more equipment, however majority of the new facilities are for Light-Emitting Diodes (LEDs), not integrated circuits (ICs). South Korean firm, Samsung is in the process of equipping a fab China whereas Intel is expanding its fab in southwest China. The country represents 27% of the world's floor space for semiconductor packaging and testing in the world despite producing less than 0.5% share of the global market.