Fashion accessories such as bags and shoes is always a great business idea for product manufacturing. If you happened to be one of those who are into manufacturing fashion products, then this industry report is perfect for you. This fashion accessories, shoes and bags industry report provides an overview of what to expect of the industry's current status. See numbers and statistics to get to know industry trends and market performance.
---
Fashion Industry Overview & Key Statistics
a. Shoes and bags industry description
Fashion accessories are items used to complement the whole outfit, including bags and purses, ties, belts, scarves, caps, hats, and shoes. China is the single largest manufacturer of fashion accessories in the world.
For the luggage and bag sector, China has become a major manufacturing country in the past decade and has also been the largest global footwear manufacturer for a long time. In 2016, China's exported US$59.4 billion worth of footwear, representing over 36% of the world's total exports of footwear. China's export of bags and luggage in that year worth US$24.2 billion, accounting for 40.8% of global exports.
b. Global shoes production: China vs. other regions of the world
Top 10 Global Footwear Exporters in Million Pairs for 2016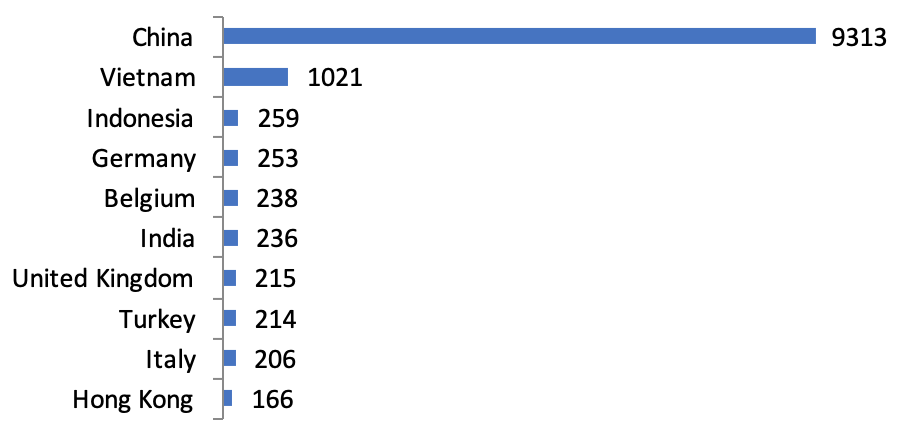 (Source: Statista)
c. Commonly produced fashion accessories in China
Leather belts
Leather shoes
Casual shoes
Sport shoes
Handbags
Backpacks
Suitcases
Wallets
d. Year-on-year footwear industry growth
Footwear Exports from China in Billion USD during Recent Years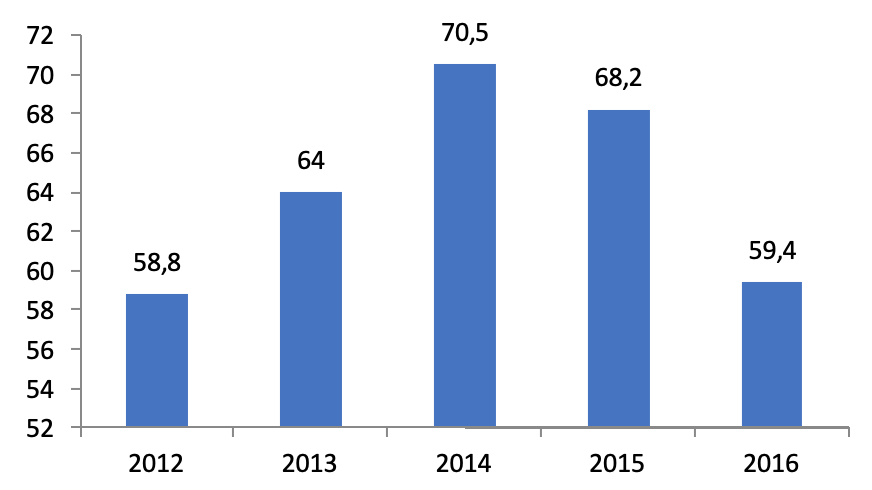 (Source: World Integrated Trade Solution, WITS)
In recent years, fashion accessories (footwear included) exports from China have decreased for three reasons: increased competition from other producing countries–especially in Southeast Asia, decreased demand in Europe and the U.S.–two of China's major export destinations, and rises in the cost of Chinese labor.
---
Why China is the Right Choice for Fashion Accessories Production
a. Fashion accessories production capacity
China is still the largest manufacturer of fashion accessories in the world. Although exports have fallen in recent years, total production has been increasing; during the five years to 2017, revenue in the luggage industry alone has been growing at an annualized rate of 7.6% to $87.2 billion. Additionally, increasing domestic demand is spurring up production. In 2017, China's bags and luggage market alone saw a 6% growth rate, and it's expected to continue to grow, according to Euromonitor.
With China's economy transitioning from investment-based and export-oriented to consumption-based, many predicted the labor-intensive manufacturing industry would move to cheaper countries in Southeast Asia. However, China has managed to hold on to the low-cost manufacturing sector far longer than its Asian neighbors at a similar stage of development. Government incentives, subsidies, the large domestic market and good infrastructure that encourage companies to remain onshore all play a part.
Moreover, as the global economy is recovering, consumer demand, especially for Chinese exports, has strengthened since the beginning of 2017–exports saw an 8% growth from January to November. This will continue to prop up manufacturing activity in China.
b. Technological advantages in shoes and bags industry
For fashion accessories, there are specialized product components that can only be produced by certain suppliers. China's technological development gives it the advantage of having more suppliers that are capable of manufacturing those specialized product components or materials compared to other low-cost countries in the region. There is a huge base of manufacturers in China and with many years of experience, it's much easier to find such specialized manufacturers.
At the same time, China is pushing its companies to automate production, importing large numbers of robots used for automation, and boosting research budgets. This will continue to raise productivity and offset higher labor costs.
c. Modern logistics infrastructure
China's supply chain is sophisticated and supple. Even though China's labor costs are increasing, the unreliability or unavailability of other countries' logistics infrastructure and transportation network may make it uneconomic to make things elsewhere.
China's well-developed supply chain, and high investment in port, road, and rail infrastructure provides a strong base for manufacturers. As of 2016, China outranks other countries in the region in terms of efficiency of the customs clearance process, quality of trade and transport related infrastructure, ease of arranging competitively priced international shipments, competence and quality of logistics services, and timeliness of shipments in reaching destination within the scheduled time.
Supply Chain Performance of Asian Countries in the Fashion Accessories Industry


(The score indicates the country's performance on sub-sectors of trade logistics, ranging from 1 to 5, from low performance to high performance. Source: The World Bank)
Additionally, most of China's manufacturing areas have widespread high-speed rail networks, bus routes, and subway systems. This allows for timely inspection of factories and completion of due diligence and quality control.
---
Potential Problems in China's Fashion Accessories Industry
a. Time problems in the fashion accessories industry
Time is critical to the fashion accessories industry because fashion is seasonal. Products need to be manufactured and delivered in time for the season; delays will result in products becoming "out-of-trend", generating a loss for clients.
However, finding the right materials requires sufficient time and attention and human errors may cause delays. Fashion accessories require special materials, and to produce them, it is required to follow certain steps–these can take time for manufacturers to adapt so they can't proceed to production immediately. For this reason, changes to existing designs (white labeling/ODM manufacturing) and creating new designs (OEM manufacturing) have to be planned ahead of time in a precise and efficient manner. However, this is often overlooked by clients, resulting in delays.
It is also costly and time-consuming to establish efficient supply chain logistics in the region and coordinate all the delivery, storage, and other activities within the supply chain, risking unwanted—and often avoidable—delays.
This is further complicated by the fact that clients often do not have a local presence in the region, so it can be difficult to retain the level of control and awareness necessary to avoid these problems and the delays they cause. Additionally, if a supplier fails to perform any of the contract's terms, clients will be unable to enforce penalties provided for in such contracts.
b. Quality problems in the fashion accessories industry
Ensuring high quality can be tricky. Many factors can negatively affect product quality: insufficient supplier assessment, poor quality assurance at the start of production, lack of quality control following production, and no consideration for the quality or suitability of inputs.
Fashion accessories are often branded and marketed with very high brand value, so it is particularly critical to make sure that the suppliers follow the design precisely, and have reliable quality control mechanisms. For example, the placement of the brand logo on the products is part of the fashion design so it is important to ensure that they are placed in the exact spot the client wanted it to.
c. Cost problems in the fashion accessories industry
Many people don't conduct a feasibility study before they start production. This often leads to underestimated price and overestimated production speed, resulting in unpleasant surprises, higher costs, and slower final delivery.
Clients often do not break down production cost by different components. Some suppliers offer better prices for certain components, and not sourcing the product components from the right suppliers increase unnecessary costs.
There are a limited number of suppliers that are capable of producing specialized components for certain fashion accessories. For example, there are only a few manufacturers in China can produce many of the specialized product components for bags. These suppliers know that there is not much competition, and the brand value and markups are high for these components so they often try to charge clients higher prices. Clients often do not know components' respective cost, so they may be paying far more than the fair market value of inputs, increasing costs and lowering profitability.
d. Planning problems in the fashion accessories industry
Common problems for planning include long lead times and high costs for designing and producing prototypes. Insufficient implementation of a new production line often results in delays and poor product quality, and inadequate product cost assessment increases unnecessary costs.
This risk is higher for companies with orders below a certain size–many clients in the fashion accessories industry with a small budget want to start their own fashion line, but a supplier or manufacturer is likelier to give less attention and care to such clients. This is compounded by the difficulty of working with manufacturers directly.
e. Risks in the fashion accessories industry
For clients having no personal presence in the region, it can be challenging to negotiate contracts, assess suppliers, and carry out necessary due diligence.
Relying solely on contacting suppliers online is inefficient and often results in bad contract terms for the client. The client may risk of just getting overpromised. Additionally, when intellectual property right protection is not included in a locally enforceable contract, the suppliers sometimes offer the client's developed custom design or brand to other customers.
Customization of bag designs is important but implies a number of challenges.
---
Our Recommendations for China's Fashion Accessories Industry
a. For reducing time required in the fashion accessories industry
Intrepid Sourcing has the experience and expertise necessary to smoothly coordinate and manage the process.
We know what options are available (including benefits and tradeoffs) and can explain them to the client clearly.
We also work directly with specialized suppliers that can fulfill special requests for decors such as zippers, metal elements, rubber parts, etc. to provide the right product components and facilitate timely production, thereby ensuring that clients stay on trend and meet committed in-store dates.
b. For ensuring quality in the fashion accessories industry
We collaborate with fashion accessories factories that produce for world-renowned fashion brands. With experience and expertise, we can assess the critical areas based on the design plans and adjust accordingly. We employ good quality controls mechanisms to ensure the quality of every detail of every piece.
c. For reducing costs in the fashion accessories industry
We are able to quickly identify the suppliers that are capable of manufacturing each specific product component.
Then, we compare options and their costs. For a particular product, there are always many options, but there are also tradeoffs: better quality and more capabilities/uses will increase cost, so the client needs to review the options and make a decision that strikes the right balance for their particular need and budget.
With knowledge of all the manufacturing steps and the detailed cost of product components and labor input, we can assess if the price is good, and source materials separately to reduce costs.
d. For planning in the fashion accessories industry
We have helped many small- and medium-sized design companies with a smaller number of orders, successfully mitigating the risks of suppliers not caring enough by conducting due diligence on them so we can find the most suitable ones for clients.
We have a full understanding of the production process so we know how to make the process fast and reliable. Therefore, we can carry out effective planning and dedicate focused effort to our clients to ensure better outcomes.
e. For minimizing risk in the fashion accessories industry
We have a local presence and experience in all relevant Asian countries, enabling us to effectively negotiate contracts, carry out due diligence, and safeguard all transactions.