Electronic components and assembly is an industry on its own. It is a separate business on its own even though these components are simply stacked within electronic devices and products. There are manufacturers out there who exclusively focus on creating electronic components and assembly. This industry report provides an overview of the industry's status along with statistics and numbers that are useful for market research.
---
Electronic Components Industry Overview & Key Statistics
a. Printed circuit boards industry description
The electronic components industry includes electrical equipment and components as inputs for further electronic product manufacturing. These components are then usually used for consumer electronics/white goods and other electric equipment or commercial/industrial machinery use. When new designs are required, it is often in the context of original equipment manufacturing (OEM).
China has become the world's largest manufacturing center for electronic components, especially printed circuit boards (PCBs), driven by the continuous global development of the information technology industry. Mainland China alone has over 1,500 PCB manufacturers. According to Prismark, China's PCB output increased from USD$19.9 billion to USD$26.7 billion from 2010 to 2015.
China's PCB Output Value in Billion USD during Recent Years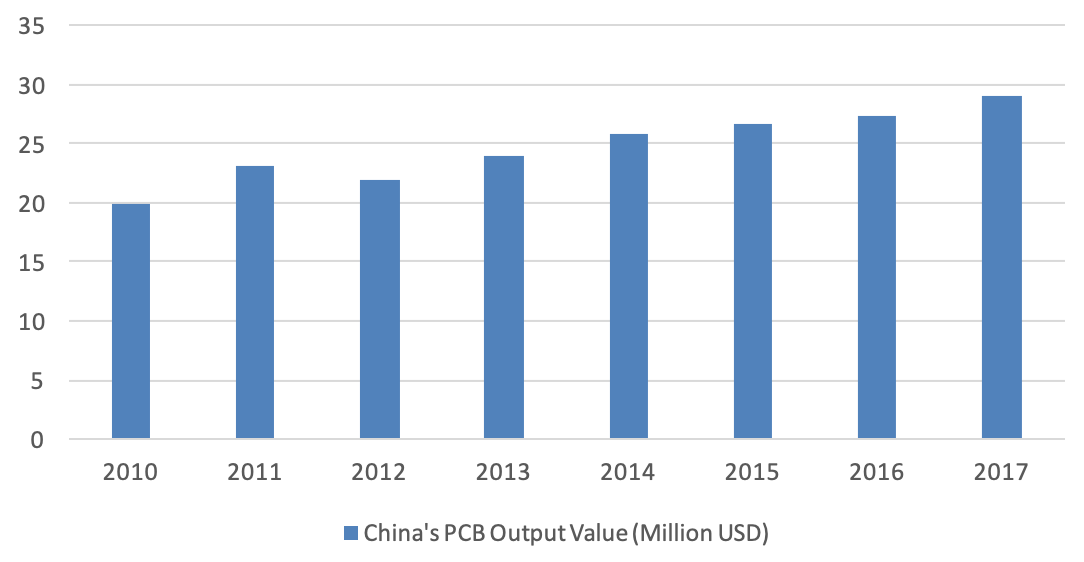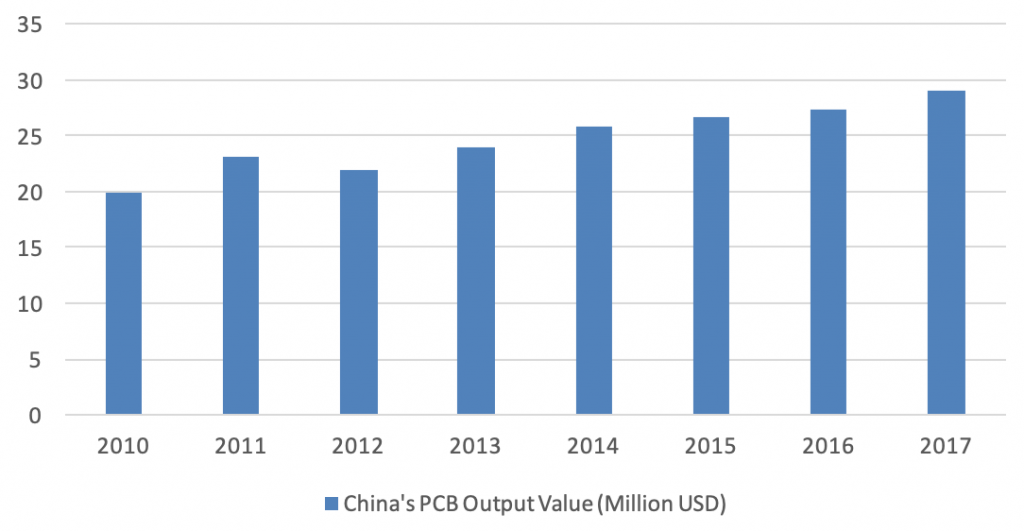 (Source: Prismark)
b. Global electronic components production: China vs. other regions of the world
In 2016, 43% of the world's electronic components were manufactured in China, compared to 30% in 2010, and this number is expected to rise to 51% by 2020, according to Euromonitor. The following chart shows an estimate for the compound annual growth rate (CAGR) highlighting China's still significant growth potential compared to other countries.
Top 10 Electronic Components Producers' Production CAGR for 2015-2025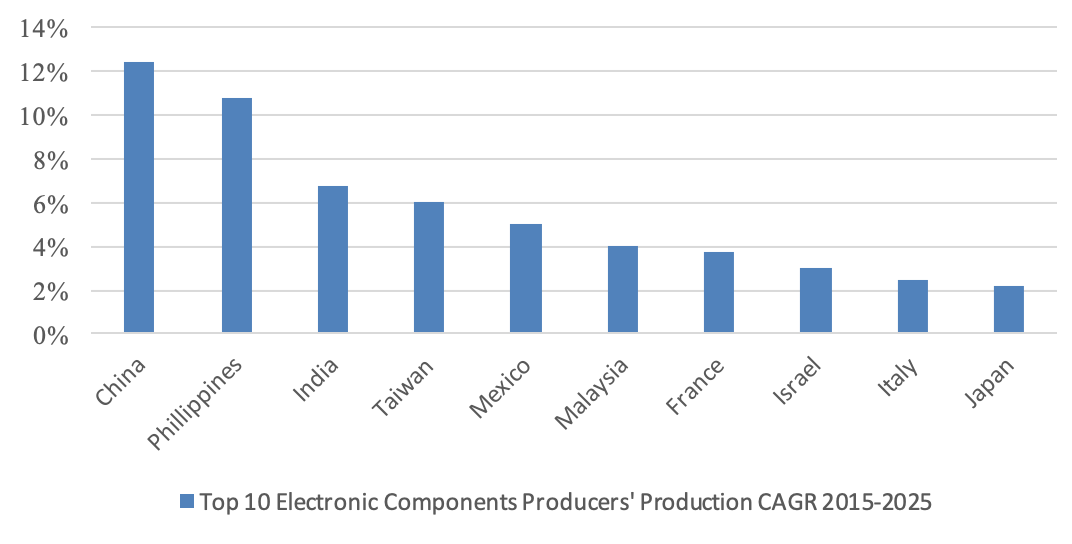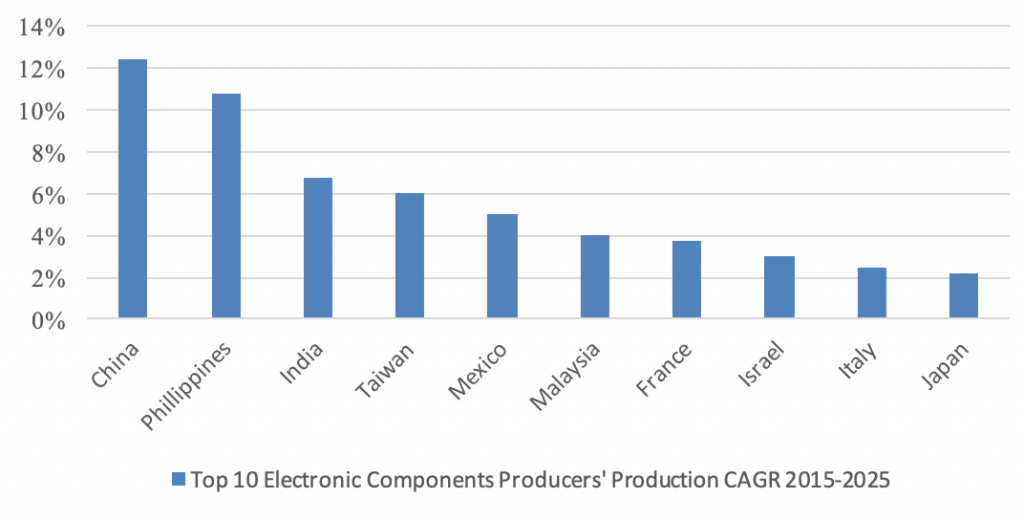 (Source: Euromonitor)
Electronics is the single biggest product category in Asian trade, accounting for 32% of Asia's total exports in 2016, among which over 60% are electronic components, according to Hong Kong Trade Development Council (HKTDC).
c. Commonly produced electronic components in China
Capacitors
Magnetic elements
Printed Circuit Boards (PCBs)
Induction Coils
Electric Connectors
Resistors
d. Year-on-year electronic components industry growth
Revenue for the Electronic Component Manufacturing industry in China was worth USD$209.8 billion in 2016, a 6% increase compared to the previous year, with an average annual increase of 5.8% over the past five years.
Over the five years through 2017, revenue for the PCB manufacturing industry in China has increased at an average annual rate of 9.4% to USD$86.6 billion.
---
Why China is the Right Choice for Electronic Components Production
a. Electronic components production capacity
With thousands of factories, China has the ability to fulfill large quantities of orders quickly. Additionally, having many suppliers of different components close by, and having comparatively more advanced automation for production make China the first choice when looking for large-scale production of electronic components. There are also many small suppliers that are capable of smaller, more customized orders for PCBs, compared to their Western counterparts, which are often big and more specialized.
Therefore, although labor costs in China are rising, the ability to produce large quantities of electronic components gives it a competitive edge compared to other low-costs countries, and the ability for smaller, more customized orders makes it more favorable compared to their Western counterparts.
b. Technological advantages in the electronic components industry
With many years of experience and large investments in human capital, there is a large number of technicians in China who are capable of supervising the whole manufacturing process of electronic components.
Additionally, China is more advanced in automation compared to other low-cost countries. It has been importing large number of robots used for automation for years and increasing research funding. In the future, this will continue to drive up productivity and offset higher labor costs.
c. Modern logistics infrastructure
Over the past 30 years, China has seen massive investment in the entire spectrum of the electronic industry supply chain. China's well-developed supply chain and high investment in port, road, and rail infrastructure also provides a strong base for manufacturers. Moreover, electronic components are usually small and light, so it's easy to deliver them all over the globe.
Supply Chain Performance of Asian Countries in the Electronic Components Industry


(The score indicates the country's performance on sub-sectors of trade logistics, ranging from 1 to 5, from low performance to high performance. Source: The World Bank)
As most electronic components are manufactured in China, its sophisticated supply chain allows for shorter lead times. By contrast, if a client wishes to produce the components in their home country, it would create huge logistical challenges to coordinate and deliver all the materials and sub components. When everything is manufactured in China, it becomes more flexible to find alternative suppliers, do re-orders, implement changes to a product, among others.
---
Potential Problems in China's Electronic Components Industry
a. Time problems in the PCB industry
For electronic components, a lot of them need to be customized so it is critical to carry out lead time assessment and plan ahead. For example, customized PCBs (a major electronic component) always need to be made from scratch. The PCB layout for every electronic product is different, so there are no standard PCBs in stock that one can just order from the manufacturers. Therefore, the production process must be set up in a timely manner and implementation needs to be checked, but this part is often underestimated, risking unwanted delays.
It is also time-consuming to establish efficient logistics in China and is often complicated by another problem: clients often do not have local presence in the region. So even after the production is completed, coordination of all the delivery, storage, and other activities within the supply chain can be inefficient, adding unnecessary additional cost.
Another problem clients may encounter when they are not in the region is that it can be difficult to retain the level of control over suppliers and negotiate enforceable contracts. For example, if a supplier misses milestones listed in the contracts, clients will be unable to enforce penalties provided for in such contracts.
b. Quality problems in the PCB industry
Ensuring high quality is critical in electronic components manufacturing because product defects in this industry means the components don't work, and oftentimes when one of the components doesn't work, the whole electronic product doesn't work. Many factors can contribute to low product quality, such as insufficient supplier assessment, poor quality assurance at the start of production, lack of quality control following production, and no consideration for the quality of the components used. Therefore, lowering defect rates is key.
For PCBs, the defect rate, reliability and life expectancy are important factors of low vs. high quality PCB. The board or printing has to be thick enough to ensure proper insulation in the long run and the soldering of the parts of the board has to be good and stable. Missing any of the details can lead to low product quality.
c. Cost problems in the PCB industry
Many firms underestimate the importance of carrying out a proper feasibility study, which in turn leads to underestimated price and overestimated production speed, resulting in higher costs and slower final delivery.
For electronic components made in China, there are factories of varying size, and different factories are suitable for different projects. As well, the fair cost of inputs is typically consistent across the industry if one knows what to look for. Clients often do not know which factory is more fit to produce which component, so they may be paying more than the fair market value of inputs, adding unnecessary costs.
d. Planning problems in the PCB industry
Common problems for planning include long lead times and high costs for designing and producing prototypes. Insufficient implementation of a new production line often results in delays and poor product quality, and inadequate product cost assessment results in unnecessary additional costs.
Prototyping is important for new PCB products because it is necessary to make sure it functions correctly. However, getting the prototype can be costly, and especially for clients with orders below a certain size–the suppliers are likelier to give less attention to such clients, so they will not provide quick samples.
e. General risks in the PCB industry
For clients having no personal presence in the region, it can be challenging to negotiate contracts, assess suppliers, and conduct necessary due diligence.
Relying on asking random suppliers is inefficient and often results in contracting manufacturers who overpromise and under-deliver or are not flexible enough to improve the design or implementation.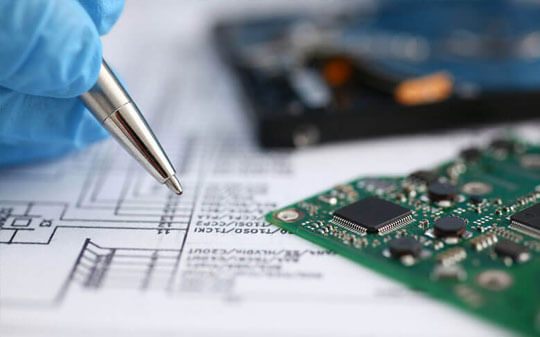 PCB development and prototyping for electronic products sounds expensive but can also be done with a small budget.
---
Our Recommendations for China's Electronic Components Industry
a. For reducing time required in the PCB industry
Intrepid Sourcing has the experience and expertise to smoothly coordinate and manage the process.
We know about all the different PCB production processes and alternatives, and can present and explain them to the client clearly
We also work directly with specialized suppliers that can help with the implementation of product ideas and realize custom electronic components quickly from scratch.
b. For ensuring quality in the PCB industry
We know critical materials/production processes and collaborate with PCB and other electronic components suppliers that produce for world-renowned brands, so you can get your electronic components from the same suppliers as these brands if you know where to look. We have the experience and knowledge to assess the critical areas based on the design plans and adjust accordingly. We also employ strict quality controls mechanisms to ensure the quality of every detail of every piece.
c. For reducing costs in the PCB industry
We can quickly identify all the relevant suppliers that are capable of producing each specific electronic component.
Then, using our knowledge of the prevailing fair prices of materials in the market and how to determine the quality of the products, we can assess the price and reduce costs.
d. For planning in the PCB industry
We work with special PCB prototyping and product development companies. This makes planning quicker and cheaper. We are taking over the planning regarding different electronic components and process alternatives.
We also have a full understanding of the production process, so we know how to make the process fast and reliable.
e. For minimizing risk in the PCB industry
We have our own electronics engineers judging the design and requirements beforehand, so we know the relevant certifications, how good production lines must be organized. We have contacts to specialized suppliers, experience and knowledge about safeguarding transactions and contracts in China.