The garment industry is arguably the most populated in all of manufacturing. Thousands of suppliers and manufacturers are doing business in this highly-competitive industry. Here in Asia, the garment industry is thriving but remains a hard business to dominate due to the amount of competition. Here is an industry report on the garment industry to provide an overview and statistics on what to expect in doing garment business here in Asia, or particularly China.
---
Garment Industry Overview & Key Statistics
a. Textile and apparel industry description
China is the largest producer and exporter of textiles and apparel in the world. In 2016, the country exported US$106 billion of textiles and US$161 billion of apparel. Its closest rival, the European Union economic bloc, exports only 75% of that, with regional competitors exporting far less. In this way, China remains unrivalled as clothing manufacturer and exporter in this global industry.
b. Global garment production: China vs. other regions of the world
Top Ten Garment Exporting Countries in 2016
(Source: World Trade Organization)
While textile and apparel exports have decreased since 2014 due to rising labor costs and increasing competition from other developing economies in the region, China still has a considerable amount of expertise in the industry, along with decades of experience, modern infrastructure, efficient supply chain management, and high productivity. China still produces more than 40 percent of global textile and apparel exports, is already shifting to more value-added products and will continue to improve upon its existing experience and expertise.
China will remain the leading textile and apparel sourcing country for the foreseeable future.
c. What textiles are commonly produced in China
T-shirts
Jackets and coats
Sportswear
Jeans
Kids' wear
Infant and Toddlers' clothing
d. Year-on-Year apparel industry growth
Although exports of garments from China have decreased in recent years, much of this can be explained by the country's general transition from investment-based growth to consumption-based—with more production dedicated to meeting domestic demand—and manufacturers themselves shifting to more advanced garments—such as sportswear—requiring retooling and investment in higher-skilled labor in methods. In the years to come, export values will likely increase as overall production increases and domestic manufacturers continue to move up the value chain.
Textile and Apparel Export Value of China in billion USD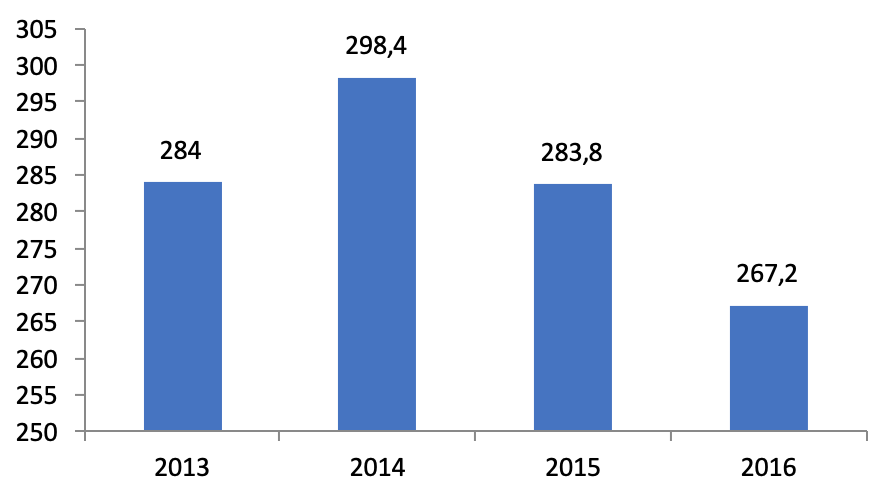 (Source: China Chamber of Commerce for Import and Export of Textile and Apparel)
---
Why China is the Right Choice for Garments Production
a. Garment production capacity
China's production capacity is unmatched in the world. Textile fiber production in 2014 in China was over 50 million tons, accounting for 54.36 percent of the total world share. Furthermore, the country's production of apparel reached 29.9 billion units, a 10.4 percent increase over the previous year. Essentially, China boasts clusters of efficient wholesale clothing suppliers that other countries will struggle to replicate, and its firms are adopting automated production methods; it's one of the leading importers of robots used for such automation. This will continue to raise productivity and offset higher labor costs.
Number of Firms for Apparel Production in China in 2013 and 2014
(Source: China Textile Industry Development Report (2014/2015; 2013/2014)
b. Textile worker skill level
Compared to other low-cost countries, China has the advantage of having a large, skilled labor force. Although garment manufacturing typically involves low-skilled work, having skilled professional managers increases the efficiency and productivity of a factory. This has the benefit of shortening lead times.
c. Technological advantages in the apparel industry
With skilled labor and improved technology, China is moving up the value chain, with many manufacturers capable of producing lower volumes of higher quality and more technical garments, such as sportswear. These items are constructed using special fabrics and advanced techniques that allow for breathability, movement, water-resistance, and comfort.
d. Well-developed supply chain and transportation system
China's well-developed supply chain, high investment in port, road, and rail infrastructure provides a strong base for manufacturers. As of 2016, China outranks other countries in the region in terms of efficiency of the customs clearance process, quality of trade and transport related infrastructure, ease of arranging competitively priced international shipments, competence and quality of logistics services, and timeliness of shipments in reaching destination within the scheduled time.
Supply Chain Performance of Asian Countries in the Garment Industry


(The score indicates the country's performance on sub-sectors of trade logistics, ranging from 1 to 5, from low performance to high performance. Source: The World Bank, 2016)
Additionally, most of China's manufacturing areas have widespread high-speed rail networks, bus routes, and subway systems. This allows for timely inspection of clothing factories and completion of due diligence and quality control.
e. Challenges in China's garment industry
The key challenge in China's garment industry is the rising labor costs. Compared to the previous generation of cheap, unskilled labor, the younger generation of Chinese workers is better-educated and more highly skilled, thus demand better pay. This is compounded by the country's shrinking labor pool as the generation responsible for China's decades of breakneck growth retire. Wage increases in China's garment industry have caused some buyers to switch production for simple garment products to neighboring countries where local wages are low. The average Chinese factory worker earns US$27.5 per day, compared with US$8.6 in Indonesia andUS$6.7 in Vietnam, according to the Economist.
In order to overcome this challenge, many clothing manufacturers in China are gradually moving from the more developed east coast to the lower-cost interior, a move incentivized by the Chinese government, which is offering tax benefits and subsidies. The western and central parts of the country accounted for 16.8 percent of China's textiles and apparel production back in 2010. That share had increased to 22.5 percent by 2014 and is expected to reach 28 percent by 2020.
However, these reductions in labor costs come with trade-offs. Typically, wages are low because skills and experience are as well. Additionally, these countries frequently lack efficient and modern infrastructure, pushing up transportation costs and increasing lead times. Finally, such sourcing destinations can produce inconsistent quality, with many retaining a narrow focus on simple, low value, low-quality items.
For this reason, although labor costs are increasing in China, it retains many advantages—such as modern infrastructure, more highly skilled labor, and more efficient manufacturing processes.
---
Potential Problems for China's Garment Industry
a. Time problems in the garment industry
One problem companies sourcing from or manufacturing in China encounter is insufficient lead time assessment. Finding the right materials requires sufficient time and attention and human errors may cause delays. Clients often do not have local presence in the region, so it can be difficult to retain the level of control and awareness necessary to avoid these problems and the delays they cause. Additionally, if a supplier fails to perform any of the contract's terms, clients will be unable to enforce penalties provided for in such contracts.
Although it's easy to adapt and set up production lines for garments, it can take a long time to get from design files, to sample production, and then mass production because of inexperience and decentralized planning and coordination.
Moreover, it is costly and time-consuming to establish efficient supply chain logistics in the region and coordinate all the delivery, storage, and other activities within the supply chain, risking unwanted—and often avoidable—delays.
b. Quality problems in the garment industry
Ensuring high quality can be tricky. Many factors can negatively affect product quality: insufficient apparel manufacturer assessment, poor quality assurance at the start of production, lack of quality control following production, and no consideration for the quality or suitability of inputs.
A single sample often does not tell the full story about the quality of a product and the reliability of a manufacturer's quality control mechanisms. Many suppliers in China, Bangladesh, and other major garment producing countries in Asia either don't follow production standards closely or have bad production standards.
c. Cost problems in the garment industry
Many people don't conduct a feasibility study before they start production. This often leads to underestimated price and overestimated production speed, resulting in unpleasant surprises, higher costs, and slower final delivery.
Another potential problem is that clients often do not know where inputs are coming from, making it difficult to assess quality, suitability, and cost-effectiveness. Not knowing components' respective cost, may be paying far more than the fair market value of inputs, increasing costs and lowering profitability.
Garment production often is done in many different countries in Asia. However, for different products or materials, every region has its own advantage–some offer better prices or produce better-quality products than others. Clients often do not know how much things cost locally, so they cannot assess if the price is fair by local standards.
d. Planning problems in the garment industry
Common problems for planning include long lead times and high costs for designing and producing prototypes. Insufficient implementation of a new production line often results in delays and poor product quality, and inadequate product cost assessment increases unnecessary costs.
This risk is higher for companies with orders below a certain size, as a supplier or manufacturer is likelier to give less attention and care to such clients. This is compounded by the difficulty of working with overseas apparel manufacturers directly.
e. Risk problems in the garment industry
For clients having no personal presence in the region, it can be challenging to negotiate contracts, assess suppliers, and carry out necessary due diligence. As since garment production often takes place in multiple countries, it is very difficult to have the legal expertise to negotiate and enforce contracts.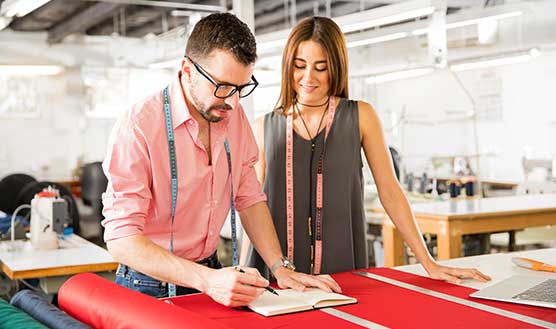 It is crucial to coordinate efficiently to get the exact garment designs you want.
---
Our Recommendations for Textile and Apparel Production
a. For reducing time required in the garment industry
Intrepid Sourcing has the experience and expertise necessary to smoothly coordinate and manage the process. Our professional tech packs include the design, colors, and materials of the requested item and can be provided quickly. We can also provide fast and flexible customization.
With a local presence in the region, we are able to easily work with manufacturers closely adhere to production schedules. Additionally, our team can efficiently manage the supply chain.
b. For ensuring quality in the garment industry
We work with pre-vetted suppliers and carry out full quality control inspections prior to shipment. For suppliers who have not already been vetted by us previously, we know exactly what to look for in a production line, what high-quality textiles look like, and signs of good and bad quality control measures so that we can ensure product quality.
c. For reducing cost in the garment industry
We maintain and operate a database of where to source for each type of product and material. With knowledge of the detailed cost of materials and labor input, we can assess if the price is good, and source materials separately to reduce costs. This gives infinite options for your designs and smooth integration into the production lines at the custom clothing manufacturers.
d. For planning in the garment industry
With years of experience working with manufacturers, we have full understanding of the production process and how manufacturers operate. Therefore, we can carry out efficient planning to deliver high-quality services and ensure better outcomes.
e. For minimizing risk in the garment industry
We have a local presence and experience in all relevant Asian countries, enabling us to effectively negotiate contracts, carry out due diligence, and safeguard all transactions.